Wilson's Websites
LOTS OF INFORMATION; LASERS AND OPTICS; JOIN THE CLUB; MORE...
May 1st, 2003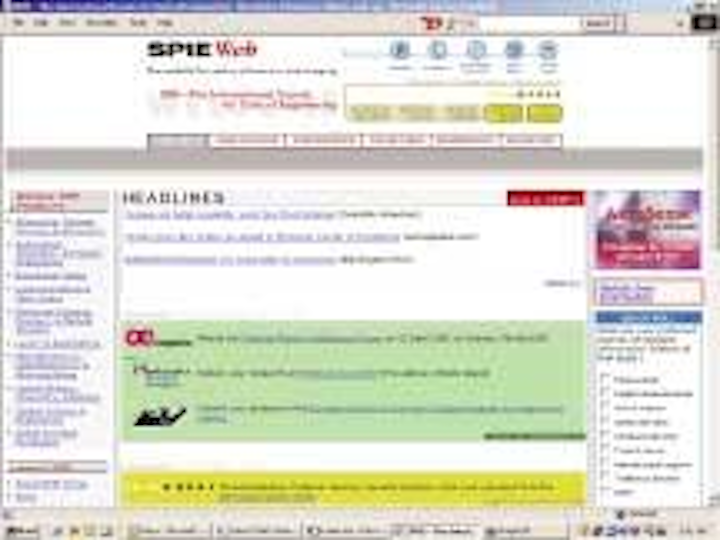 Optics and optics-based systems are used in various inspection and alignment applications for semiconductor manufacturing, electronics assembly, and industrial automation. Semiconductor systems that use such optics include wire-bonding, wafer-dicing, probe, laser-scribe, precision-inspection, and surface-mounting systems. Often, companies that develop optics offer both standard and custom designs. This month, we look at leading optics Web sites and on-line information sources.
LOTS OF INFORMATION
www.optics2001.com
Although it may at first seem confusing, this Web site is billed as the first member-driven nonprofit free optical community. With more than 5000 links to documents and 1500 members, it presents information in a number of categories, including optics, detectors, image processing, and optical design. When clicking on one of these categories, you are presented with a vast number of hotlinks that access articles from universities, trade publications, and industry organizations.
LASERS AND OPTICS
www.i-leos.org/
Lasers, optical devices, optical fibers, and associated lightwave technologies are highlighted on the IEEE Lasers and Electro-Optics Society (LEOS) Web site. Here, you'll find information on IEEE technical optical publications that include Photonics Technology Letters and the IEEE/OSA Journal of Lightwave Technology. You can also download the latest IEEE LEOS newsletter, subscribe to the association's journals, and access the latest conference information.
JOIN THE CLUB
www.spie.org/
SPIE—The International Society for Optical Engineering (Bellingham, WA) features publications, conferences, ..and exhibitions on its Web site. You can read the latest optics news and access SPIE journals, including Optical Engineering, OE Letters, Journal of Electronic Imaging, and Journal of Biomedical Optics, all in PDF format.
LOOKING FOR A JOB?
www.photonicsjobs.com
If you are unemployed because of the recent recession, the PhotonicsJobs (Incline Village, NV) Web site lists hundreds of available positions from manufacturers such as Coherent, Intel, and The Cooke Corp. Job categories include electrical engineering, optical engineering, manufacturing engineering, managements, sales, and technical writing.
OPTICS IN AMERICA
www.osa.org/
With a membership totaling 14,000 from more than 70 countries, the Optical Society of America (OSA; Washington, DC) produces peer-reviewed journals and books and sponsors scientific meetings and exhibits. On its Web site, you can become a member of the society and access on-line technical information from Applied Optics, Optics Letters, and the Journal of Optical Networking.
FORM A PARTNERSHIP
www.smartoptics.org/
Faraday Partnerships are business-driven knowledge-based/industry partnerships recognized regionally and nationally in the United Kingdom as centers of expertise and collaboration. This site features partners such as Sira, Mullard Space Science Laboratory of University College London, and the UK Astronomy Technology Centre in Edinburgh, which are interested in the development or use of smart optics as well as in academic institutions and trade and government organizations.