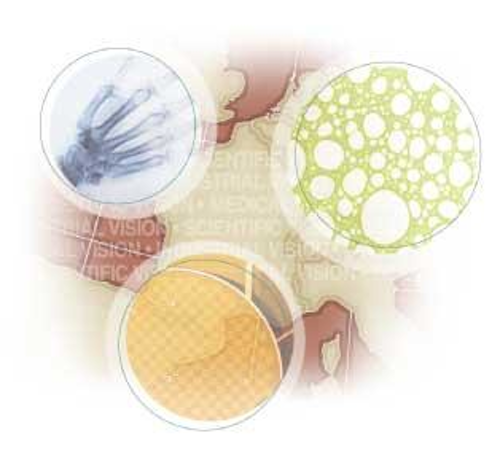 George Kotelly, Editor in Chief
georgek@pennwell.com
Developments abound for vision solutions
The Solutions Vision 2003 trade show, sponsored by Groupe Solutions-Infopromotions (Paris, France; www.groupesolutions.fr), is gearing up to display the latest industrial, medical, and scientific technologies, products, and systems from European, North American, and Asia-Pacific suppliers. Supported by press partner Vision Systems Design, this annual international show will occupy 1500 square meters in Hall 2/2 of the Paris Expo, Porte de Versailles, from 1 to 3 April 2003. It expects to attract more than 60 exhibitors and 3500 visitors.
Solutions Vision is the major annual vision industry event in France for presenting the newest offerings for image acquisition, processing, display, storage, and analysis. Reflecting increasing industry interest, the show is adding a new market sector—-closed-circuit television surveillance.
Also new this year, Solutions Vision is sharing Hall 2/2 space with Solutions Industry & Distribution and Codexpo/Scantec. Codexpo/Scantek covers the fields of automatic identification, data acquisition, barcoding, optical character recognition, information distribution and control, and product label reading, among others. It expects 4000 visitors and 80 exhibitors occupying 2300 square meters. Solutions Industry & Distribution focuses on enterprise resource planning, supply chain management, e-business, and software solutions, among others. It expects 600 visitors and 110 exhibitors occupying 5000 square meters.
Yet another French trade show, Display 2003, dedicated to monitor technology, digital display, and viewing, will take place in adjoining Hall 3. It will feature the latest industry accomplishments and is expected to exceed last year's attendance of nearly 2300 professional visitors.
Exhibitors are anticipated to demonstrate new vision platforms for such industrial applications as robots and machine tools, 2- and 3-D measurements, web and surface inspection, optical character recognition, and video identification. Products to be shown for imaging applications will include sensors, infrared and lighting devices, processors, and software. Other products will include laser sources, diodes, and systems, as well as a variety of optoelectronic devices.
While growth rates in the semiconductor and electronics industries have slowed, there is faster growth in other industries that are adopting machine-vision systems, such as the food and beverage, pharmaceutical, and cosmetic industries. Key exhibitors at Solutions Vision will include Atmel, BFI Optilas, CCS, Cognex, Coreco Imaging, Dalsa, DVT France, FRAMOS GmbH, Fujinon Europe, Hamamatsu Photonics France, I2S, JAI, Kappa, Matrix Vision France, Matrox Imaging, Matsushita Electric Works France, National Instruments France, Siemens, Sony, Stemmer Imaging, StockerYale, Tamron, and Vision Systems Design.
Photonics West bursts with activity
The recent Photonics West trade show again taxed the San Jose Convention Center (San Jose, CA) to its limits, as more than 700 exhibitors spilled into corridors and into overflow space across the street. According to the show's sponsor, The International Society for Optical Engineering-SPIE (Bellingham,WA; www.spie.org), total attendance was approximately 13,250, including 3500 technical attendees, 3550 exhibit representatives, and 6000 exhibit-only attendees. Exhibitors seemed satisfied with the location, despite space limitations.
Following are some new products that were shown at Photonics West:
Electrophysics Corp. (Fairfield, NJ; www.electrophysicscorp.com) has added products from the French firm CEDiP to its line of infrared viewing products. An uncooled, long-wavelength camera, according to vice president Art Stout, is capable of temperature measurements up to 500°C and imaging up to 200 frames/s in a 320 x 256-pixel format. The real-time camera demo at the show ran Altaair thermographic-analysis software.
A color version of the compact Panther line of OEM video camera boards from Videology Imaging Solutions (Greenville, RI; www.videologyinc.com) was shown in prototype form by company president Carol Ethier. She indicated that the unit, designated 20D779, is shipping this month. Features are similar to the monochrome 20D679 camera--currently in production--that includes an on-board complex programmable logic device for customer software and both analog and digital outputs.
Radiant Imaging (Duvall, WA; www.radimg.com) introduced its ProMetric 1000 light and color measurement tool for the automatic testing of displays. According to David Jenkins, sales and marketing vice president, the unit's CMOS image sensor enables rapid acquisition of digital images for evaluation without a separate shutter.
The Cooke Corp. (Auburn Hills, MI; www.cookecorp.com) showed an ultraviolet version of its PixelFly CCD camera, capable of 9.5 full-field. 1360 × 1024-pixel frames per second.
Ana Marie Smith, vice president for imaging at e2v Technologies (Chelmsford, Essex, UK; www.e2vtechnologies.co.uk), demonstated the company's new low-light image sensor, a 128 × 128-pixel "back-thinned" CCD that can provide 1000 frames/. This back-illuminated CCD60, claims the company, which delivers a quantum efficiency greater than 90% and read noise less than one electron, comes closer to the theoretical low-light detection limit than other available versions.
PixelVision (Tigard, OR; www.pvinc.com) featured its new 2048 ( 2048-pixel VelociCam, a back-illuminated CCD camera aimed at ultra-high-speed, low-noise, high-bit-depth applications.
A new lens-testing system was demonstrated by Optikos Corp. (Cambridge, MA; www.optikos.com). The quality-control bench performs both on-axis and off-axis measurements, according to sales and marketing director Barry Logue, and should be valuable for quality inspection, design engineering, and manufacturing.
StockerYale (Salem, NH; www.stockeryale.com) unveiled several new products aimed at machine-vision applications, including a 150-W fiberoptic illuminator, Model 21 DC, that delivers a stable light output. The company's new collimating lens, for use with fiberoptic illuminators, provides a uniform 0.9-in.-diameter source of "parallel light," which can be used as a backlight when a well-defined silhouette is needed for measurement.
Electronic Imaging reigns alone
Last January, the Electronic Imaging 2003 Symposium (www.electronicimaging.org), sponsored by The Society for Imaging Science & Technology (Springfield, VA; www.imaging.org) and The International Society for Optical Engineering—SPIE (Bellingham, WA; www.spie.org), was relocated out of Photonics West 2003 as a stand-alone event. It attracted about 1500 attendees to the Santa Clara Convention Center, (Santa Clara, CA), a week before the annual Photonics West Conference in nearby San Jose, CA. Although exhibitors seemed pleased with the quality of attendees, some expressed concerns about having the two shows in different locations in different weeks.
The small exhibition by about 20 companies featured several new cameras and a cross section of stereo/3-D products. The technical program—expanded from last year—dealt with a mix of topics that spanned cameras, large-screen displays, image processing, instrumentation, and systems. An impressive display of technical and artistic holograms, some associated with conference sessions, adjoined the exhibits.
Alternative Vision Corp. (Los Altos, CA; www.at-vision.com), a value-added reseller for HanVision linescan cameras and Foveon image sensors, showed its AVF-11A development kits for Foveon CMOS color image sensors. The development kits are available now, according to president David Gilblom, and finished cameras will begin shipping this month.
IO Industries (London, ON, Canada; www.ioindustries.com) showed its new DVR Express Station, a fast I/O PCI card for recording digital video to hard disk. The unit accepts Camera Link or LVDS inputs and provides gigabyte-per-second data storage using Ultra160 SCSI hard disks. The firm also offers its Digital Savant software for controlling recoding and playback functions. Company president Andrew Sharpe, noting early military applications, said, "The system can provide 30 to 60 seconds of high-speed recording and is a potential replacement for high-speed photography."
Eastman Kodak Co. (Rochester, NY; www.kodak.com) displayed its KAI-4010M CCD image sensor. According to the company, the new 4 million-pixel array can operate at 16.5 frames/s at full resolution.
IMS Chips (Stuttgart, Germany; www.ims-chips.de) demonstrated its new HDRC VGA camera with 120-dB dynamic range and 0.1-lux sensitivity for night-vision and visible-light applications. The camera is not yet compatible with Camera Link, according to company director Bernd Hofflinger. He said, "The devices are now operating at 640 × 480-pixel resolution but will increase to 768 × 496 pixels."
Joe Hallett, Contributing Editor