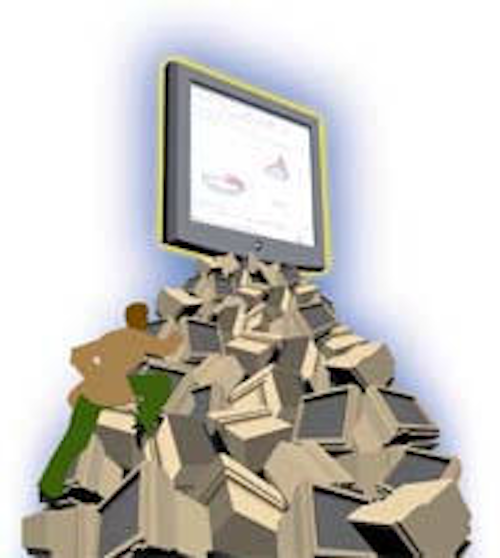 George Kotelly, Editor in Chief
georgek@pennwell.com
SID show soars
Rapid growth in the display industry was evident at the Society for Information Display (SID; San Jose, CA; www.sid.org) 2001 International Conference, Symposium, and Exhibition held recently in San Jose, CA. More than 520 exhibitor booths and more than 7900 attendees made this year's SID show the largest in its nearly 40-year history. The number of attendees and the number of booths represented increases of 19.7% and 21.1%, respectively, over last year's record numbers. The show's activity level was also high, as new display technologies and products appeared in visually bright and clear colors.
The show was punctuated by declining activity in cathode-ray-tube (CRT) monitors, by new generations of flat-panel displays, and by advances in microdisplays—postage-stamp-size devices whose ultimate potential is yet to be established. While improvements in CRT technology continue to be reported in conference sessions, the product and market trends are clear. Although still the mainstay of television and computer displays, CRTs are showing justifiable signs of being a mature technology. This year's Philips Components (Sunnyvale, CA) exhibitor booth, for example, did not include CRT products.
"It has turned into a flat-panel show," said consultant Alan Sobel, who was an early advocate of plasma technologies. But SID is not a single-subject show. Flat-panel displays are taking many forms, ranging from a large number of variations of LCDs (liquid-crystal displays), to vacuum devices such as field-emission displays (FEDs) and organic light-emitting displays (OLEDs). And miniature devices such as microdisplays are assuming a major role, appearing both as direct-view displays and as engines for projectors.
Device manufacturers generally use the show to attract OEM interest in applications for new technologies. Crowds gathered at this year's show to see Sony's 13-in. SVGA display and its experimental 12.1-in. OLED panel. Eastman Kodak (Rochester, NY), Sanyo Video Components (San Diego, CA), and Philips Components showed a variety of small OLED panels. DuPont Displays (Research Triangle Park, NC) announced partnerships and investments in manufacturing capabilities for OLEDs. Cambridge Display Technology Ltd. (Cambridge, England), an early developer of OLED technology, showed devices and sought licensees.
Joel Pollack, vice president of LCD marketing at Sharp Microelectronics (Camas, WA), said, "There's nothing that OLED can do that active-matrix LCD can't do except, possibly, make a very thin display. But manufacturers of LCD panels are looking to add value to their products by integrating electronic circuitry with their displays, in what looks like a return to the OEM monitor business model that was popular with CRTs decades ago." But this time, a higher level of circuit integration is possible, with multifunction display controllers-on-a chip from suppliers such as PixelWorks (Tualatin, OR) and Genesis Microchip (Markham, Ont., Canada).
Another part of the display market unfolded at the annual Microdisplay Roundtable, where participants reported on the delivery of large numbers of microdisplays, mainly liquid-crystal-on-silicon (LCoS) devices that come close to being a "one-size-fits-all" display technology. Consisting of a liquid-crystal layer driven directly by a silicon chip, these devices are being applied to tiny viewfinders for video cameras and to "engines" for large-screen projectors. Moreover, televisions using LCoS should reach stores this year. All manufacturers reported that they had achieved adequate image quality and acceptable production yields. And they all salivated at the very large opportunity evidenced by market projections of hundreds of millions of units to be sold by 2005.
A different approach to displaying pictures and text has been taken by E-Ink (Cambridge, MA), whose technology switches ink-based microcapsules between color states. The result is a high-contrast black-and-white image that resembles a conventional printed page. This technology has been under development for several years, but this year new results were exhibited and reported in the conference sessions, apparently facilitated by major joint activities with LG Philips LCD (Sunnyvale, CA), Toppan Printing Co. Ltd. (Tokyo, Japan), and IBM Corp. (White Plains, NY). Electronic "e-books" are a key market target for E-Ink, which expects to be in preproduction next year and in full production in 2003.
Devices shown by E-Ink included a 5.1-in.-diagonal, 120-dpi panel with a 2-bit gray scale developed with Philips; a 5.1-in. RGB color device at 237 dpi with Toppan; a 12.1-in. 800 x 600-pixel device with IBM; and an active-matrix 2.1-in. device at 40 dpi; which is seen as a prototype for electronic newspaper application. According to senior engineer Yu Chu, these devices can reach sizes of 3 m or larger and may lend themselves to fabrication in rolls.
Much of the technological innovation reported at the show comes in the area of materials and manufacturing processes. Two significant examples this year were novel ways to make polarizer films used in LCDs. This work is important because it may lead to lower-cost devices, in part because of its tolerance for higher processing temperatures.
Optiva Inc. (South San Francisco, CA) has adopted Russian materials technology for making "submicron" polarizer films used in LCDs. Calling it "a self-assembled LCD," marketing-manager Greg King described the process by which one film can replace several layers of a conventional passive LCD device at lower fabrication cost. "Active-matrix (TFT) devices are two years away," he said. Optiva retains a research division in Russia and is part of the Kent Display Institute, a display business incubator related to Kent State University in Ohio.
Moxtek (Orem, UT) showed the results of fabricating polarizers at very high resolution from deposited aluminum wires. This technology has promise for beamsplitting in microdisplay-based projection systems because of its tolerance for high-operating temperatures.
A unique business venture aimed at improving the availability of nonstandard sizes of LCD panels was introduced by Tannas Electronic Displays (Orange, CA). This venture, aimed particularly at government customers, is going to cut down commercially available panels and reseal and requalify them for users, thus avoiding otherwise necessary high costs for development and tooling.
A true three-dimensional display system was demonstrated by Actuality Systems (Reading, MA). It uses the Texas Instruments digital micromirror device as its imaging engine to produce more than 100 million voxels (volumetric pixels) in a 20-in. sphere (see Vision Systems Design, May 2001, p. 17). Founder Greg Favalora claims to have created the highest-resolution display ever and hopes to attract financing that will allow the company to address molecular modeling/drug design and other tasks that depend upon seeing 3-D spatial data.
In other areas of novel display concepts, Deep Video Imaging (Cypress, TX) and NeurOK LLC (Arlington, VA) showed displays that create a 3-D effect by superimposing two displays in a layered assembly. Hunet Inc. (Tokyo, Japan) showed advancements in its technology for field-sequential color display panels.
Rapid changes in the nature of display devices have challenged providers of measurement systems display. Eldim (Herouville-Saint-Clair, France) has developed a Fourier-based measurement photometer and colorimeter. It can make measurements of devices such as LCDs and micro displays that present a non-uniform output versus viewing angle, and has extended its operation to allow testing through eyepieces and beamsplitters.
Despite its strong showing at SID 2001, the display industry was taken to task for failing to keep up with advances in the semiconductor industry by keynote speaker and Intel Corp. (Santa Clara, CA) vice president Claude Leglise. He suggested that the display industry needs its own version of "Moore's Law," if displays are to keep up with processor development. Stating that in 10 years it will be feasible to drive a 10 million-pixel display in real time, Leglise illustrated his point with a demonstration of 16 DVD movies playing in real time on a 3840 x 2400-pixel flat-panel display (four-panel array). This effort today requires eight fast PCs and $200,000 worth of driving equipment.
—Joe Hallett,Contributing Editor
Management moves
Philips Components (Sunnyvale, CA; www.components.philips.com) a global provider of digital electronic products, has invested $5.5 million in Visson Enterprises Ltd., a research and development company with laboratories and business activities in Israel, Russia, and the USA. Visson Enterprises claims to have developed a breakthrough technology for flat, ultrathin, foldable displays that are unlimited in size.
DuPont Displays (Wilmington, DE; www.dupont.com/displays) has committed $15 million to construct a new market-development facility in Santa Barbara, CA, that will develop and produce advanced polymer organic-light-emitting-diode (Poly-OLED) displays. This facility will produce preproduction quantities of Poly-OLED displays in the first step toward the commercial production and supply of these displays to OEMs.
Melles Griot (Irvine, CA; www.mellesgriot.com), a global supplier of photonics products, has named Patricia Stubban general manager of its photonics-components division. She recently worked with a Southern California laser manufacturer.
Panasonic Industrial/Medical Group has changed its name to Panasonic Vision Systems Group/OEM (Secaucus, NJ; www.panasonic.com/vsg) to clearly define and encompass its broad base of OEM and end-user applications.
Analogic Corp. (Peabody, MA; www.analogic.com) has elected Dr. Michael T. Modic to its board of directors. He is chairman of radiology at the Cleveland Clinic Foundation and professor of radiology at Ohio State University.