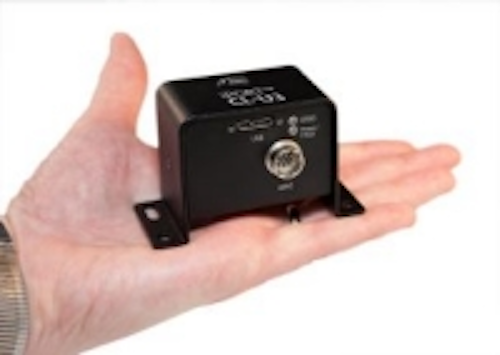 Pleora Technologies has announced interoperability between its USB3 Vision-compliant video interfaces and extended-reach USB 3.0 cabling from Components Express Incorporated (CEI). In a live demonstration at Automate, video from a Camera Link camera is converted into USB3 Vision video by Pleora's iPORT CL-U3 External Frame Grabber (pictured). The USB3 Vision video is then transmitted with low latency over CEI's extended-reach Bitmaxx USB3 Vision cable to Pleora's Transcoder Gateway. The Transcoder Gateway automatically converts the image stream into the H.264 compression format. The compressed video is then transmitted over wired and wireless connections using real-time streaming protocol to a display panel and a tablet, and can be saved to USB-attached storage media.
Automate booth number:948
To Learn More:
Contact:Pleora Technologies
Headquarters: Kanata, ON, Canada
Products: iPORT CL-U3 frame grabbers, Transcoder Gateway, CEI USB 3.0 cabling.
What Pleora says:
View more information on the iPORT CL-U3.
View more information on the Transcoder Gateway.
View More Products| Locate a vendor or system integrator | Receive e-mail updates
Share new products that you think are particularly interesting or helpful by contactingJames Carroll, Senior Web Editor, Vision Systems Design.
Join ourLinkedIn group | Like us on Facebook | Follow us on Twitter| Connect on Google +