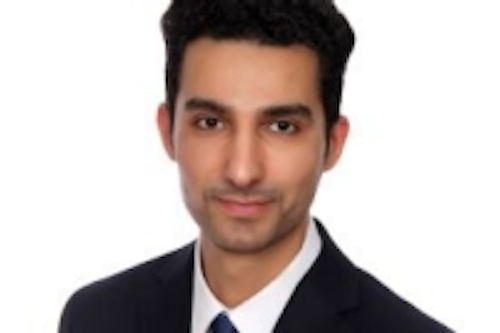 Shortly after announcing that the company achieved record growth in industrial camera sales in fiscal year 2014, Basler has announced a new addition to its Americas' sales team in Canada.
Effective immediately, Rob Karimi (pictured), a 2005 graduate of York University in Toronto with experience working for Dell, Avnet, and Cisco, will assume the role of Regional Sales Manager, responsible for sales activities within Canada. The role will focus on enhancing Basler's presence by providing even better support and application engineering to local customers.
"I'm thrilled that Rob has decided to add his considerable experience and talent to our team," said Russ Seery, Basler's Director of American sales. "Rob has a strong commercial mindset. We look forward to the great contributions he will make to our company and I'm confident that Rob will enable Basler to continue its strong growth in the Canadian market."
In late December, Basler also expanded its presence in the Asia-Pacific region, Basler has set up new representative offices in Japan and Malaysia. Basler—which already has offices in China and Korea—expects the offices to increase the brand's presence in the region. This strategic expansion not only reinforces sales support to high-potential markets, but is also a logical advance towards corporate vision and growth strategy, according to Chong Yoon Foo, Managing Director of Basler Asia.
As previously mentioned, Basler saw its sales increase by 22% to € 79.2 million ($85.1 million), compared to € 65.1 ($69.9 million) the previous year, representing the best year to date in the 25-year history of the company. Basler expects an increase of sales in the range of € 81 to €84 million ($87 million to $90.2 million) for fiscal year 2015. Due to growth opportunities in the industrial camera market, investments in future sales growth will be "continued with unabated intensity," according to the company.
View the Basler press release.
Share your vision-related news by contacting James Carroll, Senior Web Editor, Vision Systems Design
To receive news like this in your inbox, click here.
Join our LinkedIn group | Like us on Facebook | Follow us on Twitter | Check us out on Google +