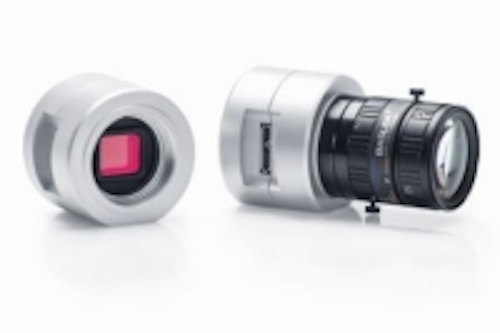 Expanding on its line of USB 3.0 cameras, Basler has launched its "pulse" camera series, which feature a USB3 Vision interface and new generation CMOS image sensors. Pulse cameras are initially available in three different models, which are available in color and mono, for a total of six cameras. The USB 3.0 cameras feature 1.2 and 5 MPixel CMOS image sensors from Aptina (ON Semiconductor) and are capable of achieving frame rates up to 54 fps. In addition, the cameras feature an integrated tripod adapter and a CS-mount that can easily be converted to a C- or S-mount. The cameras weigh less than 60g and measure just 38.8 mm x 28.2 mm, making them suitable for use in a range of such applications as scientific imaging, factory automation, microscopy, dermatology, in-vehicle automatic license plate recognition, and surveillance.
To Learn More:

Contact:Basler
Headquarters: Ahrensburg, Germany
Product: pulse USB 3.0 cameras
Key Features: Small form factor, USB3 Vision interface, 1.2 or 5 MPixel CMOS image sensors from ON Semiconductor, color and monochrome versions.

What Basler says:
View more information on pulse USB 3.0 cameras.

View More Products| Locate a vendor or system integrator | Receive e-mail updates
Share new products that you think are particularly interesting or helpful by contacting James Carroll, Senior Web Editor, Vision Systems Design.
Join our LinkedIn group | Like us on Facebook | Follow us on Twitter | Connect on Google +