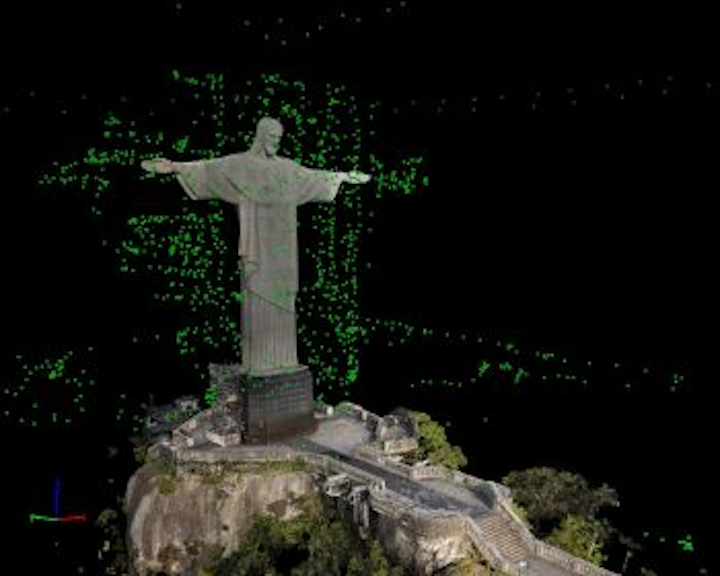 Editor's note: This article is continued from page one.
Signal reflectance, according to Aeryon, was one of the main challenges faced, and due to this, this affected the geotag accuracy. As a result, the sub-projects were processed without geotags. The sub-projects were merged using 82 manual tie points, while Pix4Dmapper's point editing tools and annotating feature were used to crop out background points, such as the sky. Lastly, a linear measurement, taken onsite by the project team, was used to provide the correct scale for the final result.
"This project took years of waiting by the NEXT Lab team and many months of planning and collaboration across several time zones to pull the technologies together in Rio," commented Dave Kroetsch, Aeryon's President and CEO in a press release. "We are pleased to have participated and that the Aeryon UAV platform was instrumental in creating the first accurate 3D model of the Christ the Redeemer monument."
The final 3D model is available as a point cloud of 134.4 million points (97.6 million for the statue, 30.7 million for the terrace and 6.1 million for the surroundings) and as a full 3D textured mesh of 2.5 million triangles with a texture of 16,384 pixels x 16,384 pixels. It will be used and presented by PUC University for upcoming projects in the near future.
"Creating the first ever accurate 3D model of such a renowned statue with our software is a great way to showcase how image processing technology can achieve results that traditional technologies haven't been able to produce," said Christoph Strecha, CEO and Founder of Pix4D. "With its intricate detail, the statue was also a perfect structure to test out our new 3D textured mesh."
View the Aeryon press release.
Share your vision-related news by contacting James Carroll, Senior Web Editor, Vision Systems Design
To receive news like this in your inbox, click here.
Join our LinkedIn group | Like us on Facebook | Follow us on Twitter | Check us out on Google +
Page 1 | Page 2