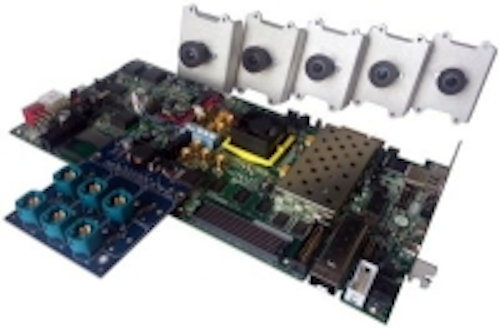 Intellectual property (IP) core company Xylon has introduced a new version of its Xilinx Zynq-7000 all-programmable SoC-based logiADAK 3.2 development kit for vision-based advanced driver assistance systems (ADAS) applications, which features a set of new and enhanced capabilities.
Xylon, a provider of IP cores, design services, and solutions for Xilinx All Programmable FPGA and SoC devices, said the latest kit will enable OEM automakers and Tier-1 automotive electronics suppliers to jump-start next-generation ADAS system development.
The logiADAK 3.2 development kit is comprised of five 1 MPixel cameras, a full set of user-customizable demo applications, software for setup on any vehicle, documentation, and Xylon technical support. The provided hardware platform is appropriate for test vehicle installations and engagements in proof-of-concept or demonstration projects.
New features in the kit include a new and complete toolset for the driver's drowsiness detection based on facial movements monitored through a camera placed in a vehicle cabin. This detector is implemented with Xylon's Xylon's logiDROWSINE Driver Drowsiness Detector IP core and is based on face tracking and analysis technology from technology partner Visage Technologies. This detector tracks eyes, gaze, lips, and head movements, and recognizes various cues that indicate drowsiness.
Also new with this iteration is an expanded and improved forward camera collision avoidance ADAS based on detection and recognition of vehicles, pedestrians, and bikes. Multi-object detection capabilities are supported by the logiHOG Object Detector IP core for advanced HOG/SVM object classification, and the logiVDET Vehicle Detector IP core for vehicle detections. The collision avoidance toolset, which includes software for configuration, training, and verification of multi-object detectors, was developed by technology partner eVS embedded Vision Systems and integrated with the logiADAK platform through close cooperation with Xylon.
Through the logiSTK Software Training Kit and the logiVCS Visual Configuration System software tools, non-expert users can change the ADAS applications supplied with the kit, and can adapt them to specific requirements, such as training it for traffic sign recognition.
"The current logiADAK kit includes around ten different ADAS applications, ranging from design frameworks to complete production-ready solutions that help our customers to create highly differentiated driver assistance applications," said Davor Kovačec, founder and CEO of Xylon in a press release. "Right now, we are working on some of key technologies for enabling semi-autonomous and autonomous driving that will be included in the upcoming kit releases."
View more information on the logiADAK ADAS kit.

View a data sheet on the kit.
Share your vision-related news by contacting James Carroll, Senior Web Editor, Vision Systems Design

To receive news like this in your inbox, click here.
Join our LinkedIn group | Like us on Facebook | Follow us on Twitter