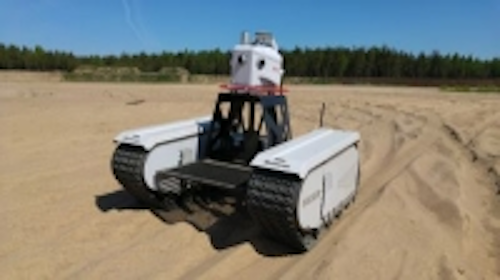 Milrem and Leica Geosystems have collaborated on a vision-guided unmanned ground vehicle (UGV) that is designed for off-road use in surveying, security, and monitoring applications.
The UGV combines Milrem's Multiscope UGV and Leica Geosystems' Pegasus:Two mobile mapping sensor platform. Pegasus:Two is equipped with eight cameras that feature 4 MPixel CCD image sensors with 5.5 µm square pixel sizes that can capture 8 fps per camera. The cameras feature an 8 mm focal length and a 360° x 270° coverage, excluding rear down-facing camera.
Additionally, the UGV can travel at speeds of 15-22 mph with a zero-turning radius, and features a weight of 1,985 lbs and a payload of 1655 lbs. The UGV runs on a diesel generator, Li-Ion battery packs, and graphene ultracapacitors that allow for up to 10 hours of nominal work use.
Pegasus:Multiscope was developed with the intended use of commercial and government applications, including civil engineering and security applications. The UGV's low ground pressure (0.98 psi – 1.635 psi) enables it to traverse any type of terrain, including mud, sand or snow and when combined with the Pegasus:Two's multiple sensor options, it can be deployed in various applications.
One such example, according to a press release, is for automated border portal, where the Pegasus:Multiscope can follow a pre-programmed route and detect disturbances. Using the eight cameras calibrated to a 3D point cloud from the Pegasus:Two, change detection with Leica MapFactory for AutoCAD can be seen within 2 to 3 cm. Furthermore, if more detailed base maps are required, thermal imaging is also available on the Pegasus:Two.
"The Pegasus:Multiscope proves how far UGVs have advanced to help significantly increase efficiency in civil engineering, border patrol, and a range of commercial applications," said Kuldar Väärsi, CEO, Milrem AS. "We're thrilled to partner with Leica Geosystems for the first product in the Multiscope modular UGV series and demonstrate how our combined technology offers reduced labor costs, faster results, and much higher reliability than existing options."
Stuart Woods, vice president of Leica Geosystems Geospatial Solutions Division, also commented. "We live in an ever-changing world where difficult terrain can prohibit our abilities to advance. We can now overcome these challenge with the Pegasus:Multiscope, enabling mobile mapping to be carried out in places unreachable by traditional vehicles," he said. "Knowing Milrem's pioneering reputation, we are proud to partner with this solutions provider to bring a flexible and robust autonomous platform that speaks to our organizations' combined innovation."
View additional information on the Pegasus:Multiscope.
View more information on Leica Geosystems.
View more information on Milrem.
Share your vision-related news by contacting James Carroll, Senior Web Editor, Vision Systems Design

To receive news like this in your inbox, click here.
Join our LinkedIn group | Like us on Facebook | Follow us on Twitter