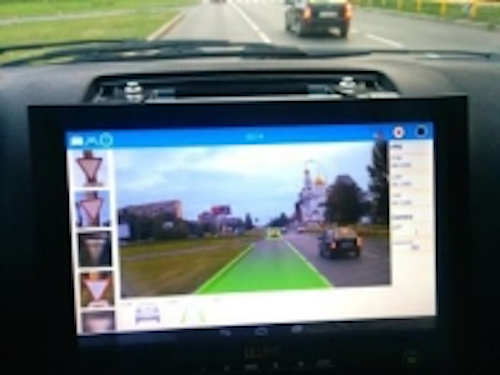 On May 25, Intel signed a definitive agreement to acquire Itseez Inc, a company that develops computer vision algorithms and implementations for embedded and specialized hardware.
Last year, Itseez, a member of the Embedded Vision Alliance, created an advanced driver assistance system (ADAS), for the latest sports utility vehicle (SUV) from UAZ, the Patriot. Prior to that, Itseez had been developing its suite of ADAS algorithms including traffic sign recognition, lane departure warning, front collision warning, and pedestrian detection for the two prior years. In the system designed for UAZ, Itseez provided a complete demonstration that included the use of a monocular camera, an embedded platform for running the ADAS algorithms, and a display for visualization of results.
In addition to the ADAS product (pictured), Itseez has developed products for facial analysis, as well as an app for creating 3D scans.
This acquisition, according to a blog written by Doug Davis, senior vice president and general manager of the Internet of Things (IoT) Group at Intel Corporation, further's Intel's efforts to win in IoT market segments like automotive and video, where the ability to electronically perceive and understand images paves the way for innovation and opportunity.
Itseez, which was founded by former Intel employees in 2005, will become a key part of the company's IoT Group roadmap and will help Inte's customers create innovative deep learning-based computer vision applications such as autonomous vehicles, security and surveillance, and industrial inspection.
"Itseez is also a key contributor to computer vision standards initiatives including OpenCV and OpenVX," he wrote. "Together, we'll step up our contribution to these standards bodies – defining a technology bridge that helps the industry move more quickly to OpenVX-based products."

He added, "Intel is focused on delivering end-to-end IoT solutions addressing devices, wired and wireless networks and the cloud. The IoT future we're building for our customers is exciting, and the talented team at Itseez will help us get there, faster."
Intel, according to Electronic Design, has recently been inching toward more self-driving technology, having recently acquired Yogitech, a company that designs functional safety software for automotive electronics and factory equipment. This software ensures that processors inside autonomous vehicles or factory equipment are functioning properly, and sends alerts to operators when they are not. Furthermore, Wind River, an embedded software company that was acquired by Intel in 2009, said recently that it was adding new products to help automakers make wireless updates to their vehicles.
This acquisition is also relevant because it is the second one this year involving a vision-related company. Earlier this year, Intel announced an agreement to acquire Replay Technologies, a company that developed "FreeD technology," which provides an immersive, 3D look at live game broadcasts in sports. FreeD Technology utilizes industrial cameras to capture images "not just as a 2D or a stereoscopic representation, but as a true 3D scene, comprised of three dimensional "pixels" that faithfully represent the fine details of the scene."
View the Intel blog post.
Share your vision-related news by contacting James Carroll, Senior Web Editor, Vision Systems Design

To receive news like this in your inbox, click here.
Join our LinkedIn group | Like us on Facebook | Follow us on Twitter