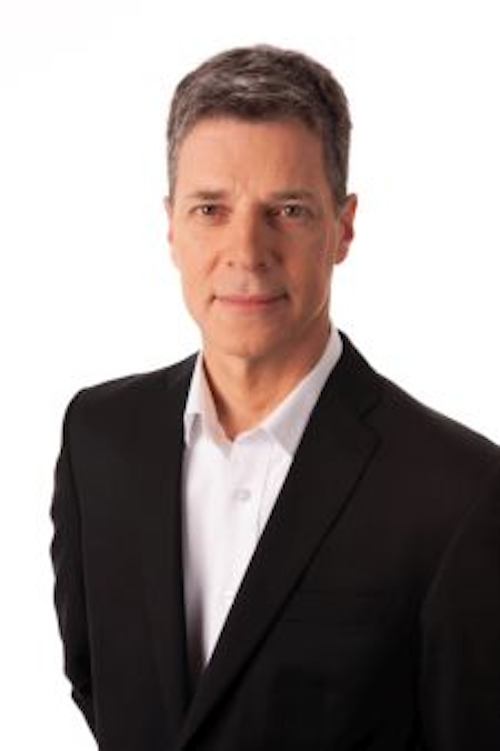 With Terry Arden, CEO, LMI Technologies
What's new at your company?
Headquarters moved to a larger building. Our new HQ space (64,000 sq ft) will continue to keep R&D with manufacturing and support our continual growth.
Tell me about your latest product and why was it developed? How are people using this?
LMI completed its next generation of embedded controllers to support 2 megapixel cameras in 2016. We launched our first series of 2 MPixel line profilers for the consumer electronics industry for enclosure and component inspection––the Gocator 2410 and 2420 ––which offer wider fields of view without sacrificing resolution. The Gocator 2410 achieves the highest X resolution today at 6 µm. This is a breakthrough in resolution as the size of a pixel on today's megapixel cameras is roughly the same size, which forces custom optical designs with long focal lengths!
What areas or applications do you see the most growth for both your company and the industry overall?
3D inspection is growing, consumer electronics specifically where large volumes of small parts are assembled to high quality expectations over a short timeline. 2D is slower to implement and less reliable to support this industry. 3D is the preferred inspection technology. Especially now with materials like glass and assemblies requiring glue––all of which 3D can handle.
We see a lot of interest in embedded vision nowadays, as well. Embedded vision has been a cornerstone of our smart sensor technology position. The trend toward "smart" means embedding more and more functionality into sensor products so that decision making can take place inside the sensor and such decisions can then be communicated directly to a factory. These smart sensors are the key to industry 4.0 delivering actionable data to drive deep learning systems for dynamic manufacturing processes.
How (if at all) have market changes or trends affected the way you approach new product development?
LMI identifies growth markets where 3D is almost a necessity then we identify the key customers and their pain points with current approaches. Leveraging the Gocator inspection platform, we design and build specific Gocator 3D sensor models specifically to address these opportunities. The Gocator 2410 and 2420 models, for example, are the first 2 MPixel line profilers we developed for use in consumer electronic markets where higher resolution is still a requirement.
What are some interesting ways you've seen your product deployed recently?
Aerospace companies using G3109 for countersunk hole inspection on carbon fiber airframes. Cellphone companies using G2410 for detection of gaps between the front glass and metal enclosure.
What are the risks/benefits of building a component-based system, vs. using a 3D smart sensor like yours?
The amount of engineering effort to combine components like cameras, lenses, lighting, software, and so on to build a precise metrology sensor is a significant undertaking and certainly not for the uninitiated engineer. Then there are the business realities of long term service and support, obsolescence, maintenance, reliability, and so on beyond the initial few units that may be rolled out. A component approach may work for a one off project but is not a replacement or even a competitive direction to supply a volume need for the many jobs in factory automation. Factories and system integrators require off-the-shelf pre-calibrated sensors offering flexibility and readiness for a variety of fast paced projects that need a quick ROI (like identifying and removing non-conforming features on a product in an assembly line).
What is your take on the current state of the machine vision market?
Although the technologies fueling machine vision are moving along at a nice pace (megapixel cameras, embedded controllers, LEDs, etc), the software environments are still not delivering at a sufficiently high enough user experience to solve many vision applications today. Part of that is the continued use of 2D where solutions are simpler using 3D. LMI is focused on its Gocator platform that combines both 2D and 3D imaging in a single device with a point and click inspection experience suitable for process engineers. The major players just aren't using their tremendous R&D spend toward this goal, therefore, it is not surprising that this is slow to change.
Do you have any new/exciting products on the horizon that you can talk about?
We plan to release several exciting new products in 2017 based on faster structured light and line profiler technologies. Stay tuned!
View more information on LMI Technologies.
Share your vision-related news by contacting James Carroll, Senior Web Editor, Vision Systems Design

To receive news like this in your inbox, click here.
Join our LinkedIn group | Like us on Facebook | Follow us on Twitter
Learn more: search the Vision Systems Design Buyer's Guide for companies, new products, press releases, and videos