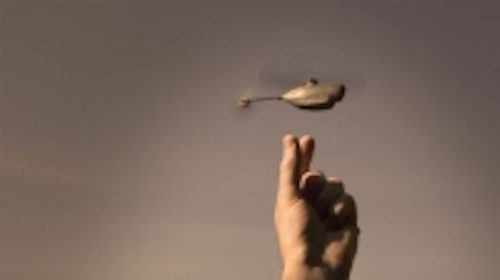 FLIR Systems has announced the acquisition of Prox Dynamics, a Norway-based maker of nano-drone unmanned aerial systems that are typically deployed in military and surveillanceapplications, for $134 million in cash.
Prox Dynamics' Personal Reconnaissance System (PRS) features their Black Hornet aerial sensor and a hand controller, which is a system that is pocket-sized and hand-launched by a soldier in the field. The Black Hornet aerial sensor utilizes FLIR's Lepton micro thermal camera, visible spectrum cameras, advanced low-power rotor technology, and proprietary software for flight control, stabilization, and communications. Weighting less than one ounce, the Black Hornet can fly for up to 25 minutes at line-of-sight distances of up to one mile.
FLIR's miniature Lepton camera module is available in three models: 50° shutterless (51° FOV), 25° (25° FOV), and 50° w/shutter (50° FOV). Each camera has an 80 x 60 progressive scan uncooled VOx microbolometer that is sensitive in the longwave infrared range from 8 – 14 µm and reaches a speed of 8.6 Hz.
The acquisition of Prox Dynamics will augment FLIR's Surveillance segment by extending FLIR's Airborne sensor product line and fully leveraging Lepton technology. Additionally, FLIR plans to invest in optimizing the PRS platform to further enhance the range, cost, flexibility, and performance of the system.
"This acquisition adds a unique unmanned aerial systems capability to our portfolio. The Prox Dynamics team has created a highly-differentiated solution, incorporating our Lepton sensor, for advanced intelligence, surveillance, and reconnaissance that fits well with our vision for growth for our Surveillance segment," said Andy Teich, President and CEO of FLIR. "The team at Prox Dynamics operates with a commercial mindset, which is a great fit for FLIR's 'commercially developed, military qualified,' or 'CDMQ,' operating philosophy. We are excited to welcome the Prox Dynamics team to FLIR and look forward to working together to further advance this remarkable system capability."
FLIR Systems recently completed another major deal, having acquired Point Grey for $256 million. As a result, Point Grey is now known as FLIR Integrated Imaging Solutions.
View more information on the Prox Dynamics acquisition.
Share your vision-related news by contacting James Carroll, Senior Web Editor, Vision Systems Design

To receive news like this in your inbox, click here.
Join our LinkedIn group | Like us on Facebook | Follow us on Twitter
Learn more: search the Vision Systems Design Buyer's Guide for companies, new products, press releases, and videos