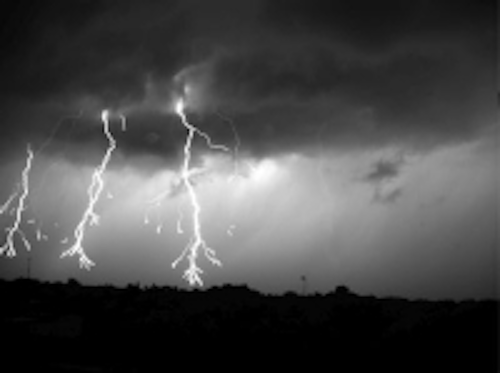 A team from the Florida Institute of Technology has deployed a high-speed camera to studyatmospheric events.
The project is part of a grant funded by the National Science Foundation. Dr. Ningyu Liu, an Associate Professor, wrote the grant proposal in order to learn more about lightning, as well as the high-altitude discharges known as jets and sprites. Jets and sprites are part of a larger subgroup of atmospheric electric discharges called transient luminous events. In contrast to lighting, these discharges are much more faint and typically occur for less time than a typical lighting flash. Sprites are so elusive, in fact, that they were not considered a phenomenon until the late 1980s.
To accomplish the task of studying these atmospheric events, Liu, along with Dr. Hamid Rassoul, and a group of Ph.D. students in the Department of Physics and Space Sciences used a Phantom v1210 digital ultra high-speed camera from Vision Research. The Phantom v1210 features a 1280 x 800 CMOS image sensor with a 28 µm pixel size with 12-bit depth and can achieve a speed of 12,000 fps at full resolution, and up to 820,000 fps at reduced resolution. The thermoelectrically and heat pipe cooled camera features a GigE interface, 10Gb Ethernet, direct recording to CineMag, and "quiet fans" for vibration sensitive applications.
With the Phantom v1210, the camera is able to capture large amounts of data that is undetectable to the human eye, including the lighting, enabling them to properly evaluate and analyze the data. Lighting strikes are being recorded from both inside and on top of buildings on the Florida university's campus using the highest frame rate possible that allows the team to account for the large spatial extent of lighting, all while recording at up to 22 GPixels/s, according to Julia Tilles, a Ph.D student member of the team.
"We're limited to roughly 100,000 fps because moving to a higher frame rate would make our field of view just too small. At higher frame rates and lower resolution, a lightning channel comes into and out of the frame so fast that we just wouldn't get a lot of information and would have a much lower chance of capturing something in the field of view," she said. "The camera's maximum FPS can be as high as 570,000 FPS, but pushing the camera to perform at that rate doesn't give us a good time-resolution to spatial-resolution trade-off. Still, we are experimenting with shooting at slightly higher frame rates."
Data captured by the camera enables the team to examine electric field measurements and deduce the corresponding orientation of the channel and the direction of the current.
"The v1210 is an incredibly sophisticated camera. When we shoot between 7,000 fps to 12,000 fps, we're able to see some of the finer details of a lightning flash, such as branching and leader propagation. This resolution is high enough for us to see many elusive processes taking place below the cloud, and it gives us a nice, full picture. We can also use other data sets, such as the National Charge-Moment Change Network (CMCN), to quantify charge moved during a lightning strike to ground," said Tilles.
Along with the Vision Research camera, the team uses technology such as LMA data, NEXRAD radar data, X-ray data, electric field data, charge-moment-change data, and NLDN data to further evaluate the videos they capture.
Videos of the study can be seen here.
View the Vision Research case study.
Share your vision-related news by contacting James Carroll, Senior Web Editor, Vision Systems Design

To receive news like this in your inbox, click here.
Join our LinkedIn group | Like us on Facebook | Follow us on Twitter
Learn more: search the Vision Systems Design Buyer's Guide for companies, new products, press releases, and videos