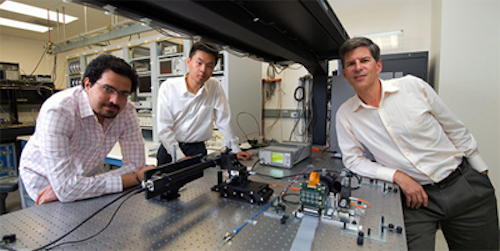 Engineers at Stanford University (Stanford, CA, USA) have demonstrated a high-resolution endoscope that is as thin as a human hair with a resolution four times better than previous devices of similar design.

The so-called micro-endoscope is a significant step forward in high-resolution, minimally invasive bio-imaging, and has potential applications in research and clinical practice.
The new endoscope was developed by a team under the direction of Joseph Kahn, professor of electrical engineering at the Stanford School of Engineering.

Their prototype can resolve objects about 2.5 microns in size, and a resolution of 0.3 microns is easily within reach. By comparison, today's high-resolution endoscopes can resolve objects only to about 10 microns.

A complete technical description of the design of the micro-endoscope has been published on the Stanford University Engineering web site here.

The image above shows Professor Joseph Kahn (right), and graduate students Reza Nasiri Mahalati (left) and Ruo Yu Gu (center) with their prototype endoscope.

Related items from Vision Systems Design that you might also be interested in.
1. Imaging combination delivers high-contrast, high-resolution images

Scientists from the University of Southern California (Los Angeles, CA, USA) and Washington University (St. Louis, MO, USA) have developed a new type of medical imaging system that gives doctors a new look at live internal organs.

2. Single moveable lens creates 3-D images

Researchers at the University of California-Los Angeles (UCLA; www.ucla.edu) and Intelligent Optical Systems (IOS; www.intopsys.com) have developed a novel 3-D imaging system built around a moveable single lens. The team presented the design at the MEMS 2012 conference in Paris, France earlier this year.

-- Dave Wilson, Senior Editor, Vision Systems Design