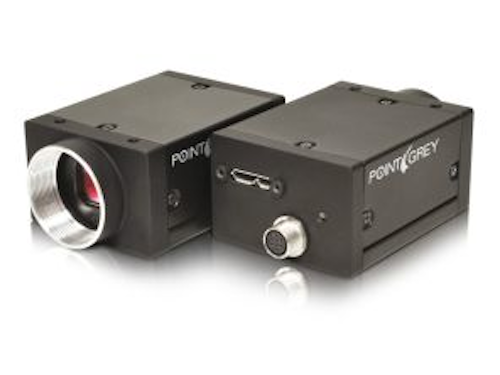 Point Grey has added a 4.1-MPixel global shutter camera, the GS3-U3-41C6, to its Grasshopper3 family of USB 3.0 cameras. The global shutter cameras feature a CMOSIS CMV4000 1" CMOSimage sensor with 2048 x 2048 pixels and 5.5 µm x 5.5 µm square pixels. The camera uses Point Grey's USB 3.0 line layer IP, implemented in an FPGA, together with a 128 MByte frame buffer. Each model measures 44 x 29 x 58 mm in size and offers a number of features, including a full image processing pipeline that supports color interpolation, pixel binning, and region of interest modes. USB3 Vision-compliant firmware will be available for Grasshopper3 models by the end of Q4 2013.
Contact:Point Grey
Headquarters: Richmond, BC, Canada
Product: Grasshopper3 GS3-U3-41C6 USB 3.0 camera
Key Features: CMOSIS CMV4000 1" CMOS image sensor, global shutter, 128 MByte frame buffer, 44 x 29 x 58 mm size, image processing pipeline.
What Point Grey says:
View a press release on the GS3-U3-41C6 camera.
View More Products| Locate a vendor or system integrator | Receive e-mail updates
Share new products that you think are particularly interesting or helpful by contacting James Carroll, Senior Web Editor, Vision Systems Design.
Join our LinkedIn group | Like us on Facebook | Follow us on Twitter | Check us out on Google +