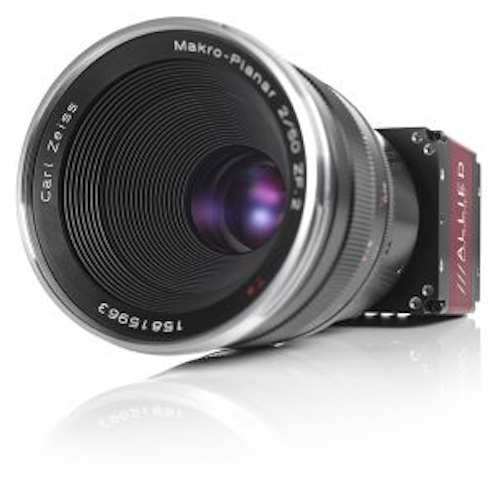 Eight new models of Prosilica GT cameras ranging from 2.2 to 29 MPixel have been released by Allied Vision Technologies. The GigE cameras are designed specifically to perform in extreme environments, with an operating temperature range of -20⁰C and up to 65⁰C (-4⁰F - 149⁰F). The Prosilica GT2000 and GT2050 feature a CMOSimage sensor from CMOSIS, the Prosilica GT3400 a Sony EXView HAD CCD II image sensor, and the Prosilica GT4905, 4907, and 6600 a Truesense CCD image sensor. In addition, the cameras feature Power over Ethernet, auto-iris lens control in the standard body GT camera, and Canon EF lens control in the large body cameras. These cameras are suitable for use in ITS and traffic imaging, machine vision, security and surveillance, military applications, and more.
To Learn More:
Contact:Allied Vision Technologies
Headquarters: Stadtroda, Germany
Product: Prosilica GT cameras
Key Features: Eight models ranging from 2.2 to 29 MPixel, -20⁰C and up to 65⁰C operating range, Power over Ethernet, CMOS and CCD image sensors (depending on model).
What Allied Vision Technologies says:
View a press release on the new Prosilica GT camera models.
View More Products
Locate a vendor or system integrator in Vision System Design's Buyer's Guide
Share new products that you think are particularly interesting or helpful by contacting James Carroll, Senior Web Editor, Vision Systems Design.