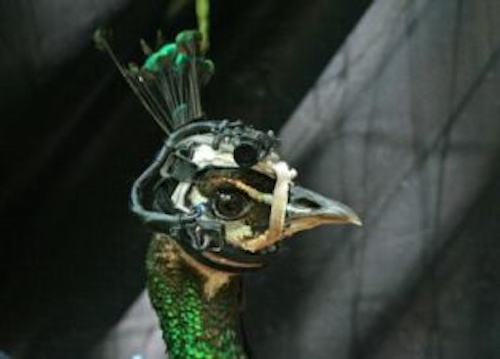 Researchers at Duke University and the University of California at Davis equipped four peahens with small plastic helmets equipped with two cameras in order to track the bird's eye movement when a nearby peacock fanned his train.
Jessica Yorzinksi, an evolutionary biologist at Purdue University, studied wild peacocks in fields in India and in lots in California and Florida before coming up with the idea for the eye tracker system, according to the Duke press release.
The eye tracker system is comprised of two cameras with a battery pack, a wireless signal, and an infrared LED light. An infrared camera on the head focused on the eye movements of the bird, while a second camera points ahead to give the broad bird's-eye view. The *cameras send information to a backpack of equipment, which wirelessly transmits the data back to a computer for analysis.
The system, which was engineered by coauthor Jason Babcock of Positive Science, was then put to the test at Duke University, where Yorzinski conducted the research on a retired biology professor's farm near campus, where nearly 50 birds where housed.
In a report published on July 24 in the Journal of Experimental Biology, it was determined that when the peahens did actually observe the male, they generally looked at the lower zone of his train feathers.Yorzinski—who was later awarded her doctorate for the work by UC Davis—speculates that the peahens are likely assessing the size and symmetry of the lower portion of the train display due to the fact that a male peafowl's train grows larger each year until he is five years old, so the size of the train matters for finding older peacocks.
The next phase of the experiment is to alter the males' displays with scissors, added eyes, or artificial colors to see what variables matter most. Yorzinski added that because peacocks grow a new fan each year, no harm is caused.
View the Duke press release.
*Editor's note: Make or model of the cameras not listed.
Also check out:
Vision-enabled robot tracks Great Whites for Shark Week special
Australian government using helicopter-mounted camerass to identify fire ant nests
UAVs track Scottish sheep
Share your vision-related news by contacting James Carroll, Senior Web Editor, Vision Systems Design
To receive news like this in your inbox, click here.
Join our LinkedIn group | Like us on Facebook | Follow us on Twitter | Check us out on Google +