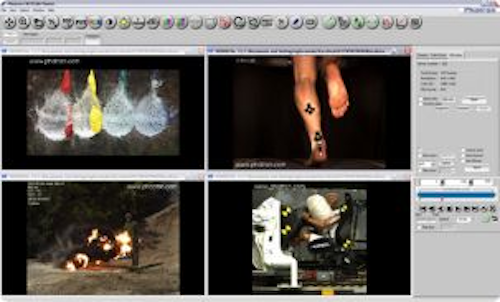 Photron has released an updated version of its FASTCAM Viewer camera control and image review/editing software (Version 3.3.9) that offers enhanced use and function for its high speed imaging products. New functions of the software include easy adoption of popular image aspect ratios (including 16:9 HD and 4:3); playback control buttons directly on the video window, ability to change displayed temporal units to a preferred choice, and a hardware image trigger that now utilizes a histogram. In addition, it features a new particle image velocimetry (PIV) focus mode for quick set up and alignment of PIV applications and a cycle view plug-in that enables selection of precise images from a repetitive cycle. As previous iterations of the software did, version 3.3.9 offers wrappers for LabVIEW and MATLAB programs and provides direct support for National Instruments USB data acquisition modules.
To Learn More:
Contact:Photron
Headquarters: San Diego, CA, USA
Product: FASTCAM Viewer software
Key Features: Easy adoption of popular image aspect rations, playback controls directly on video window, ability to change displayed temporal units, hardware image trigger with histogram.
What Photron says:
View more information on FASTCAM Viewer software version 3.3.9.
View More Products| Locate a vendor or system integrator | Receive e-mail updates
Share new products that you think are particularly interesting or helpful by contacting James Carroll, Senior Web Editor, Vision Systems Design.
Join our LinkedIn group | Like us on Facebook | Follow us on Twitter | Check us out on Google +