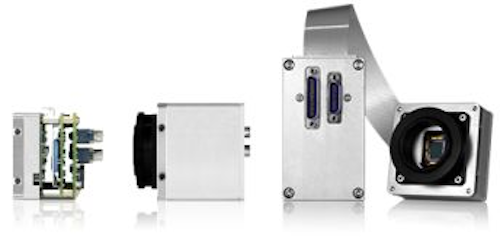 Adimec's TMX-DHD series of full HD cameras are capable of frame rates up to 60 fps and feature Interline CCDimage sensors with 1920 x 1080 pixels. TMX-DHD cameras incorporate automatic shutter and gain control capability and features Adimec's video enhancement module, which eliminates the effects of hazy atmosphere due to fog, sunlight, or shade scattering. They feature an operating temperature range of -40° to 71°C (-40° to 159°F), and offer a compact and remote head design and low power consumption. The cameras are suitable for use in UAVs, security and surveillance, and other outdoor imaging applications. Adimec will showcase the cameras in booth S8-285 at the DSEI 2013 defense and security even in London from September 10-13.
To Learn More:

Contact:Adimec
Headquarters: Eindhoven, The Netherlands
Product: TMX-DHD cameras
Key Features: CCD image sensors, 1920 x 1080 pixels, up to 60fps, mono/color models, video enhancement module, automatic shutter and gain control.
What Adimec says:
View more information on the TMX-DHD cameras.
View More Products| Locate a vendor or system integrator | Receive e-mail updates
Share new products that you think are particularly interesting or helpful by contacting James Carroll, Senior Web Editor, Vision Systems Design.
Join our LinkedIn group | Like us on Facebook | Follow us on Twitter | Check us out on Google +