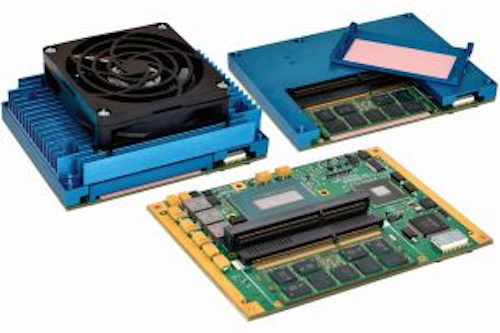 Acromag's XCOM-6400COM Express module is a type 6 basic module that is available with a choice of Intel's 4-generation Core i7 or i5 Haswell CPU and Intel's 8-Series QM87 PCH chipset, formerly known as Lynx Point. A small outline dual in-line memory module (SODIMM) hold-down feature enables secure connections while allowing users to remove or upgrade the memory. The model offers performance improvements from previous iterations that were made for floating-point-intensive computations which are critical for digital signal and image processing applications like radar and sonar. Enhanced graphics also enable smoother playback of high-quality images. XCOM-6400 COM Express modules are designed for use in defense and aerospace applications, as well as industrial applications.
To Learn More:
Contact:Acromag
Headquarters: Wixom, Mich., United States
Product: XCOM-6400 COM Express module
Key Features: Choice of Intel processor, up to 16GB of DDR3L memory with SODIMM lock-down mechanism, -40 to 85°C extended operating range, advanced heat management technologies.
What Acromag says:
View more information on the XCOM-6400 COM Express module.
View More Products| Locate a vendor or system integrator | Receive e-mail updates
Share new products that you think are particularly interesting or helpful by contactingJames Carroll, Senior Web Editor, Vision Systems Design.
Join ourLinkedIn group | Like us on Facebook | Follow us on Twitter | Check us out on Google +