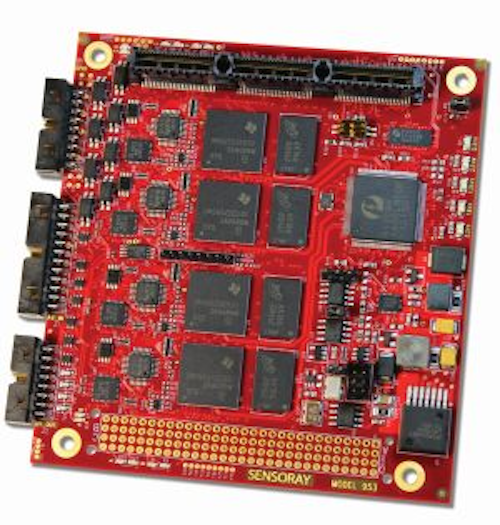 Sensoray's Model 953-ET PCI Express board simultaneously captures four channels of analog video and four channels of stereo/mono audio. Each video channel captures at 30 fps for NTSC or 25 fps for PAL, which results in an aggregate frame rates of 120 fps for NTSC or 100 fps for PAL. The low-latency board compresses A/V streams into MJPEG, MPEG-4, H.264, or MPEG-TS format for video, and with G.711 or AAC format for audio. Model 953-ET PCI Express boards also come with software development kits for Linux and Windows that include drivers, programming examples, and documentation to enable users and programmers to develop custom application software. The board, which features an extended operating temperature range of -40° to +85°C, is suitable for use in video surveillance and traffic monitoring, digital video recording and streaming, and other video processing applications.
To Learn More:

Contact:Sensoray
Headquarters: Tigard, Ore., United States
Product: Model 953-ET PCI Express board
Key Features: Four input channels, low latency video preview, -40° to +85°C extended temperature range, software development kit.
What Sensoray says:
View more information on the Model 953-ET PCI Express board.
View More Products
Locate a vendor or system integrator in our Buyer's Guide
Share new products that you think are particularly interesting or helpful by contacting James Carroll, Senior Web Editor, Vision Systems Design.