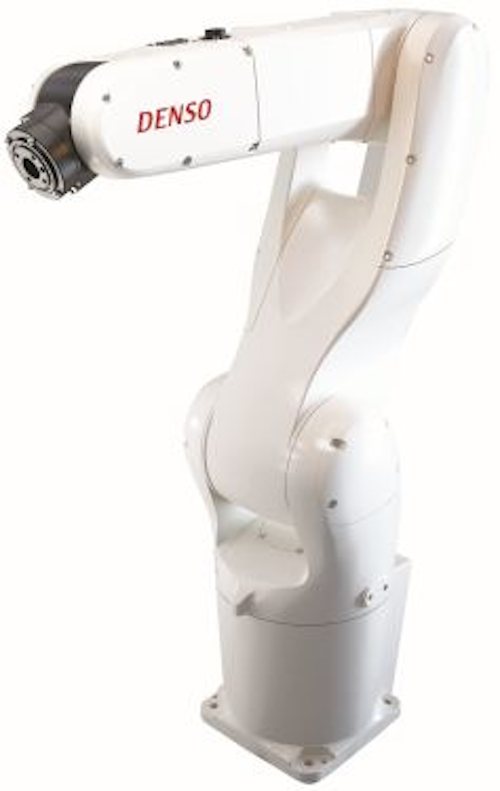 DENSO Robotics will demonstrate its vision-guided VS-Series six-axis robot, which features a payload capacity from 4 to 7 kg, at Pack Expo 2013. The robots feature an internal wiring option that allows users to connect servo grippers and GigE devices such as cameras directly to the robot flange, preventing cables from becoming tangled or interfering with peripheral equipment. The compact design and slim arms enable the robot to be integrated easier than previous models, while still having a reach of 500 to 900mm. IP67 dust and waterproof protection housing allows for the robot to resist cutting chips and high-pressure washing, and ANSI and CE safety compliance enables global deployment.

Pack Expo booth number: 5966
To Learn More:
Contact:DENSO Robotics
Headquarters: Long Beach, Calif., United States
Product: VS-Series robots
Key Features: Cycle times from 0.33 to 0.37 seconds, reaches from 500 to 900 mm, payload capacities from 4 to 7 kg, IP 67 housing.
What DENSO says:
View more information on the VS-Series robots.
View More Products
Locate a vendor or system integrator in Vision System Design's Buyer's Guide
Share new products that you think are particularly interesting or helpful by contacting James Carroll, Senior Web Editor, Vision Systems Design.