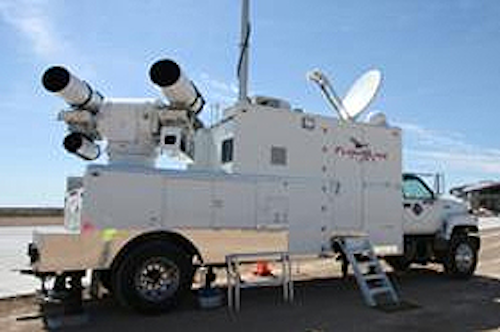 The techniques behind the filming of the 24-mile Red Bull Stratos space dive will be presented at the IS&T/SPIE Electronic Imaging Science and Technology conference next month in Burlingame, California at the Hyatt Regency San Francisco Airport Hotel.

Jay Nemeth, owner and CEO of Flightline Films (Las Vegas, NV, USA) will describe how optical imaging scientists worked with the Red Bull Stratos project for more than two years to develop the 35 camera systems and other equipment used to film Felix Baumgartner's record-breaking 24-mile space dive, including becoming the first person to break the sound barrier in free fall.

The JLAIR (Joint Launch vehicle and Aircraft Imaging in Realtime) truck used to film the dive will also be on display outside the convention center.

The annual event -- held between February 3 - 7, 2013 -- will bring together researchers in all aspects of electronic imaging for more than 800 technical talks, an interactive poster-paper reception, and a hands-on demonstration session.

Conference proceedings papers will be published individually in the SPIE Digital Library as soon as approved after the meeting, and also in collected print and digital volumes.

Related items from Vision Systems Design.
1. Infrared camera assembly completed for James Webb Space Telescope

Engineers at Lockheed Martin (Bethesda, MD, USA) have completed the assembly of the Near Infrared Camera (NIRCam), the prime near-infrared imaging instrument for NASA's James Webb Space Telescope (JWST).

2. Large sensor looks into space

On Semiconductor (Phoenix, AZ, USA) has collaborated with Teledyne Imaging Sensors (Camarillo, CA, USA) to manufacture an Extremely Large Stitched Read Out Integrated Circuit (ELS ROIC) for astronomy.

3. Telescope captures deepest space image on record

The European Southern Observatory's (ESO; Garching, Germany) Vista telescope has created the widest deep view of the sky ever made using infrared light.

-- Dave Wilson, Senior Editor, Vision Systems Design