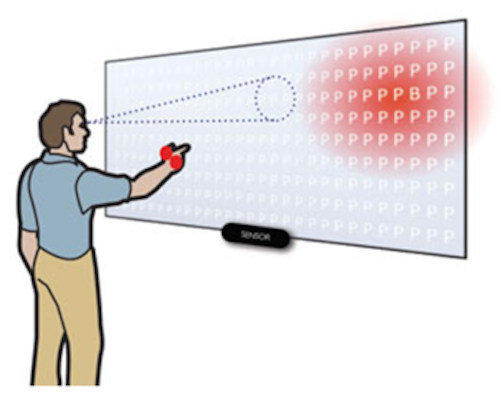 Finding a specific object in a complex real-world scene is a common yet time-consuming and frustrating chore for human beings.

To help with the task, researchers at the Helsinki Institute for Information Technology (HIIT; Helsinki, Finland) and the Max Planck Institute for Informatics (Saarbrücken, Germany) have developed a computer vision-based tracking system with vibrational feedback that can be used to steer a user's hand towards an object of interest.

The system uses four vibrotactile actuators mounted on a glove and a Microsoft Kinect sensor for tracking the user's hand. A dynamic guidance algorithm calculates actuation patterns on the glove based on the distance of the user and direction to the target.

When put to use, the Kinect-based system enabled users to find objects in complex visual scenes up to three times faster. The researchers believe that the system could help users in daily visual search tasks in supermarkets, parking lots, warehouses and libraries.

A research paper on the system was presented at the 25th ACM Symposium on User Interface Software and Technology UIST'12 in Boston, MA, USA on 7–10 October, 2012.

Recent articles on the Kinect that you might also find of interest.
1.Kinect aids rehabilitation of stroke patients

Researchers at Nottingham Trent University (Nottingham, UK) have been awarded a £347,000 grant to investigate how Microsoft's Kinect can assist with the rehabilitation of individuals with facial paralysis caused by a stroke.

2.Free toolkit helps Labview developers interface to the Kinect

Researchers from the school of mechanical engineering at Leeds University (Leeds, UK) have been crowned winners of the Student Design Competition at National Instruments NI Week in Austin, Texas for creating a LabVIEW application programming interface (API) for Microsoft's Kinect software development toolkit (SDK).

-- Dave Wilson, Senior Editor,Vision Systems Design