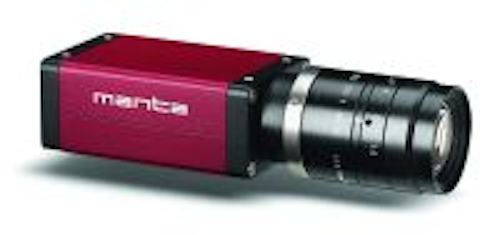 SPIE Photonics West will be held this year between Feb. 2-7 2013, at the Moscone Center in San Francisco, CA, USA. The organizers expect 1200-plus exhibitors at the Photonics West portion of the show and another 200 or more specific to the BiOS Expo. Engineers visiting the show will be treated to a plethora of new products that can help them to bring vision-based capabilities to their automation systems. You can learn more about SPIE Photonics West at http://spie.org/photonics-west.xml.

Here are just a few of the companies that will be exhibiting at the show and the products that they will have on display there.

1. Allied Vision Technologies
2. Edmund Optics
3. e2v
4. FiberTech Optica
5. Imaging Solutions Group
6. InfraTec
7. Keyence
8. Laser Components USA
9. Mightex Systems
10. New Scale Technologies
11. Olympus
12. Osela
13. Photron
14. Point Grey
15. Prior Scientific
16. ProPhotonix
17. Radiant Zemax
18. Raptor Photonics
19. Sensors Unlimited
20. Schneider Optics
21. SILL Optics
22. Sofradir
23. Surface Optics Corporation
24. Taylor Hobson
25. Teledyne DALSA
26. TMC
27. Toshiba Imaging Systems Division
28. Vision Components
29. Vision Research
30. Xenics
31. Z-LASER Optoelektronik


1. Allied Vision Technologies

On booth 117, Allied Vision Technologies (AVT; Burnaby, BC, Canada; www.alliedvisiontec.com) will be showings its Manta G-917 9.2-Mpixel camera that features Sony's ICX814 EXview HAD CCD II sensor.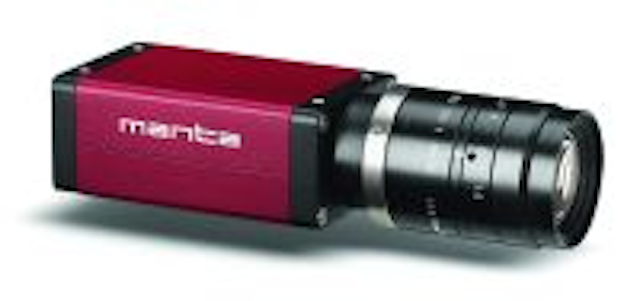 AVT's Manta camera family is compliant with the GigE Vision standard. Many options are available for the cameras such as PoE (Power over Ethernet), angled head variant, and/or sensor variants, and a robust housing enabling them to fit into many applications.

2. Edmund Optics

Visitors to Edmund Optics' (Barrington, NJ, USA; www.edmundoptics.com) booth 1323 will see the company's TECHSPEC compact instrumentation imaging lenses, which feature low lens-to-lens variation and a broadband anti-reflection coating. The lenses have an adjustable, lockable focus enabling the best focus position to be set prior to integrating into instrumentation, avoiding future adjustments.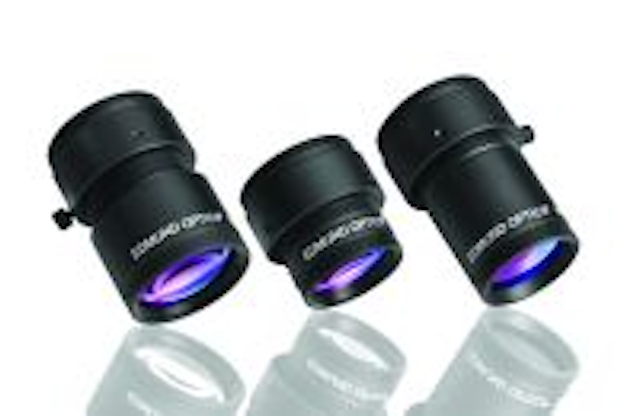 For modifying resolution, throughput, and depth of field, each focal length of these compact lenses is offered in a range of f/# options. Choosing a higher, slower f/# increases the depth of field. However, this can potentially negatively impact resolution by decreasing light throughput. Different aperture stop versions are offered with the highest standard f/# being out to f/8.

The compact lenses are designed specifically for volume integration into applications like analytical medical devices, including benchtop-based blood analyzers.

3. e2v

Based on e2v's (Chelmsford, UK; www.e2v.com) multiline CMOS technology, the ELiiXA+ 8k/4k linescan camera is the second addition to e2v's ELiiXA+ industrial linescan camera family. It will be on show on booth 4233.

The camera is expected to find applications inspecting material surfaces, in sorting of parcel and postal documents, and in scanning of print and high resolution documents, as well as the advanced inspection of flat-panel displays, printed circuit boards, and solar cells.

e2v's ELiiXA+ 8k/4k camera benefits from a compact design with a 41-mm active sensor that can be operated in an 8k or 4k pixel mode depending on the user settings. Two models of the new camera are available with either Medium Camera Link interface or Full/Deca Camera Link interface.

4. FiberTech Optica

FiberTech Optica (Montreal, QC, Canada; www.fibertech-optica.com) will be introducing multi-emitter fiber-coupled LED light sources for illumination and spectroscopy applications on booth 4516.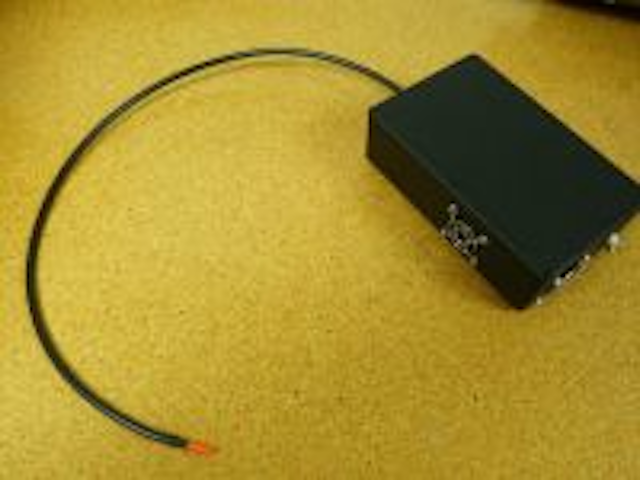 These sources are built on a modular LED platform that is configurable to a customer's required spectral distribution. The intensity of the individual emitters can be tuned independently. An integrated light mixing module ensures both spectral and spatial uniformity at the output aperture of a 3-mm diameter fiber-optic cable.

The initial configuration is available in broadband (350 to 700 nm) using an array of discrete single-wavelength emitters together with high-power white LEDs.

5. Imaging Solutions Group

On booth 737, Imaging Solutions Group http://buyersguide.vision-systems.com/Search/33403/imaging-solutions-group.html (Fairport, NY, USA; www.isgchips.com) will showcase its LightWise NuPLUS IQ smart camera family.

The cameras, based on the ISG Integrated Imaging System, feature dual GigE Vision interfaces as well as a CoaXPress interface. It also offers two USB 2.0 ports. Truesense Imaging CCD sensors offer resolutions from 1 Mpixel to 29 Mpixels. Additional features of the camera series include NTSC composite video input, two opto-isolated triggers and two strobes, with 24-DC input. An on-board Linux-based CPU and large field-programmable gate array (FPGA) support image-processing functions on the smart camera.

6. InfraTec

InfraTec's (Dresden, Germany; www.infratec.de) sensor division offers a full range of uncooled infrared (IR) pyroelectric detectors (1-4 channels) for a variety of OEM applications including gas analyzers, flame detectors, and spectrometers.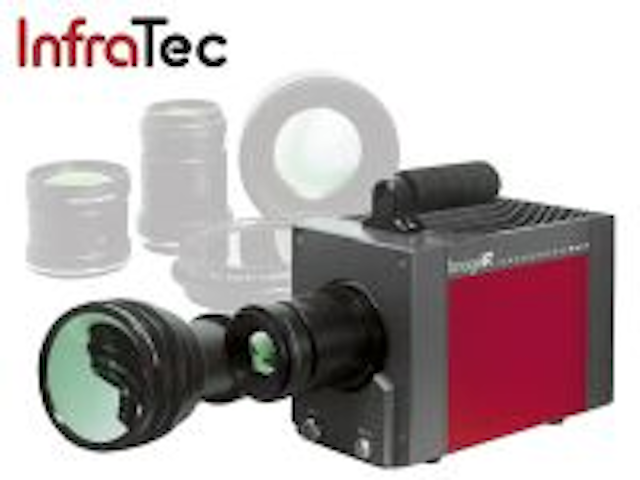 On booth 2241, the company will be featuring new miniature, dual-channel, pyroelectric detectors in a TO46 housing for gas analysis, as well as a triple-channel detector in TO-39 housing and an expanded line of variable colored detectors with integrated tunable Fabry-Perot filter.

The company will also show its modular ImageIR camera series that feature detector formats up to 1280 x 1024 IR pixels, frame rates up to 4500 Hz, thermal resolution up to 0.02 K, and measuring accuracy up to 1%.

7. Keyence

By integrating zoom optics with a CCD camera, 17-in. LCD monitor, light source, electronics, and analysis/reporting software, the VHX series digital microscope from Keyence (Elmwood Park, NJ, USA; www.keyence.com) has been designed to streamlines the efficiency of inspection processes. With a magnification range from 0.1X-5000X, the VHX Series enables a range of microscopic observation from macroscale stereoscopic imaging to the detailed analysis of an SEM.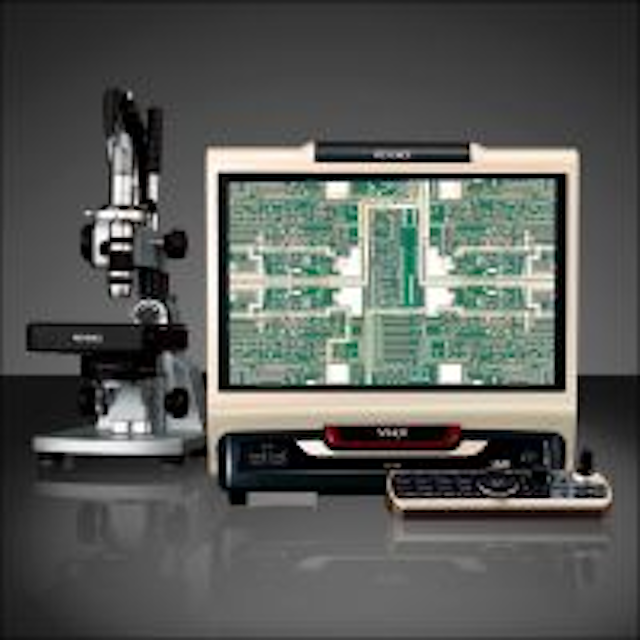 The new VHX-2000, which can be seen on booth 5521 at the show, incorporates several new features including a motorized x/y stage along with motorized z-axis lens control to enable users to adjust movement in all three axes by using an included control pad or mouse.

Automated measurement functions simplify difficult measurement tasks and help to remove variation between different users. Image Stitching can be completed with just the push of a button, and at higher speeds, to produce up to a 20,000 x 20,000-pixel image. A superhigh-resolution function combines a color filter with Keyence's pixel-shift technology, increasing resolution by 25%.

8. Laser Components USA

Laser Components USA (Hudson, NH, USA; www.lasercomponents.com) will be showing its Flexpoint MV microline laser series on booth 517.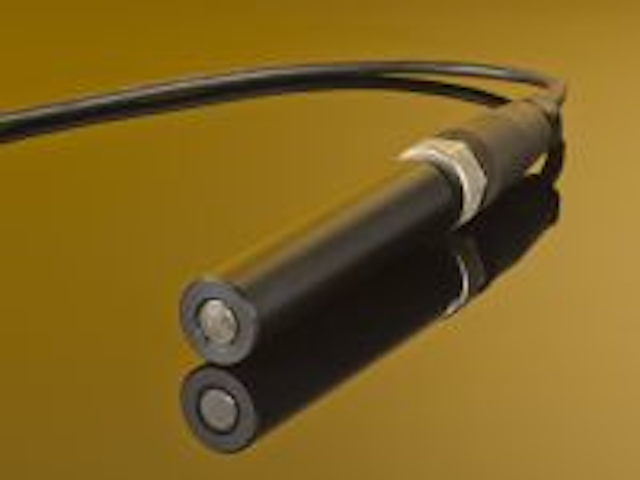 The line lasers developed and manufactured in Germany produce linewidths down to 5 μm and are particularly suited for the 3-D measurement of small objects. They are available with different wavelengths, including 405 nm, 445 nm, and various wavelengths in the red range. The output power depends on the wavelength and ranges from 1 mW up to 150 mW. Typical fan angles are 5° and 10°.

To produce the best line quality and thinnest linewidth possible, the lasers, which are 80 mm long with a diameter of 19 mm and operate between 4.5-30 VDC, are set to the desired working distance at the production facility.

9. Mightex Systems

On booth 4327, Mightex Systems (Pleasanton, CA, USA; www.mightexsystems.com) will be showing its range of USB cameras including recently introduced 5-Mpixel USB 3.0 cameras. With a transfer rate of 5 Gbits/sec over the USB 3.0 interface, the cameras deliver up to 14 frames/sec at full resolution and up to 350 frames/sec in ROI mode. Also available are USB 2.0 buffered and unbuffered CMOS cameras, high-sensitivity CCD cameras, and high-speed line cameras.

The company will also show a spectrum of single- and multiwavelength (up to 8) LED light sources with various outputs beam formats: simple spotlight, uniform precision spotlight, collimated beam, and coupled output with fiber or liquid light guide. They are complemented by a lineup of universal LED controllers with compact design and full-featured SDK.

10. New Scale Technologies

On booth 4212, New Scale Technologies (Victor, NY, USA; www.newscaletech.com) will be showing its custom M3 micro-mechatronics modules that deliver high-precision lens motion in small spaces.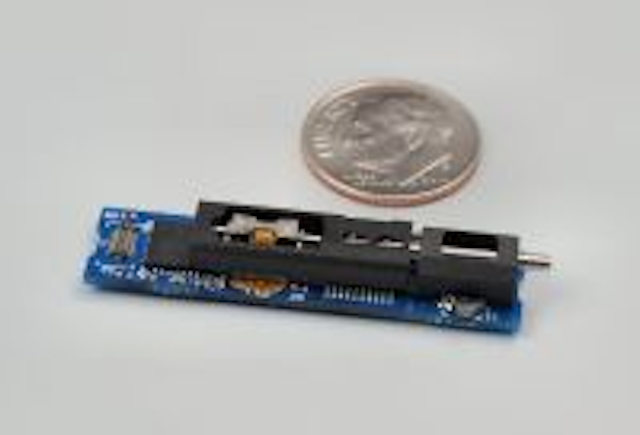 A recently developed custom M3 module has been used in the next-generation Aware camera, a gigapixel camera developed at Duke University. A piezoelectric Squiggle motor and on-board electronics and firmware create a smart actuator that enables independent focus of each of the hundreds of micro-cameras packed into the Aware camera system. The custom module has a cross section less than 6 x 10 mm, a stroke of 2.5 mm, and resolution of 0.5 µm. It moves a lens weighing several grams.

Custom M3 micro-mechatronics modules are suitable for high-resolution positioning in miniature optical instrumentation, lasers and photonics systems, aerospace controls, and biomedical systems.

11. Olympus

On Booth 4526, Olympus (Center Valley, PA, USA; http://olympusamerica.com) will be demonstrating its newly enhanced DSX500, DSX500i, and DSX100 opto-digital microscopes that include Super HDR software, an anti-halation adapter (DSX100 only), and the DSX100 motorized stage combination.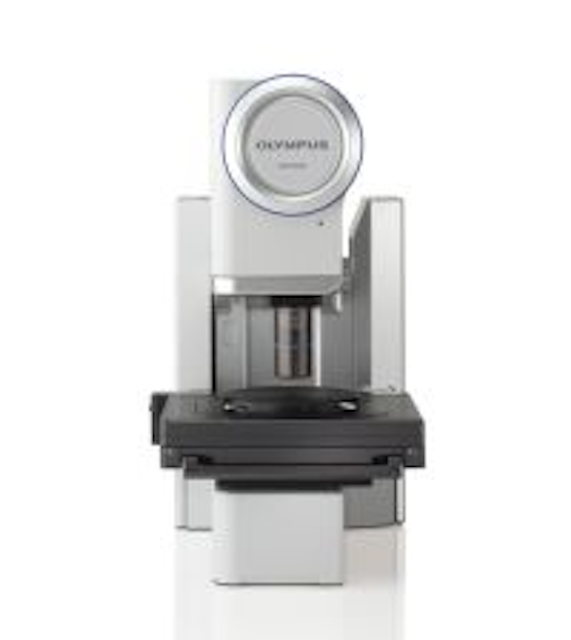 Super HDR application software allows a balance between bright and dark areas. Super HDR has two modes: Fast HDR is used for observation at higher speeds, while Fine HDR is used for observation with higher quality.

Available exclusively for the DSX100, the new anti-halation adapter prevents reflection from the microscope illumination appearing on the sample, providing clearer observation, while the DSX100 motorized stage model allows all operations to be controlled from the user's monitor.

12. Osela

On booth 328, Osela (Pointe Claire, QC, Canada; www.oselainc.com) will be showing a top-hat beam shaper that converts a Gaussian laser beam to a top profile with high uniformity and high efficiency within a compact and flexible housing with dimensions as small as 19 mm diameter by 30 mm in length.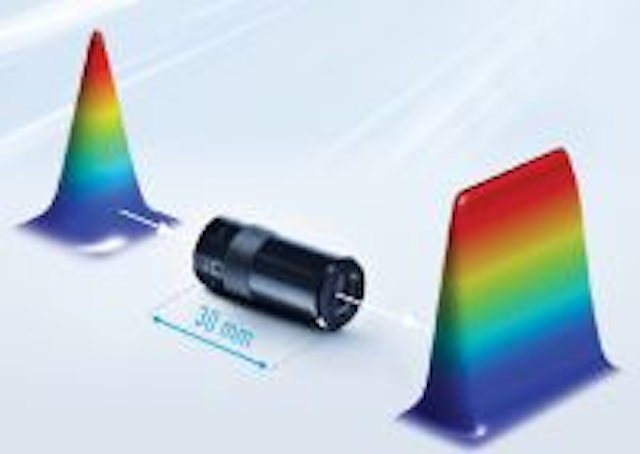 Its all-glass design is achromatic and offers smooth, slow intensity variations with no high frequency noise.

The company is a specialized manufacturer of laser illumination systems and structured lighting for industrial applications in machine vision, life sciences, and research. It can offer customized solutions to meet the needs of its customers.

13. Photron

On booth 843, Photron (San Diego, CA, USA; www.photron.com) will be exhibiting its new Fastcam SA8 1280 x 1024-pixel camera that delivers speeds up to 3500 frames/sec. Increased frame rates are also available at reduced resolution, including 1280 x 720 at 5000 frames/sec.

Photron's Fastcam SA8 digital sensor provides a sensitivity of ISO 5000 for monochrome and ISO 2500 for color, fully compliant with ISO 12232 Ssat standard. The sensor size at 12.8 x 10.2 mm is compatible with 1-in. C-Mount and Nikon G-type lenses. A Gigabit Ethernet interface enables images to be download to a PC.

The SA8 camera is housed in a rugged, sealed camera body, making it suitable for imaging in harsh environments without ingress of dust and other contaminants. Applications include automotive safety testing, engineering research, materials science, fluid dynamics, military/defense/aerospace research, and ballistic imaging.

14. Point Grey

On booth 5216, Point Grey (Richmond, BC, Canada; www.ptgrey.com) will be showcasing its Grasshopper3 camera line, which combines the benefits of a CCD imager with a USB 3.0 interface.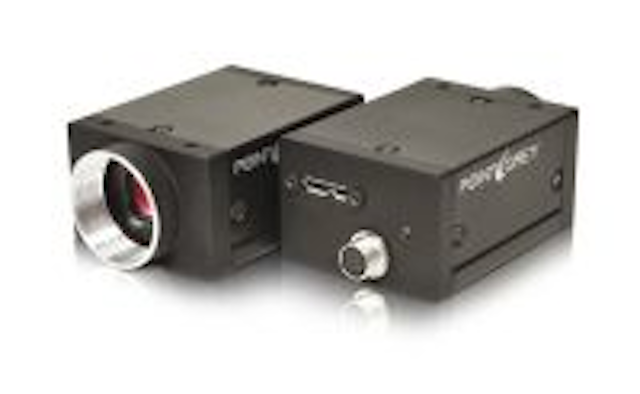 The first available model uses the Sony ICX687 2.8-Mpixel CCD and will be capable of outputting full resolution 24-bit images at 25 frames/sec. The ICX687 sensor supports high-definition (HD) 1080p30 imaging and uses Sony's EXview HAD CCD II technology to improve quantum efficiency, reduce smear, and increase sensitivity, including into the near infrared (NIR).

Visitors will also see the latest Flea3 USB 3.0 cameras which sport imagers from 1.3 Mpixels to 8.8 Mpixels. The models being shown will include the FL3-U3-13E4 delivering 1.3 Mpixels at 60 frames/sec using e2v's EV76C560 sensor; the FL3-U3-32S2 delivering 3.2 Mpixels with Sony's IMX036; and the FL3-U3-88S2C using Sony's new IMX121 sensor with "Exmor R" back-illuminated CMOS architecture.

15. Prior Scientific

On booth 325, Prior Scientific (Rockland, MA, USA; www.prior.com) will show its LumaSpec 800 spectrometer for microscopy applications.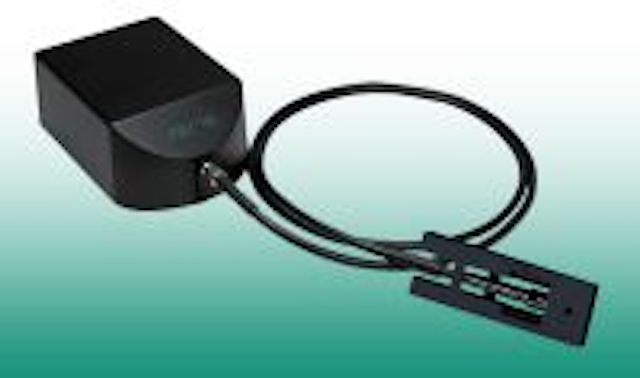 Using an illumination target in a 3 x 1-in. glass slide format, the LumaSpec 800 is able to check microscope illumination at the sample plane. The LumaSpec 800 provides quantitative and graphical information from 350-800 nm with 1.5-nm resolution.

The LumaSpec 800 is suitable for confirming the performance of illumination systems with and without filters in place, measuring transmission of filter sets, qualifying the consistency of illumination over time down to milliseconds to match exposure times, and to assist with quantitative and/or ratiometric imaging.

16. ProPhotonix

ProPhotonix (Salem, NH, USA; www.prophotonix.com) will show its 3D Pro Laser and 3D Pro Laser Mini structured-light lasers that have been designed specifically for machine vision on booth 1022.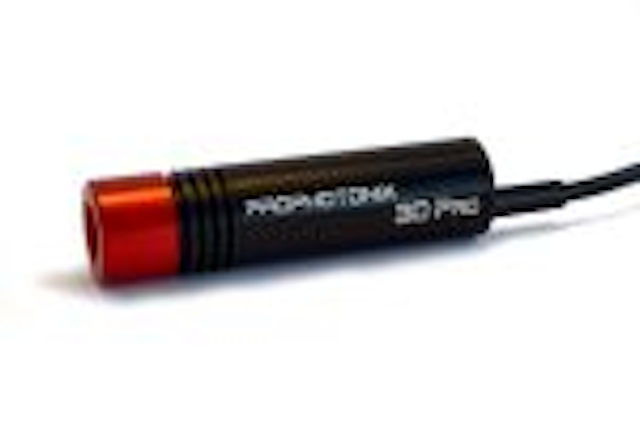 Combining a compact cylindrical form factor for easy mounting with a customer-specific fixed focus for precision alignment, they feature industry-standard mechanical dimensions (19 mm and 10 mm,) making them suitable for either new applications or drop-in replacements for existing ones.

The lasers generate uniform laser lines down to15 μm and are available in a variety of wavelengths, power levels, and fan angles.

17. Radiant Zemax

On booth 2501, Radiant Zemax (Redmond, WA, USA; www.radiantzemax.com) will be demonstrating its Zemax 13 optical and illumination design software.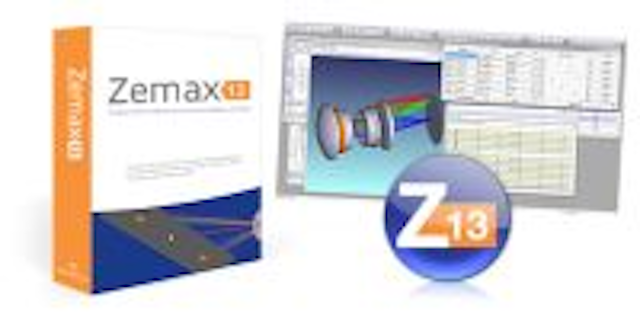 Zemax 13 simplifies how users create optical and illumination systems and integrate them into product designs. The entire process is streamlined by access to a large library of light source models, advanced simulation and optimization features, and CAD capabilities.

Features in Zemax 13 include LightningTrace for real-time modeling of illumination systems, CAD Manager for reading native part and assembly files directly in the Zemax 13 environment, Illumination Wizard to optimize luminaire design, and Light Quality Metrics to characterize and compare light source performance.

18. Raptor Photonics

Raptor Photonics (Co. Antrim, Northern Ireland; www.raptorphotonics.com) will launch the Kingfisher V, a deep-cooled vacuum-based CCD imager using Raptor's new PentaVac vacuum technology on booth 4031 at the show.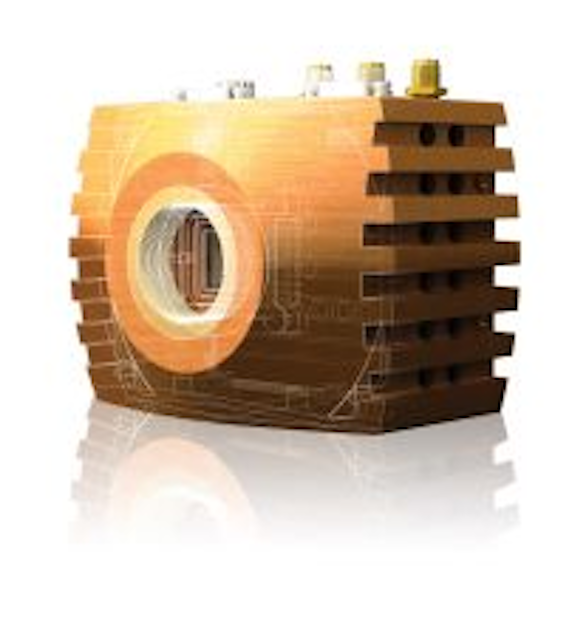 The Kingfisher V employs the deep-cooled version of the Sony ICX694 6-Mpixel sensor, cooling to Δ-111°C. It has 4.54 x 4.54-μm pixels enabling sharp image resolution and quantum efficiency (QE) up to 77%. The low dark current of 0.000001 e/p/s is achieved by deep cooling, either by water or air. Cooling to Δ-111°C will enable long exposure times and with readout noise of less than 1.5 electrons.

The Kingfisher V is a 16-bit Interline Frame Transfer CCD with both monochrome and color options. It is an ultracompact and rugged camera designed to MIL-Spec standards. It will also be available in other formats including a 2.8-Mpixel version.

19. Sensors Unlimited Products from UTC Aerospace Systems

UTC Aerospace Systems (Sensors Unlimited Products; Princeton, NJ, USA; www.sensorsinc.com) will be showing a new indium gallium arsenide (InGaAs) SWIR camera for spectral domain optical coherence tomography (OCT) on booth 811.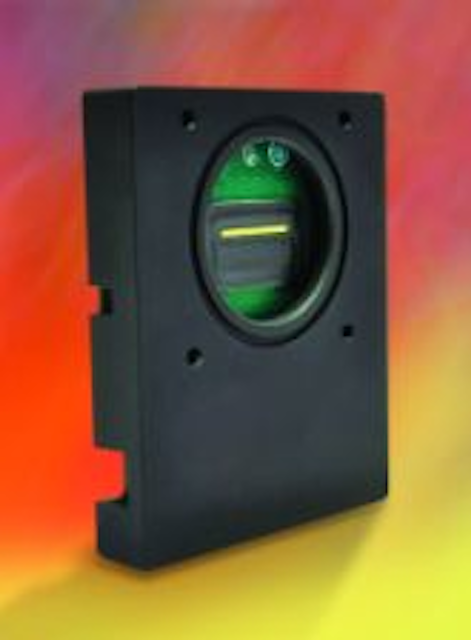 When used at the center wavelengths of 1.05, 1.31, or 1.55 µm, the camera delivers A-line rates of >76,000 lines per second, which is near the maximum for Base Camera Link interfaces.

With 10-µm pitch and pixel height of 210 µm, the camera is claimed to achieve the highest optical and spectral resolution available for any InGaAs camera. A square pixel version will be available in the future.

20. Schneider Optics

Schneider Optics (Hauppauge, NY, USA; www.schneideroptics.com) will be introducing 16 new motorized versions of Schneider-Kreuznach's Cinegon, Xenoplan, and Tele-Xenar Compact C-Mount lenses on booth 202.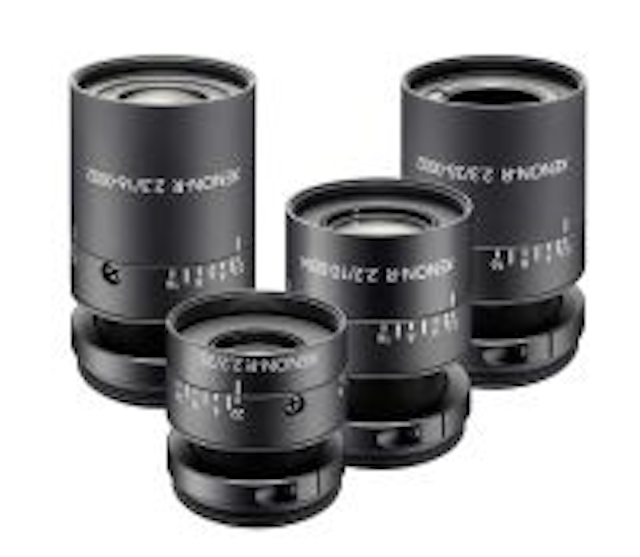 The lenses have been fitted with industrial P-Iris stepper motors for digital control. The irises are designed for long service life of over 100,000 cycles under demanding industrial conditions. The motorized iris allows the lenses to be used under variable light conditions such as traffic control or for inspection tasks, where the brightness of the object changes over time.

Schneider Optics will also be presenting new xenon-ruby C-mount lenses. Available in four focal lengths -- 2.2/10 mm, 2.3/16 mm, 2.2/25 mm, and 2.3/35 mm -- these can be used in a range of applications such as traffic control, 2-D/3-D measurement, surveillance and security systems, and machine vision.

21. SILL Optics

Optics manufacturer SILL Optics (Wendelstein, Germany; www.silloptics.de) introduces its new high-power laser lens S4LFT1330 at booth 1741.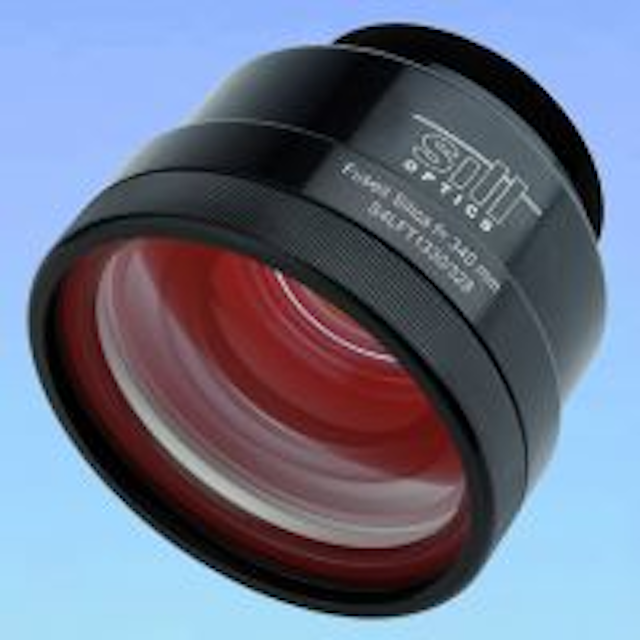 The S4LFT1330 laser lens has proven itself in a wide variety of short-pulse applications. The f-theta lens is available in different versions: optimized for wavelengths at 355 nm, 515-545 nm, 1030-1090 nm, and as new version for 1550 nm. With an effective focal length of 342 mm at 1550 nm adapted to an input beam of 20 mm, the lens realizes diffraction-limited imaging of a singlemode fiber over the entire scan area of 215 x 215.

The individual lens elements are made of high-quality fused silica glass. The lens is corrected to avoid ghosts and backreflections, which could damage the scan mirrors or lens elements. A protective glass is included.

22. Sofradir

On booth 1304, Sofradir EC (Fairfield, NJ, USA; http://sofradir-ec.com) will be launching its new IRE-640L LWIR (longwave-infrared) imaging camera which uses the company's Scorpio LW, a cryogenically cooled MCT IR detector.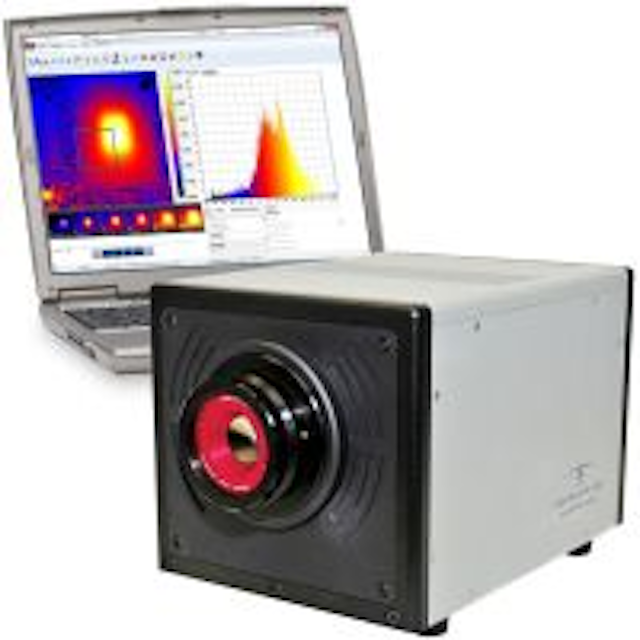 Full frame rate is adjustable from 1 to 120 Hz and the integration time can be controlled from 0.5 µsec to 20 msec. The camera permits detector sub-windowing down to 132 x 1 at higher frame rates.

Video is available as NTSC/PAL as well as through a 14-bit digital interface, and the digital video can be streamed via LVDS or through an optional Camera Link and/or Gigabit Ethernet interface. An IRIG time stamp capability, selection of lenses, and digital storage and retrieval software are also available.

23. Surface Optics Corp.

On booth 4118, Surface Optics Corp. (San Diego, CA, USA; www.surfaceoptics.com) will be demonstrating its 710VP field-portable hyperspectral imaging system, which works over the visible and near-infrared (NIR) wavelength range of 400-1000 nm in 120 bands.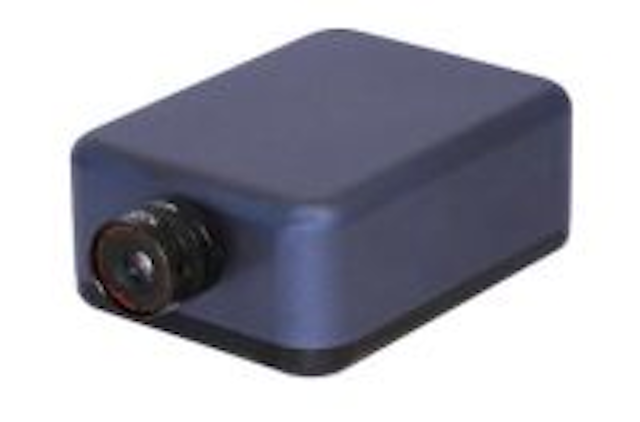 Key features of the 710VP include internal scanning mechanism, interchangeable lenses, full radiometric calibration, laptop operation over USB, and 2-hour external battery life.

Software is included for data collection, analysis, and calibration. The software also includes the capability for remote, autonomous data gathering at scheduled intervals. In addition, the 710VP can be used on any microscope with a C-Mount adapter for hyperspectral microscopy applications.

24. Taylor Hobson

Taylor Hobson (West Chicago, IL, USA; www.taylor-hobson.com) will be demonstrating roundness measuring systems robust enough for the shop floor and accurate enough for the inspection room on booth 1036.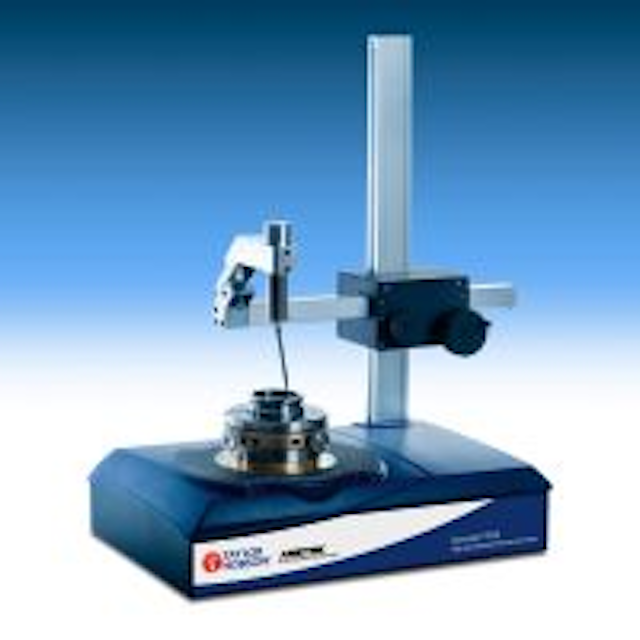 The Surtronic R-Series roundness and form testers use a proprietary orientation mechanism that allows the operator to position a part for measurement in as little as 20 sec. Throughput is further enhanced by the fact that there is no need to re-center when measuring a series of similar parts by using a patented centering attachment.

The instruments are designed for measuring high-volume bearing parts (including raceway, ball, needle, and roller bearings) and for a range of quality control applications in automotive, aerospace, optics, and process control of grinding, turning, milling and honing. Full ISO compliant measurements can be taken with ±25 nm accuracy and 6 nm gauge resolution. Results are displayed on a touch-screen interface using X-sight software.

25. Teledyne DALSA

Teledyne DALSA (Waterloo, ON, Canada; www.teledynedalsa.com) will be exhibiting its visible, UV, and x-ray imaging solutions as well as its capability for manufacturing uncooled, long-wavelength infrared (LWIR) cameras on booth 2523. It will highlight its range of semi-customized and full custom CMOS and CCD imagers as well as its latest cameras that sport GigE Vision and Camera Link interface standards.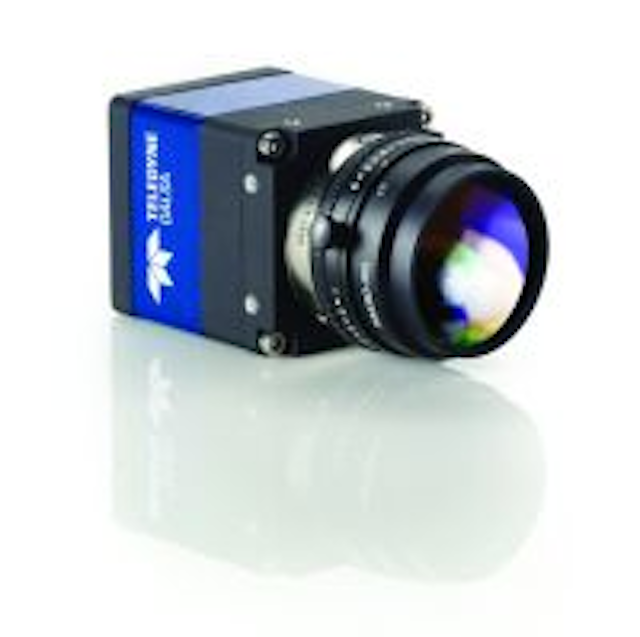 On show too will be its line of ultraviolet (UV) detectors based on the backside-illuminated detector concept that can sense wavelength ranges down to 193 nm, and a range of near-infrared (NIR) detectors which sport high sensitivity in the 800-1000 nm range, while still maintaining important features such as overexposure control.

The company will also demonstrate its in-house capabilities to deliver detector, camera, and image module solutions for LWIR applications. The IR cameras and modules are developed and qualified to customer specifications and can be based on Teledyne DALSA's custom detectors and camera platforms.

26. TMC

TMC (Peabody, MA, USA; www.techmfg.com) will show its SEM-Closure, an acoustic enclosure designed specifically for scanning electron microscopes (SEMs) on booth 1036.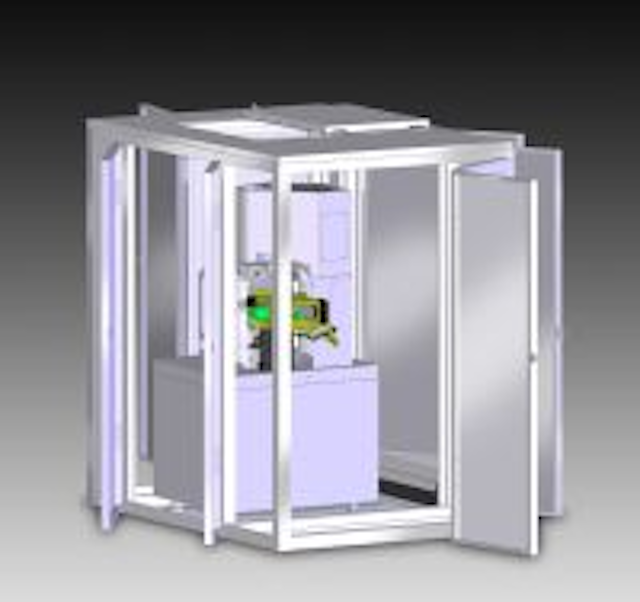 TMC's STACIS iX SEM-Base active piezoelectric vibration-cancellation floor platform cancels vibration at very low frequencies. Its Mag-NetX cancels magnetic field interference. SEM-Closure houses the SEM supported by SEM-Base and Mag-NetX in a sealed and temperature-controlled acoustical chamber, protecting the SEM from vibration, magnetic field disturbances, and acoustic noise.

SEM-Closure provides multiple access points, a heat dissipation system, and provisions for tool plumbing and cabling within the system. The modular architecture of the standard enclosure allows ample space for Mag-NetX, the SEM-Base floor platform, and most commercial SEMs with various configurations. Custom enclosure designs also are available.

27. Toshiba Imaging Systems Division

Toshiba Imaging Systems Division (Irvine, CA, USA; www.toshibacameras.com) will show its IK-HD1 high-definition camera that uses Toshiba's unique three-chip CCD sensor technology on booth 5401.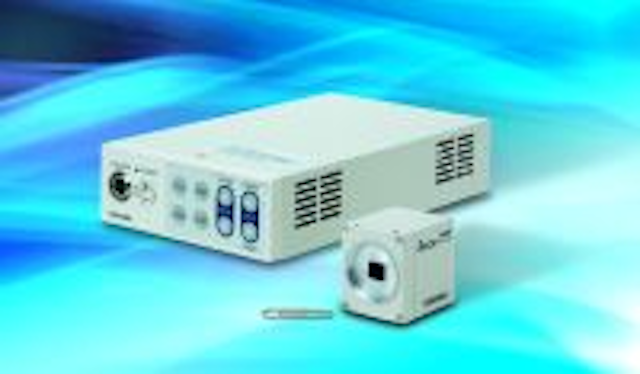 It features a compact camera head with 1080i output and true HD 1920 x 1080 output pixels at 30 frames/sec. For added convenience, the camera controller provides connectivity via HD-SDI (SMPTE 292M), Analog RGB, or Y/Pb/Pr.

The RS-232C serial interface and C-Mount lens mount enable the IK-HD1 to be integrated into new or existing machine-vision or microscopy systems.

28. Vision Components

Vision Components (Hudson, NH, USA; www.vision-components.com) will be showing its VCnano cube dual, an intelligent stereo camera based on its VCnano cube line, on booth 5504.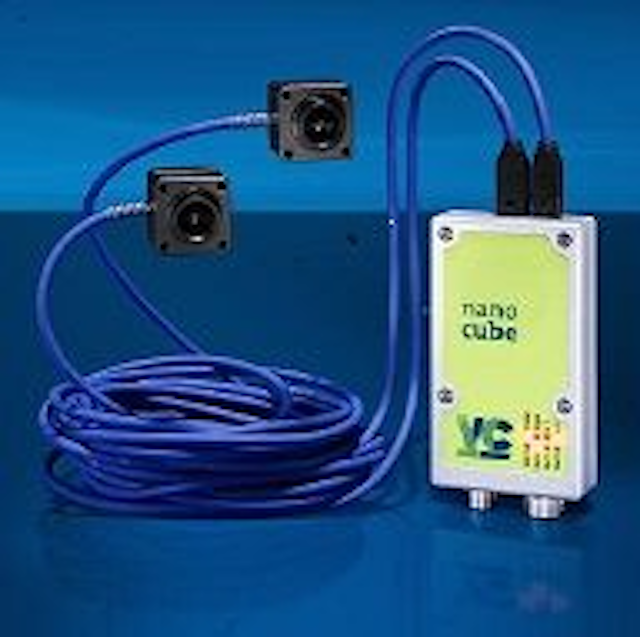 Featuring two sensor heads that measure 22 x 22 x 22.5 mm, the new camera is suited for 3-D tasks and alignment applications, such as the positioning of printing plates by means of register marks.

Like all intelligent cameras from Vision Components, the VCnano cube dual independently executes all image-processing routines without an external PC. The cameras are equipped with an Ethernet interface and an optional RS-232 interface. A global-shutter CMOS sensor provides images even in fast applications, capturing images with a 752 x 480-pixel resolution at a frame rate of 60 frames/sec.

29. Vision Research

Vision Research (Wayne, NJ, USA; www.visionresearch.com) will be exhibiting its LC-Series of cameras on booth 1036.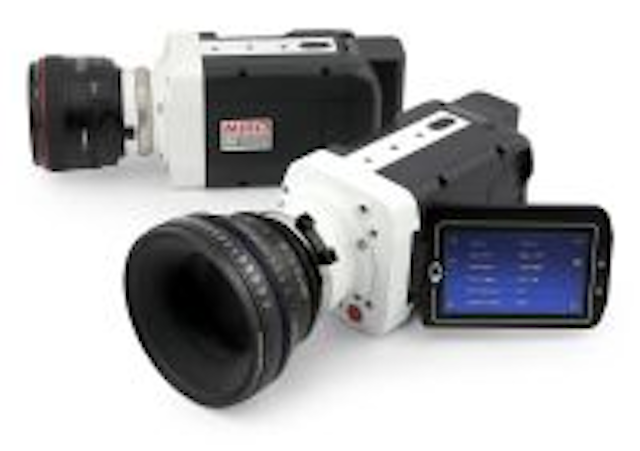 The LC-Series is available in the same models as the company's Miro M-Series digital high-speed cameras: LC110, LC310, LC120, and LC320S. However, the LC-Series cameras have a flip-out LCD touch-screen for on-camera control and monitoring.

The LC320S model is aimed at the entertainment and production market. It has 3.2 Gpixels/sec throughput that equals 1380 frames/sec at 1920 x 1200 with higher frame rates at reduced resolutions. This camera has a 12-bit pixel depth and uses micro-lenses on its custom-designed CMOS sensor to enhance light sensitivity. It also includes a single HD-SDI port.

30. Xenics

On booth 926, Xenics (Leuven, Belgium; www.xenics.com) will show a range of cameras including its InGaAs-based shortwave-infrared (SWIR) Lynx CL linescan cameras as well as its Bobcat-640 2-D cameras and longwave-infrared (LWIR) bolometer cameras.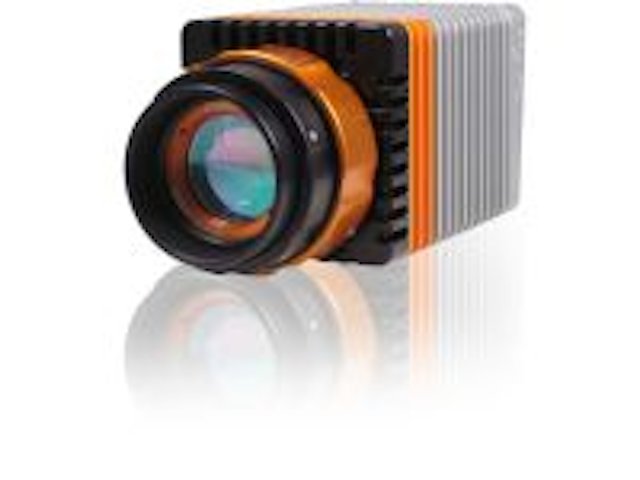 Different interface modules can be provided with the cameras: GigE Vision (with and without Power over Ethernet), Camera Link, or CoaXPress.

All GigE Vision models support Cognex VisionPro, MVTec HALCON, and Stemmer Common Vision Blox imaging software.

31. Z-LASER Optoelektronik

Z-LASER Optoelektronik (Freiburg, Germany; www.z-laser.com) will be exhibiting a new small laser module especially targeted at OEMs on booth 4434.

The ZM12 can operate from a 5-30 VDC power supply and provides an optical power output up to 80 mW of either red or infrared (IR) light.

The unit has a simple external hand-focusing mechanism and can be used to project a variety of optical patterns such as homogenous lines, crosses, and points.


-- Produced by Dave Wilson and Carrie Meadows, Vision Systems Design