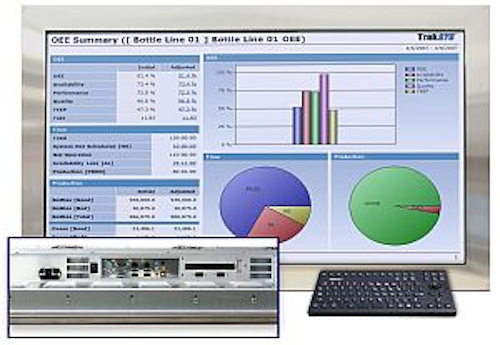 Comark Corp. (Medfield, MA, USA), a manufacturer of rugged displays, computers, and enclosures has introduced a 42-in. panel PC to their Panel Magic product line. Panel Magic PCs and displays have been installed in a variety of industrial machinery applications including batch control, packaging, food processing, material handling, and process monitoring.
The 42-in. panel has full 1080P resolution and is the largest in the Panel Magic series which ranges from 12 to 42 in. Optional Pentium M, Atom and Core 2 Duo integrated processor are available. Other Panel Magic PC options include resistive touch screens, PCI expansion capability, and custom bezel colors. When installed in a panel or enclosure, the Panel Magic PC series meets a NEMA 4X rating.
"Larger panels are gaining popularity in industrial automation, primarily driven by lower costs and the desire to integrate large amounts of information on a single screen or have information available to larger numbers of people such as control room and factory floor applications," commented Steve Schott, President of Comark.
Panel Magic PC is compatible with many brands of automation and HMI software including Invensys Process Systems, Parsec Automation, Wonderware, Rockwell Automation, and many more. Thin client configurations are available enabled with ACP ThinManager. Comark's panel mounted computers are made and serviced in the USA and come with a two-year warranty.
SOURCE: Comark Corp.

-- Posted by Vision Systems Design