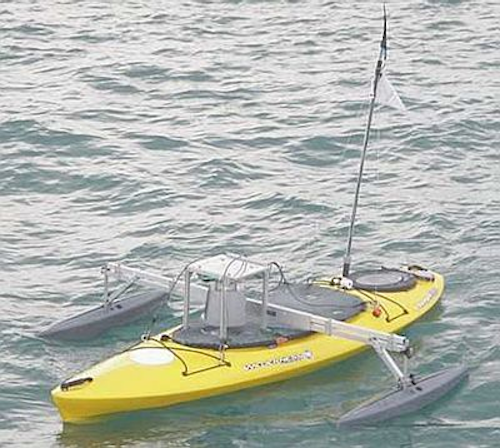 A group of researchers from the Singapore–Massachusetts Institute of Technology (MIT; Cambridge, MA, USA) Alliance for Research and Technology are developing an unmanned robotic system to reconstruct 3-D models of marine structures, both natural and manmade.
To ensure that their robotic platform would have high maneuverability, the researchers chose to use a Scout Autonomous Surface Craft (ASC) for the purpose -- a 3-m-long remotely controlled kayak that weighs about 90 kg. As a result of its small turning circle, the ASC can access places that are difficult for bigger vehicles.
Two different types of scanning sensors were used onboard the ASC to generate high-accuracy scan data: a 3-D lidar (light detection and ranging) system to scan above the water surface and a high-frequency sonar to scan below the surface.
The sequence of 3-D point cloud data generated by the 3-D lidar and a sequence of 2-D intensity maps generated by the sonar were then combined to provide single a point-cloud model from above and below the water line, which was then used to produce a 3-D model.
Having successfully tested the system in a seawater environment in the Singapore Straits, the researchers are now working to refine the system further by enabling the robotic kayak to efficiently gather scanned data of the structures of interest while avoiding unforeseen obstacles.
More information on the work can be found at http://censam.mit.edu/news/posters/2010/nmp/4.pdf.
-- By Dave Wilson, Senior Editor, Vision Systems Design