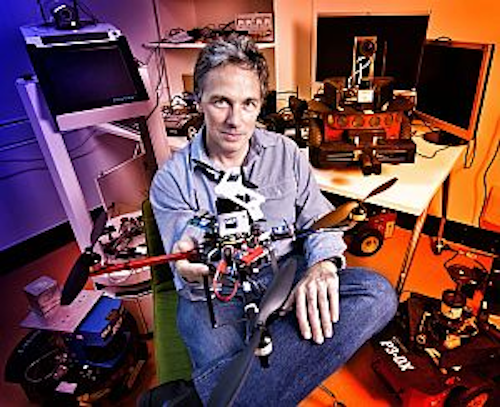 Australian researchers are developing a flying robot as small as a dinner plate and a fleet of eco-friendly robotic farmhands that could help cut down the amount of herbicide sprayed on crops.
The pint-sized propellor-powered unmanned aerial vehicle (UAV) created by the engineering team at Queensland University of Technology (QUT; Brisbane, Australia) has multiple cameras that enable it to navigate its way through buildings, carrying out tasks like deliveries or inspections.
Professor Peter Corke, from the QUT Faculty of Built Environment and Engineering, says that within the next year it may be possible to attach arms to the robotic device so that it could also be used to repair items remotely.
In related robotic vision work, Corke and his team -- including fellow researcher Ben Upcroft, PhD -- are also investigating ways to create lightweight agricultural robots equipped with cameras that can apply herbicide more intelligently on fields by identifying features of weeds that differentiate them from the rest of a crop.
The three-year projects to develop the robots were recently awarded nearly AUS$400,000 in funding from the Australian Research Council.
-- By Dave Wilson, Senior Editor, Vision Systems Design