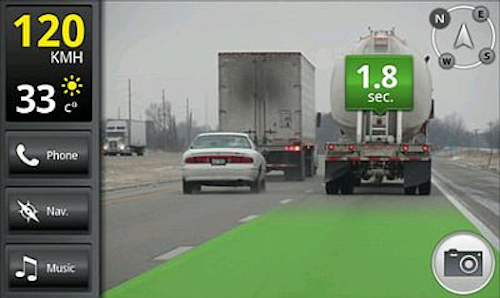 A new app uses the camera in an Android smart phone to measure the relative speed and distance between a vehicle and those in front it, broadcasting audio and visual collision warnings whenever the risk of an impending collision is detected.
To use the so-called "iOnRoad" app, a user places a smart phone in a car-mount holder, so that the smart phone's camera can "view" the road in front of the car. Calibration is unnecessary, since it is performed automatically each time a user starts driving and takes just a few seconds.
When running, the app displays an image of the vehicle in the lane ahead of the driver and marks it with a time gap in seconds that indicates how much time it would take a car -- at its current speed -- to reach the position of that vehicle.
Two crash alerts are timed to appear to encourage drivers to start braking should they get too close to the vehicle ahead. A yellow alert appears and beeps when the time gap is less than 2.5 seconds. Subsequently, if the driver has not slowed the vehicle, a red crash alert appears and sounds when the time gap drops to less than 1.5 seconds.
The app's developers have future plans to improve the iOnRoad's image-processing algorithm to reduce false alarms and provide better car and lane detection. They also aim to develop a version of the iOnRoad app for the Apple iPhone.
-- By Dave Wilson, Senior Editor, Vision Systems Design