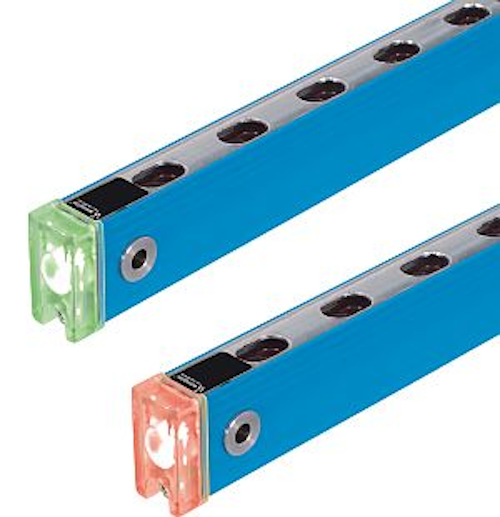 Light Curtains Pick to Light devices are photoelectronic sensors. According to the principle "pick to light" (commissioning with light), the light curtains monitor parts-picking processes in shelves and storage locations during mounting and commissioning to prevent errors. The devices function according to the retro-reflex principle: Transmitter and receiver are integrated into the same housing and employ a pre-mounted reflector. They use visible red light and ensure a range of 2000 mm.
wenglor sensoric
Tettnang, Germany
-- Posted by Vision Systems Design

---
NEW PRODUCT PRESS RELEASE
Light Curtains Pick to Light for error-free shelf control
With its Light Curtains Pick to Light the sensor producer wenglor extends its portfolio of Photoelectronic Sensors. According to the principle "Pick to Light" (commissioning with light) the Light Curtains monitor the correct parts picking processes in shelves and storage locations during mounting and commissioning and thus effectively prevent errors. By using the Light Curtains Pick to Light search times are substantially reduced and productivity is increased.
The Light Curtains function according to the retro-reflex principle, meaning that transmitter and receiver are integrated into the same housing and need a reflector in order to function. The practical thing about this: on wenglor´s Light Curtains a reflector foil is already pre-mounted to the back of the sensor´s housing and serves as reflector for the neighboring Light Curtain. This reduces the efforts for installation and wiring and reduces the initial start-up costs.
An integrated two-color job display (green/red) indicates a correct respectively incorrect parts picking process to the user. It is clearly visible at a 360-degree radius to the user and makes a diagnosis possible even when the actual control panel is not visible. The job display can be switched over from blink mode to shine mode, and the output can be switched over from NO to NC. The respective configuration of functions is done with the push of a single button via the Teach key.
The Light Curtains in their robust aluminum housings work with visible red light and ensure a range of 2,000 mm. With metering panel heights of 120 mm, 270 mm and 420 mm and a beam spacing of 30 mm the Light Curtains are suited e.g. for the use in storage locations as well as for commissioning tasks in the logistics and automotive industries.
About wenglor sensoric gmbh
wenglor sensoric gmbh with headquarters on Lake Constance in Tettnang, Germany, has been a manufacturer of innovative products for contactless object detection for more than 25 years. Founded as a two-man business in 1983, the family enterprise has since evolved into one of the most important international sensor suppliers with more than 500 employees around the world. In keeping with the company's mission state¬ment, "Sensors for your success!", wenglor meets industrial automation challenges for customers in all industry sectors – from automobile manufacturing to the packaging industry. More than 50,000 customers all over the world are already placing their faith in wenglor's innovative products in the fields of sensor technology, identification and safety engineering.
SOURCE: wenglor sensoric