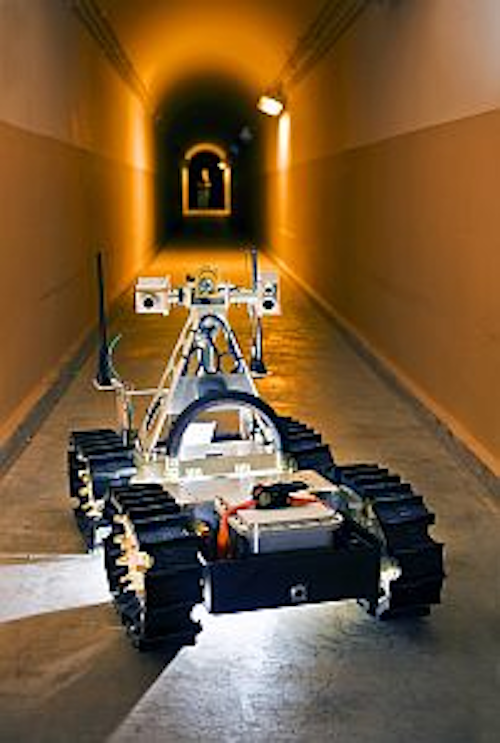 Rescuing trapped workers from mines is a hazardous operation, not in the least because rescue teams may be unaware of the dangers that lie ahead of them as they negotiate their way to the scene of any disaster.

To help out, engineers at Sandia National Laboratories (Albuquerque, NM, USA) have developed a service robot that could eliminate some of those unknowns by arming rescuers with information that may save lives.
Jon Salton, an engineer and project manager for the robotics effort at Sandia, said that the remotely control Gemini-Scout Mine Rescue Robot is equipped with gas sensors, a thermal camera to locate survivors, and another pan-and-tilt camera to capture images of obstacles in its path.
Less than four feet long and two feet tall, Gemini-Scout can navigate around tight corners and over safety hatches a foot high. In addition to giving rescuers an idea of what they are heading into, the robotic scout can haul food, air packs, and medicine to those trapped underground, and can also be configured to drag survivors to safety.
The engineers built the Gemini-Scout to negotiate nearly every known mine hazard. Methane and other gases can ignite if exposed to sparks, so the electronics are housed in casings designed to withstand an explosion. And to ensure that it would operate even in flooded tunnels, its controls and equipment were made waterproof.
If all goes according to plan, the robot could be ready to head underground by the end of next year. The team is in the final stages of licensing it to a commercial robotics company, but for the moment, the Mine Safety and Health Administration (Arlington, VA, USA) will be the primary customer.
-- Posted by Vision Systems Design