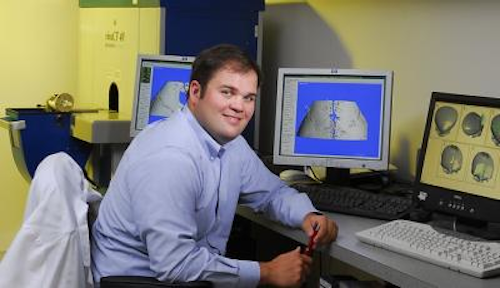 A new image-processing algorithm could improve the treatment of babies born with craniosynostosis, a condition that causes the bone plates in the skull to fuse too soon after birth. However, Chris Hermann, a PhD student in the Coulter Department of Biomedical Engineering at Georgia Tech (Atlanta, GA, USA), has developed imaging software that can monitor this bone growth by analyzing computed tomography (CT) images of the skull.
Craniosynostosis affects approximately one in every 2500 babies in the United States. The condition is caused by the premature closure of sutures -- a type of fibrous joint that only occurs in the skull -- with bone. While sutures provide an important means for the skull to increase in size, if the sutures close too soon after birth and get replaced with bony tissue, the restricted size of the skull could limit the expansion of the brain.
Treating this condition typically requires surgery to remove portions of the fused skull bones, break them up, reposition them, and hold them in place with plates and screws. This procedure usually slows bone growth between the bone pieces, allowing room for expansion of the brain. In some cases, though, the bones grow together again too quickly and additional surgery is required.
Hermann's software identifies bone in the CT images, then quantifies the distance between the bones, the mass of bone in the gap, and the area and volume of the gap.
The software algorithm has already been used to analyze images of developing skulls in mice, where it was able to monitor different types and speeds of bone growth on a daily basis for many weeks in the biomedical research experiment. Now, it is planned to be developed further to help children suffering from craniosynostosis.
-- Posted by Vision Systems Design