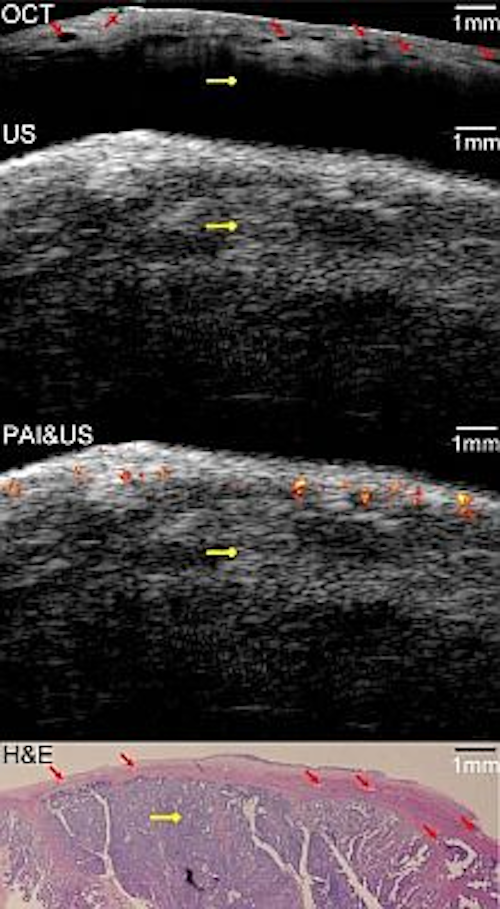 By combining three imaging techniques, a team of researchers from theUniversity of Connecticut (Storrs, CT, USA) and the University of Southern California (Los Angeles, CA, USA) has developed a new endoscope that could help to diagnose early-stage ovarian cancer in high-risk women through minimally invasive surgery.
Ovarian cancer has a low survival rate because a lack of reliablescreening techniques usually means the disease remains hidden until the later stages of its development. Now, researchers have drawn on the unique advantages of multiple imaging methods to test a new way of spotting tissue irregularities that signal cancer.

The prototype endoscope created by the developers combines the functionality of photoacoustic imaging, optical coherence tomography (OCT) and pulse-echo ultrasound. It consists of an OCT sample arm probe, a multimode fiber to deliver light for photoacoustic imaging, and a high-frequency ultrasound transducer.
The team tested their device -- described by the team in the September issue of the Optical Society's (OSA) journalBiomedical Optics Express -- by imaging both pig and human ovarian tissue. It correctly identified malignant tumors that were later confirmed by staining the tissue and examining it under a microscope.

Initial tests were performed on tissue that had been surgically removed, but the diameter of the endoscope -- at only 5 mm -- is small enough that it could potentially be inserted through a small slit to image tissue in live patients.
-- Posted byVision Systems Design