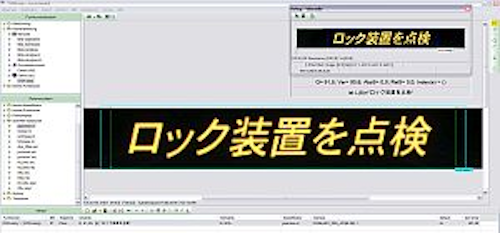 easyOCR software automatically reads text on displays of engine control units (ECUs). A new function, integrated into the Teachable Optical Measurement (TOM) image-processing software, enables reading Asian characters of any font size without pre-learning. Intelligent image preprocessing separates text areas from backgrounds. Highlighted and inverted, text passages are preprocessed to enable automatic reading. By a targeted change of binarization and reading parameters, fully processed in the background, captured images are prepared to provide optimized image content for the OCR function.
GOEPEL electronic
Jena, Germany
---
NEW PRODUCT PRESS RELEASE
easyOCR Function enables Reading of Asian Characters
GOEPEL electronic has developed easyOCR, an easy-to-use software for automatic reading of texts on displays of engine control units (ECUs). A new easyOCR function now enables reading Asian characters of any font sizes without pre-learning.
The software function's benefits were additionally combined with an intelligent image pre-processing. Within a multi-stage process text areas are separated from backgrounds. Highlighted and inverted, text passages are pre-processed to enable the automatic reading. Furthermore, variations on completely different display types are considered. By a targeted change of binarisation and reading parameters, fully processed in the background, captured images are prepared to provide optimised image contents for the OCR function. The reading process's reliability is increased far beyond standard OCR functions.
The easyOCR function is integrated in GOEPEL electronic's well-proven TOM image processing software (TOM = Teachable Optical Measurement). It's a software tool that features numerous functionalities. In addition to an extensive image processing library, there are in particular convenient opportunities to integrate and configure CCD and CMOS cameras with digital interfaces such as FireWire, GigE or USB. Additionally, the included remote control interface offers the opportunity to integrate optical inspection tasks into superior test programs. Based on the user-friendly operation concept, complex image processing sequences can be generated without prior programming knowledge.
About GOEPEL electronic:
GOEPEL electronic is a worldwide leading vendor of professional electronic and optical test and inspection systems. Founded 1991 and headquartered in Jena, Germany, GOEPEL electronic employs currently about 180 employees and generated a revenue of more than 22 Million Euro in 2010 (ca. $31 Mio). GOEPEL electronic has continuously been ISO9001 certified since 1996 and has been honoured with TOP-JOB and TOP-100 awards for being one of the best medium-sized companies in Germany. GOEPEL electronic's products won several awards in recent years and are used by the leading companies in telecommunication, automotive, space and avionics, industrial controls, medical technology, and other industries.
SOURCE: GOEPEL electronic GmbH