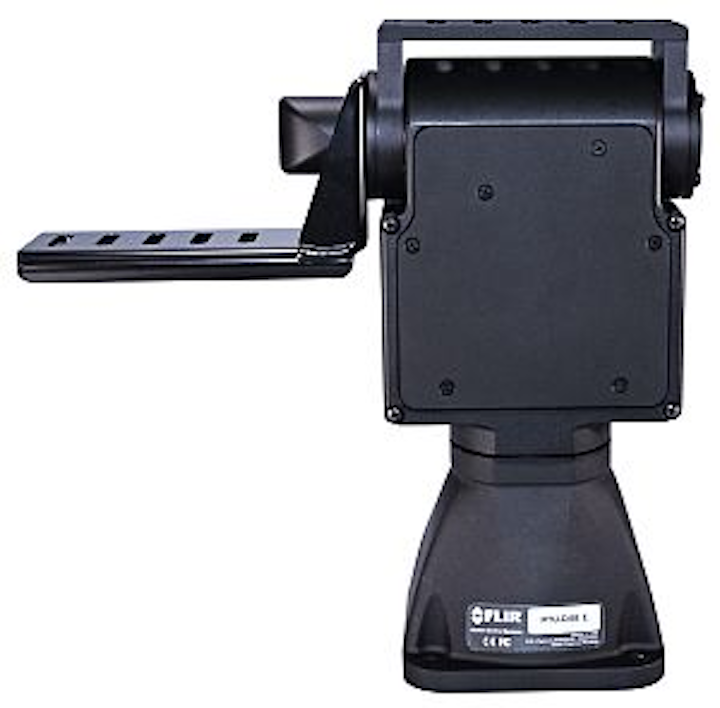 The Inertial Stabilization Module (ISM) for E-Series pan/tilt models is an open-architecture inertial stabilizer that uses a three-axis gyro and firmware to actively control the pan/tilt's pointing angles and compensate for vehicle motion to maintain steady line-of-sight. Target applications include maritime camera systems, airborne camera or antenna systems, and ground-vehicle-mounted camera systems for force protection and surveillance. ISM is available as a factory option for PTUD48E, PTU-D100E, and PTU-D300E model pan/tilt systems.
FLIR Motion Control Systems
Portland, OR, USA
-- Posted by Vision Systems Design

---
NEW PRODUCT PRESS RELEASE
LOW-COST, STABILIZED PAN/TILTS ANNOUNCED
Breakthrough Price/Performance Stabilization for air, ground, sea applications
Portland, OR – FLIR Motion Control Systems (MCS) announced the release of the new Inertial Stabilization Module (ISM) for its E-Series pan/tilt models. The E-Series ISM is an open architecture inertial stabilization option on high-performance MCS pan/tilts that provides unmatched performance at an affordable price.
The all new ISM uses a 3-axis gyro and special firmware to actively control the pan/tilt's pointing angles and compensate for vehicle motion to maintain steady line-of-sight.
The open architecture of the ISM allows for simple integration with OEM applications such as video tracking, radar slew-to-cue, and joystick control via built-in serial and Ethernet interfaces. The build-in Web interface provides simple configuration and tailoring to OEM applications.
ISM stabilized pan/tilt systems are the ideal platform for OEMs developing mobile sensing or communications applications on a variety of platforms with single and multi-part payloads. Target applications include: maritime camera systems, communications-on-the-move, airborne antenna or camera systems, ground vehicle mounted camera systems for on-the-move force protection and surveillance.
ISM is available as a factory option for PTU-D48E, PTU-D100E, and PTU-D300E model high-performance pan/tilt systems. The PTU-D48E-ISM is available for under $10,000 in low quantities.
"ISM for E-Series is a very exciting product for FLIR," said David Gaw, Vice President of Sales at FLIR Motion Control Systems. "We have incorporated early experience in stabilized applications to offer the best price/performance of any stabilized pan/tilt on the market. This will enable our OEM customers to deliver an exciting array of new applications not previously possible."
About FLIR Motion Control Systems:
Founded with a mission to be a leading manufacturer of innovative devices and software for the intelligent control of sensors and sensor processing, FLIR Motion Control Systems, Inc. (formerly Directed Perception) created one of the first miniature computer-controlled pan/tilt tracking mounts in 1992. FLIR MCS continues to lead the field providing high-performance pan/tilts for: Security & Surveillance, Industrial Automation, Robotics, Communications, Military/Aerospace, Law Enforcement, and R&D applications.
SOURCE: FLIR Motion Control Systems