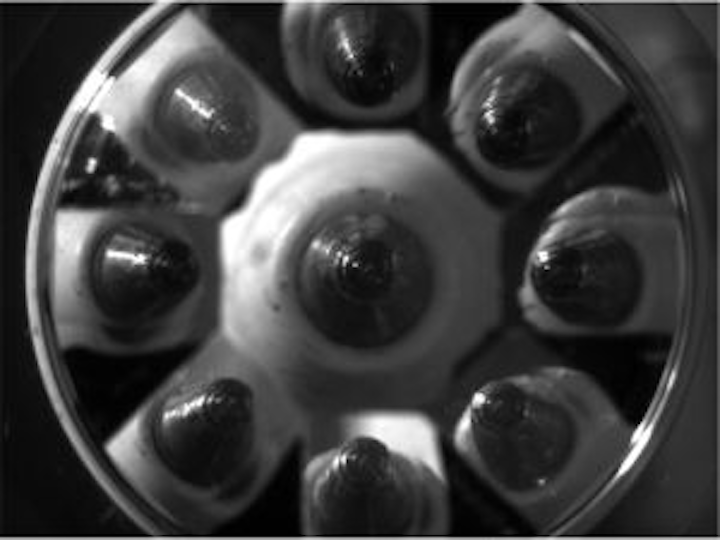 Engineers at Ohio State University (Columbus, OH, USA) have invented anoptical lens that enables microscopic objects to be seen from nine different angles at once to create a 3-D image. Other 3-D microscopes use multiple lenses or cameras that move around an object; the new lens is the first single, stationary lens to create microscopic 3-D images by itself.

Allen Yi, associate professor of integrated systems engineering, and postdoctoral researcher Lei Li described the lens in a recent issue of the Journal of the Optical Society of America. Yi called the lens a proof of concept for manufacturers of microelectronics and medical devices, who currently use very complex machinery to view thecomponents that they assemble.
Although the engineers milled their prototype thermoplastic lens on a precision cutting machine, the same lens could be manufactured less expensively through traditional molding techniques, Yi said.
The final lens had a faceted top and a wide, flat bottom. It was installed on a microscope with a camera looking down through the faceted side, and centered objects beneath the flat side. Each facet captured an image of the objects from a different angle, which can be combined on a computer into a 3-D image.
In one test, the engineers recorded 3-D images of the tip of a ballpoint pen, which has a diameter of about 1 mm, and a mini-drill bit with a diameter of 0.2 mm.
SOURCE:Ohio State University

--Posted byVision Systems Design

Photo by Kevin Fitzsimons, courtesy of Ohio State University.