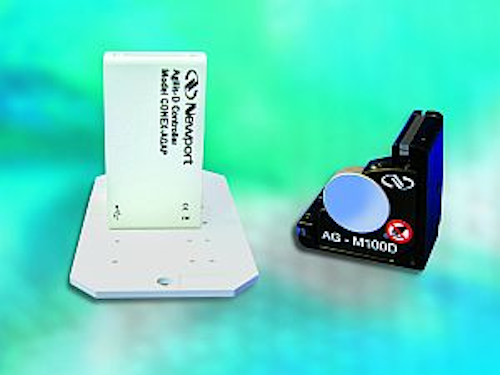 CONEX-AG-M100D is a remote-controllable mirror mount that combines the high-angular position sensitivity of the Agilispiezomotor direct-drive technology with exact position information from a patent-pending, two-axis, absolute position sensor. In open loop, the MIM of the mirror mount is 2 μrad over a ±0.75º range; in closed loop, the MIM is 0.001º with a bidirectional repeatability of 0.01º.
Newport Corp.
Irvine, CA, USA
-- Posted byVision Systems Design

---
NEW PRODUCT PRESS RELEASE
Newport Introduces Compact, Piezo-Motor-Actuated Mirror Mount with Integrated Controller/Driver
Irvine, CA – Newport Corporation introduces the new CONEX-AG-M100D, a remote-controllable, piezo-motor-driven mirror mount with an integrated 2-axis absolute position sensor. It combines the high-angular position sensitivity of the field-proven Agilis piezo-motor direct-drive technology with exact position information from a novel, patent-pending, 2-axis, absolute position sensor. While other piezo-motor mounts lack exact position information and hence can only be used for adjustments, the CONEX-AG-M100D is capable of repeatable or absolute positioning tasks. This capability is important in scanning applications or when steering a laser beam to different positions repeatedly is required.
In open loop, the MIM of the mirror mount is 2µrad over a ±0.75º range and in closed loop,
the MIM is 0.001º with a bi-directional repeatability of 0.01º. With the absolute position sensor, the user can also save a position into memory and recall that position upon start-up without having to rely on a home or reference location. This is beneficial when a previously optimized beam path must be re-established.
According to Beda Espinoza, Senior Manager, Motion, at Newport Corporation, "Integrating the Agilis mirror mount and the CONEX controller platform, both developed with simplicity in mind, makes the CONEX-AG-M100D very affordable. Combined with the NSTRUCT
Instrument Management software platform, setting up becomes much easier, leading to less time wasted and a faster implementation of experiments."
SOURCE:Newport Corp.