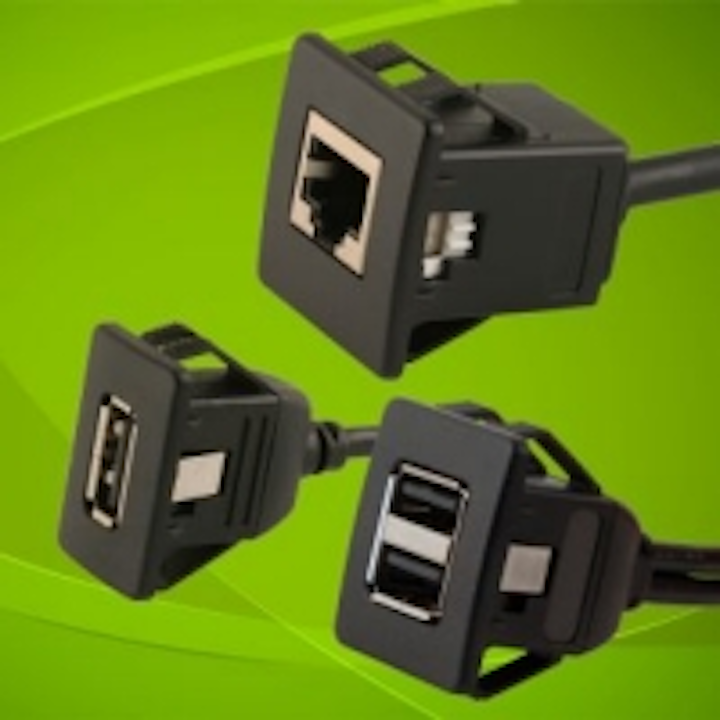 OCP's new family of panel mount cables features a snap-in design that allows the cables to be snapped into any bulkhead without the use of tools or fasteners. The cables act as a port extender from native connections on single board computers or board assembles to the outer skin of the equipment and allows system integrators or builders to place a connection in any location. The initial product release includes a line of two USB cables (single and dual USB A Female to A Male panel mount cables), and an Ethernet cable (CAT5e female to male panel mount cable, shielded), but an expanded product line will follow this initial roll out. The cables are available in 1, 2, 3, 4, and 6 foot lengths and are suitable for use in machine vision applications.
To Learn More:
Contact: OCP Group
Headquarters: San Diego, CA, USA
Product: USB and GigEsnap-in panel mount cables
Key Features: Snap-in design enables connection without use of tools or fasteners, multiple lengths, USB 2.0, USB 3.0, and GigE models.

What OCP Group says:
View more information on the snap-in panel mount cables.

View More Products| Locate a vendor or system integrator | Receive e-mail updates
Share new products that you think are particularly interesting or helpful by contacting James Carroll, Senior Web Editor, Vision Systems Design.
Join our LinkedIn group | Like us on Facebook | Follow us on Twitter | Connect on Google +