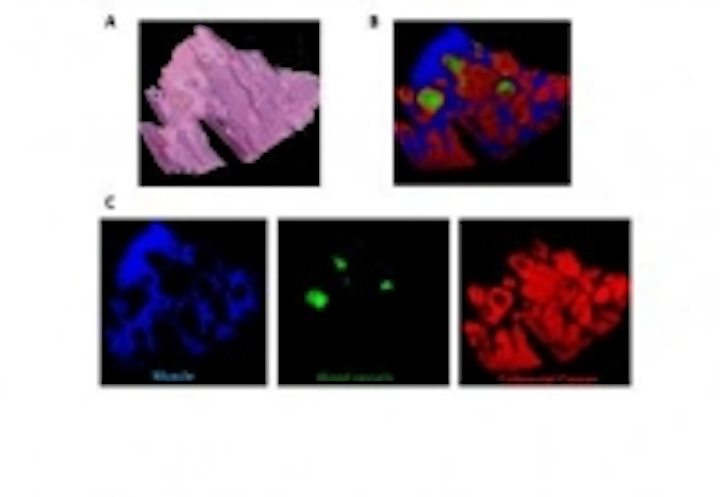 Researchers at Imperial College London have proposed a new method for biological sample analysis that involves using mass spectrometry imaging (MSI) to build a visual database of tissue types, which would enable a computer to learn to identify different tissues.
Currently, tests carried out on a patient's tissue are interpreted by a histology specialist, which can take weeks to produce a result. MSI uses technologies that reveal how chemical components are distributed in a tissue sample, according to Imperial College London. In this technique, a beam moves across the surface of a biological sample producing a pixelated image. In each pixel, data on thousands of chemicals present in that part of the sample is present, and by analyzing many samples and comparing them to the results of traditional histological analysis, a computer program can learn to identify different types of tissue.
These MSI tests can be performed only a few hours and can provide more detailed information than standard a histological test. Interpreting that information, however, can be difficult, but the technology represents a step forward, according to Dr. Kirill Veselkov from the Department of Surgery and Cancer at Imperial College London and corresponding author of the study.
"MSI is an extremely promising technology, but the analysis required to provide information that doctors or scientists can interpret easily is very complex. This work overcomes some of the obstacles to translating MSI's potential into the clinic," he said in the press release. "It's the first step towards creating the next generation of fully automated histological analysis."
In addition, the use of MSI in analyzing biological samples could change the way histology is performed, according to another member of the department, Dr. Zoltan Takats, who says that "instead of defining tissue types by their structure, we can define them by their chemical composition."
This technology could also prove to be helpful in drug development, according to the press release. The research described here is outlined in the Proceedings of the National Academy of Sciences.
View the press release.
Also check out:
Optical sensor tracks zinc in cells for cancer research
MIT develops hand-held scanner for detecting eye disease
Fraunhofer imaging technique enables faster testing of drug ingredients
Share your vision-related news by contacting James Carroll, Senior Web Editor, Vision Systems Design
To receive news like this in your inbox, click here.
Join our LinkedIn group | Like us on Facebook | Follow us on Twitter | Check us out on Google +