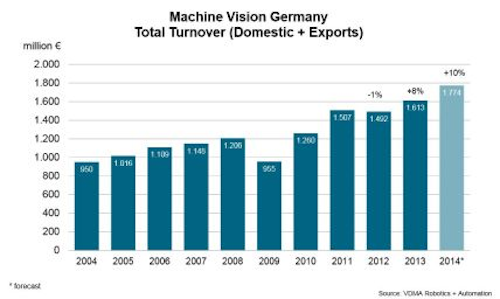 Total sales in the European machine vision industry grew by almost 10% in 2013, according to a recent VDMA market survey, but on the horizon is an even larger gain, as the organization expects total turnover to grow by 12% in 2014.
While a number of factors led to the overall growth of the European industry in 2013, one of the main drivers was the strong demand for machine vision technologies in non-industrial and manufacturing applications. On the non-industrial side of things, 2013 saw significant growth (19%), fueled by a spike in intelligent traffic systems and medical technologies. While this was the largest growth area for the year, the industry still relies heavily on automation and manufacturing, explained Donato Montanari, Member of the Board of VDMA Machine Vision and General Manager of the Machine Vision Business Unit of Datalogic Automation.
"The versatility of machine vision as a problem solver in all walks of life acts as a strong driver for growth. New applications are constantly developed, creating a strong demand," Montanari said in a press release. "The lion's share of our business, however, is still generated in the arena of manufacturing. With an increase of 6% it also developed dynamically in 2013."
Within the manufacturing industry, the automotive industry saw the largest share with 22% of total turnover, while the electronics and semiconductors industry saw 14% and the food and beverage industry saw 6%. The increase in manufacturing is due in large part to the "renaissance of industrial production" in a number of European countries and the United States, which the VDMA suggests will create stable demand for machine vision technology in the coming years. Furthermore, the development of manufacturing in emerging countries also contributed to the increasing demand.
View other items from our July 7 e-newsletter.
Page 1 | Page 2