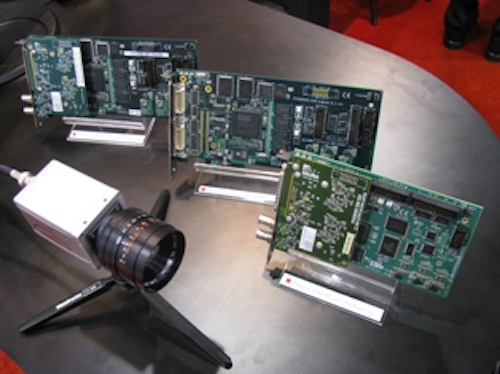 JULY 23, 2009--In an exclusive video interview with Vision Systems Design, Steve Kinney, chairman of the Automated Imaging Association (AIA) Camera Link committee and director of technical pre-sales and support with JAI (San Jose, CA, USA; www.jai.com), outlined two new proposals that will substantially increase the bandwidth of camera-to-computer interfaces (watch the video below).
"Recent advances in high-speed CMOS imagers," says Kinney, "will demand interfaces that are far faster than the existing 6.25 Gbits/s currently supported by the Camera Link standard." To accomplish this, the committee is now studying two proposals. CoaXPress, proposed by Adimec (Eindhoven, the Netherlands, www.adimec.com) and based on a high-speed line driver and equalizer chipset from Eqcologic (Brussels, Belgium; www.eqcologic.com), allows image data to be transferred over 50 m of coaxial cable at a data rate of 6.25 Gbits/s. For higher speeds, more cables can be used in parallel. The proposed standard does not limit the number of cables, so virtually unlimited bandwidth can be made available.
"One of the benefits of this approach," says Kinney, "is that low-cost coaxial cables can be used to transfer data from camera to computer. However, by designing camera interfaces using this approach, designers are tied to one specific semiconductor vendor." To overcome this potential problem, Peter Helfet, CEO of Eqcologic, has said that he is willing to license other silicon vendors to ensure multiple sources for the devices.
The second high-speed link (HSLINK) approach, proposed by DALSA (Waterloo, ON, Canada; www.dalsa.com) and also being considered by the Camera Link committee, is based on CX1 or CX4 cables. HSLINK proposes that each twisted pair in the cable runs at 3.125 Gbits/s, with options for one pair (1x, so 3.125 Gbits/s total), four pairs (4x, 12.5 Gbits/s), and 20 pairs (20x, 62.5 Gbits/s) using a 12x InfiniBand cable.
DALSA specifies a maximum cable length of 15 m, although in the Camera Link meeting the company claimed that 40 m might be possible with a custom cable.
"By adopting this standard," says Kinney, "system designers could use InfiniBand host bus adapters and chipsets that are widely available from a number of vendors. If adopted, the interface could be incorporated into an FPGA within the camera or frame grabber interface, lowering the cost of implementation." The CoaXPress demo system shown by Adimec also incorporates an FPGA to format data; however, this is not a specific benefit for HSLINK. Such a standard has yet to be adopted by any Camera Link camera or frame grabber vendor.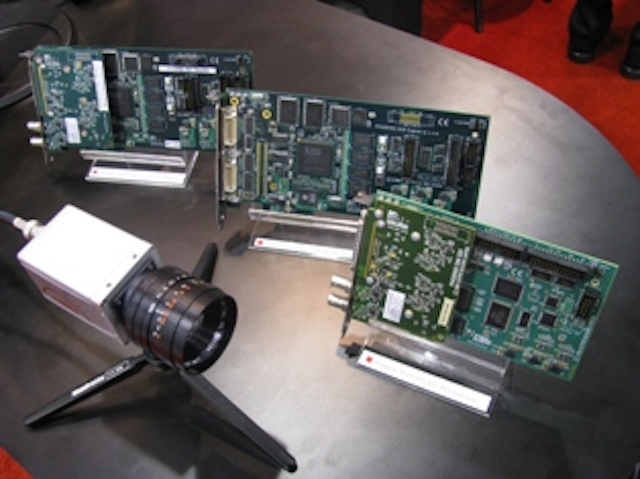 FIGURE 1. Adimec has developed a coaxial interface based on the Eqcologic chipset that allows camera data to be transferred at speeds of up to 3.125 Gbits/s over 50 m using standard coaxial cable.
At the Robots & Vision show, Adimec did show a working implementation of a coaxial interface based on the Eqcologic chipset (see Fig. 1). "CoaXPress offers higher speeds than Camera Link and is a cost-effective solution for customers who want longer, flexible cables and simple connectors," says Jochem Herrmann, CTO at Adimec. "Many applications already use coaxial cable as the physical layer with which to transfer image data since it is relatively inexpensive and easy to install. By using the same physical layer, these systems can be upgraded from low-resolution analog to high-resolution digital systems."
Adimec's system uses Eqcologic's EQCO62T20 high-speed line driver with integrated low-speed receiver within the Adimec OPAL camera to transmit data at an equivalent 3.125-Gbit/s Camera Link Base bandwidth to an EQCO62R20 high-speed equalizer with integrated low-speed driver (see Fig. 2). Later this year, Adimec expects an increase to 6.25 Gbits/s to support its higher-speed cameras.
FIGURE 2. In the design of the interface, an Eqcologic EQCO62T20 high-speed line driver with integrated low-speed receiver within the Adimec Opal camera transmits data to an EQCO62R20 high-speed equalizer with integrated low-speed driver.
The demonstration shown at Robots & Vision used a small converter box to reformat the CoaXPress data into Camera Link format and transferred the data to a Phoenix Camera Link frame grabber from Active Silicon (Iver, UK; www.activesilicon.com). At the VISION Show taking place in November 2009 (Stuttgart, Germany), Active Silicon plans to show a frame grabber board with a mezzanine interface especially designed to interface to the CoaXPress interface. In the same period, Adimec expects its full range of digital cameras to be offered with the CoaXPress interface.
"Because this implementation uses coaxial cable, it is easy to install and has inherent flexibility," says Herrmann. "Furthermore, power can also be transmitted over the same cable." A single coaxial cable can be used to transfer data, camera control signals, and power over 50 m.
While currently available integrated serializer/deserializers also allow CX1 or CX4 cables to transfer data over copper cables, it remains to be seen how the Camera Link committee will address the issue of power transmission if this standard is adopted. Likely as not, the approach taken will be similar to that of the current Camera Link implementation.
-- Article by Andy Wilson, editor. Posted by Carrie Meadows, Vision Systems Design, www.vision-systems.com