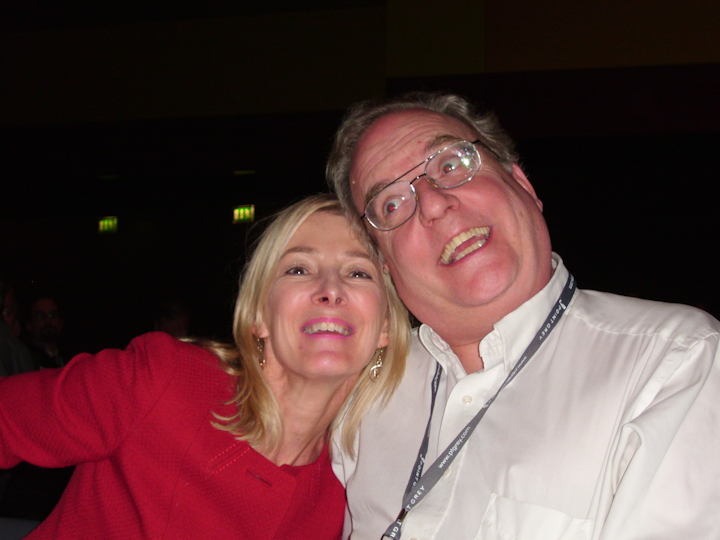 Sunday night before the first day of the Automate 2019 show in Chicago, we were hit with the terrible news that we lost our friend Andrew (Andy) Charles Wilson, the founding editor of Vision Systems Design, and a man who has held the more important titles of husband, father, friend, brother, and son.
Anyone who has ever met Andy throughout the years knows what a unique individual he was, in many ways. First, he was a brilliant guy who cared deeply about his job and the community which Vision Systems Design serves. Some of the things I admired most about him were his endless curiosity, his forthright honesty, and of course, his playful, sarcastic, and odd sense of humor.
In my upcoming May editorial, I will provide further thoughts on Andy, but we are going to use this space as a ongoing memorial to Andy. If you'd like to share your thoughts or stories with us, please e-mail me at jamesc@pennwell.com. We will start with Andy's long-time colleague and friend, Judy Leger.
---
Judy Leger (pictured, with Andy):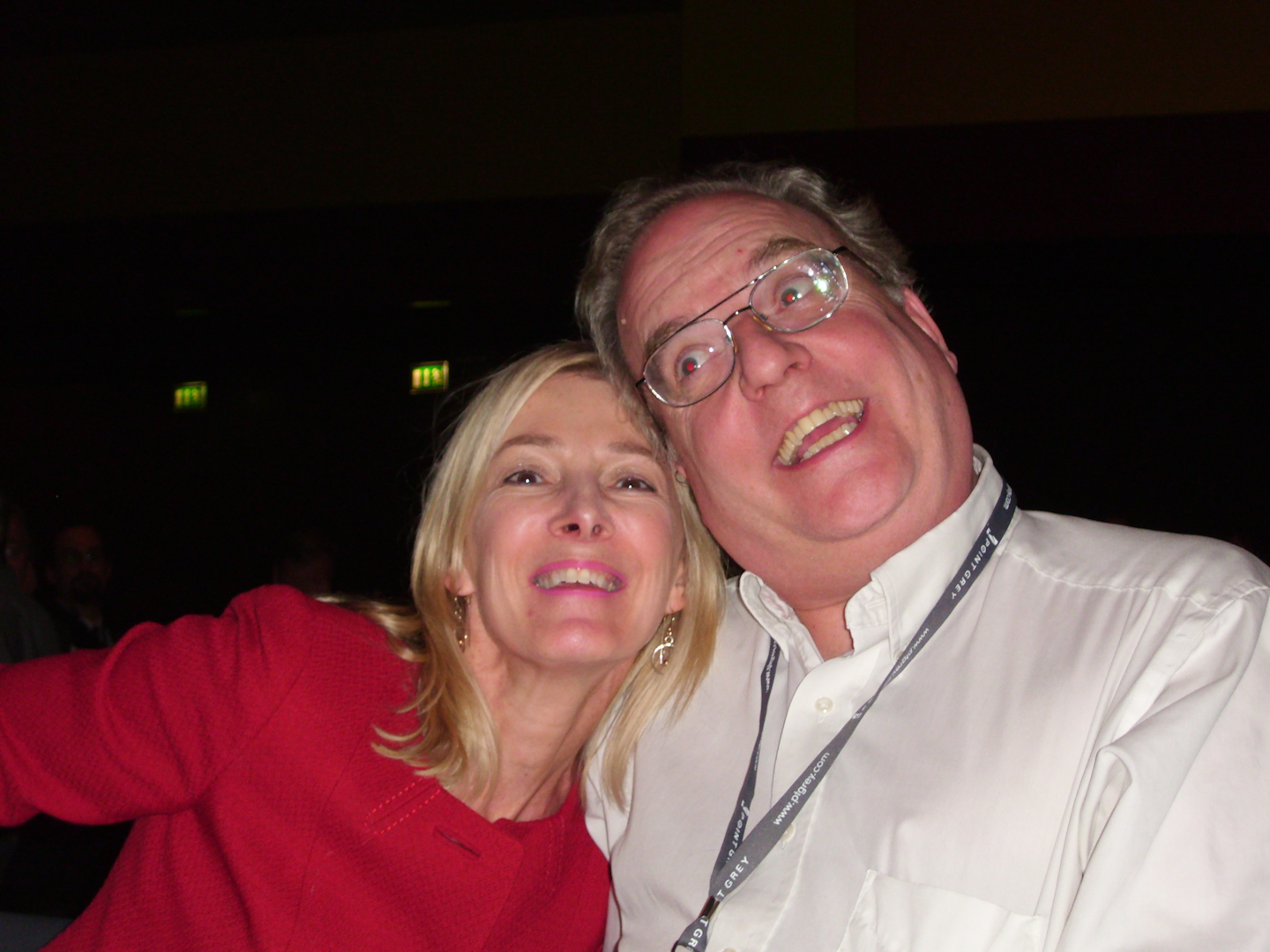 [April 15] It's been over a week since we lost our dear friend and colleague, Andy, and I still can't believe he's gone. Andy was more than just a colleague and friend—he was my VSD partner in crime and "work husband" for 24 years. There just aren't any words to express how much I will miss that brilliant, caring, funny, and sometimes exasperating man. I will miss him saying, "Trust me! I'm a doctor," because he knew it would push my buttons. And saying, "Brilliant" when he was excited about a new product.
Who else is going to make me a CD of the worst one-hit wonder songs ever recorded? (We both agreed it was the Bellamy Brothers, "If I said you had a beautiful body, would you hold it against me.")
Who else is going to answer my questions with a block diagram on a white board? Or tell me that my cat is wearing "white socks" like him? I have been blessed to have shared so many wonderful memories with him that I could go on and on.
A friend told me to light a candle for Andy as it helps light the way when someone is passing over. When I lit the candle, I heard Andy say to me, "Thanks, love. I needed a light for my ciggie."
Onward and upward, my dear friend. May you rest in peace.
Judy
---
Colin Pearce, CEO, Active Silicon:
Andy was a real "character" - a fellow Brit (who loved America), an eccentric with his white socks, but a great writer, producing exceptionally interesting and useful articles - month in month out. I rapidly became to like Andy after meeting him about 15 years ago, and over the years worked closely with him on various articles and several "cover shots" for VSD. It is very sad that he has gone, and I remain shocked by the news. Below is a photo from happier times, Stuttgart 2011 - a reminder of the fun we used to have.
On behalf of all of Active Silicon, I wish his family - in particularly his son, his brother Dave and his two children, our very best wishes - it has been a privilege to recently meet Andy's close family and I wish them all the best.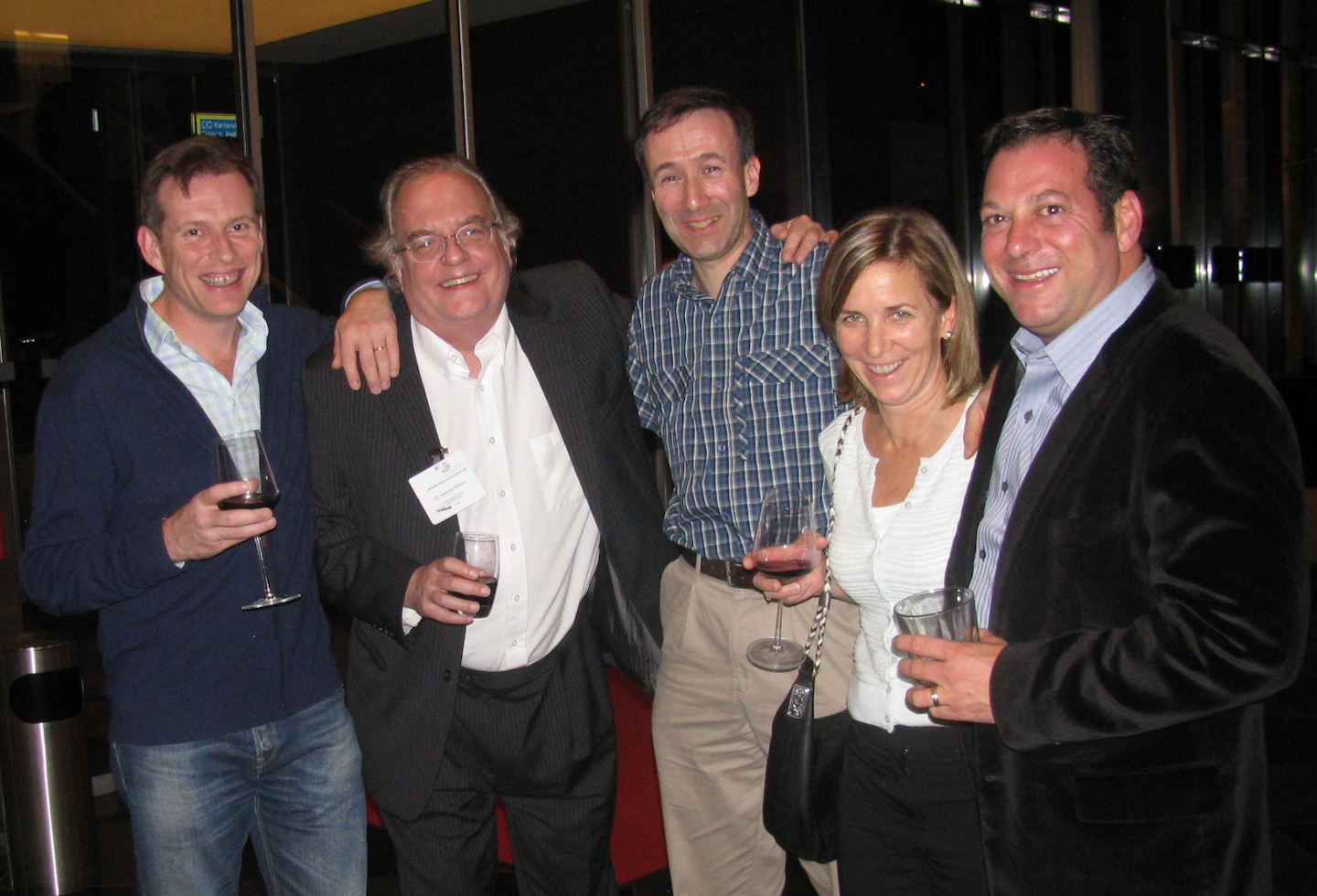 Chris Beynon, CTO, Active Silicon:
Some of the earlier tributes triggered memories for me, such as around nine years ago, pointing out to Andy that the last suitcase going around and around the carousel at Stuttgart airport really was his, and of course his mischievous character and smiles.
I last worked with Andy very recently for his CoaXPress v2 article in VSD, where, as always, he was determined to get the facts right. Just like his twin brother Dave, but unlike some journalists and editors, he always sent drafts back to you for checking and comments, sometimes prompting detailed background discussions that never made it to print, but added to his knowledge. That knowledge was also why I'd always ask Andy at Stuttgart for his suggestions for interesting new products at the show – at which point he'd often enthusiastically drag me off to a small booth I'd otherwise have missed. So I already know that in November 2020 I'll still be missing him.
---
Dr. Olaf Munkelt, Managing Director, MVTec Software: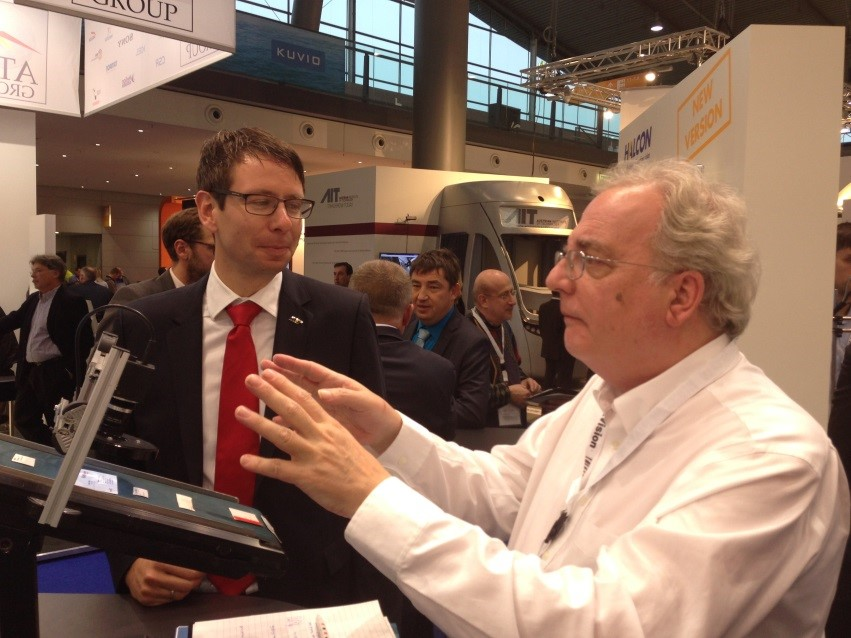 We at MVTec will remember Andy not only for being the journalistic luminary he was for the industry, but even more for his never-ending, likable curiosity and his great – very British – sense of humor.
Whether for an official interview or just for a random chat – meeting up with Andy was always great fun for my colleagues and me. And it was always worth looking forward to the journalistic outcome of these fruitful conversations.
Andy was also popular for asking well-researched challenging questions, which sometimes he even enforced practically. Like that one day at VISION show in Stuttgart back in 2014: We were very proud of our OCR demonstration, which showed how fast and robustly the software was able to read characters of various pieces of text. When being shown the running demo, Andy insisted on stopping it with the words "I believe you that your OCR works perfectly in this demo set-up, but can it also read my business card?" – So Andy put his card in front of the camera and was very impressed by the outcome as the software read it with 100% accuracy and another energetic discussion followed.
I will remember Andy as somebody with profound technical knowledge and beyond that, also as somebody with clear mindset when it comes to fair play or business ethics.
Andy, we all here at MVTec will keep you in very good memory. Rest in peace.
---
John Merva Vice President, North America. Gardasoft:
My long friendship with Andy Wilson began soon after I had negotiated the acquisition of NER for RVSI and took over management of the fledgling start up, one of the first LED lighting companies in 1996. The team at NER and myself were excited to learn that finally a magazine devoted to Machine Vision was being launched and the editorial staff was located nearby. We soon met Andy and Judy and began a long relationship with them personally as well as with VSD.
We were happy to see that the articles written and edited by Andy were accurate and provided solid technical content. The magazine also provide a place for MV companies to advertise and present their own articles and application stories. Our business relationship and friendship grew once we interacted with Andy at trade shows and industry events.
Over the years I've shared many discussions with Andy at domestic and international MV events. These were always intriguing as we both learned from each other and discovered new advances in the market through our discussions. Andy was very easy to talk to so we enjoyed many hours of conversations in hotel lobbies, at airport gates and in airline clubs. The conversations always wandered into other technologies which, for a fellow techie, was very stimulating and enjoyable. Most importantly as we shared new products with Andy he would always contribute ways to apply and advance the product and, if worthy, share the product uses with VSD readership.
He would reach out when he thought I could contribute to an article's content and was always thankful when I alerted him to a possible story to be written. When participating in MV forums and conferences Andy always had stimulating questions where he probed at the topic in a way no one else could. He could push the discussion to the edge without making it uncomfortable. He always enhanced the discussion in ways others couldn't.
Andy was a one of a kind person who made tremendous contributions to the MV industry. He was the only member of the press to receive the prestigious AIA Achievement Award which he surely deserved. There will never be another Andy Wilson. His kindness, contributions and stimulating personality will remain in our memories forever.
---
Scott Israel, President, 1stVision Inc:
I met Andy, and his brother David in 1985 when I was with Mercury Computer Systems. We were both starting our careers, it was a very exciting time for hardware companies making signal and image processing hardware and software. Route 128 in Boston was the big competition to Silicon Valley in California. Andy was with a magazine called Electronic Imaging, and a bit later Digital Design which I think morphed into Computer Design.
We both had a background in Physics and Math and even though I was in sales and marketing and he was writing, we would often have very in depth technical discussions of things like quantum mechanics, optical computing, just things I would never have expected to talk to other magazine writers or editors about. Plus of course all about what could be done with the current technology, which companies were doing what, which ones were going up and who was going down. Was Sun going to beat Apollo to market with the newest Motorola CPU, and things like that. We would talk for hours at the trade shows. (Which were really well attended back then!) Andy was so plugged in, he just walked around spreading his smile to everyone at the shows, he knew everyone and spoke to everyone.
I really appreciated his sense of humor, not everyone I knew did, but what was more impressive if you spoke to him for more than a few minutes was just how smart he was. You normally didn't find yourself learning from writers at other magazines when giving a product demonstration to them. With Andy you did! And for Andy it was the same in 2015 as it was in 1985. Andy had a great smile and loved to joke around, but when you got down to it, if you got to scratch more than surface, you found out just how deep he was.
I will miss you my friend.
---
Renata Sprencz, Marketing Manager, LUCID Vision Labs:
When I first met Andy back in 2007 at VISION Stuttgart, he came to our booth at Point Grey and I kindly asked him whether he would like to have a coffee or something else to drink. He said "Yes, I would like to have a glass of milk." I honestly didn't know whether he was serious or not at that time, but luckily we had some milk in the fridge and when I brought him a glass of milk and some cookies, his eyes lit up just like a little boy and he was so happy to sit down and chat with us about cool new technology.As the conversation went on and he got to the nitty-gritty of our cameras, especially once he started drawing some block diagrams, his eyes lit up even more. At that point I knew that Andy was different from any other editor I have worked with previously.
His great enthusiasm and curiosity for technology, his deep knowledge and unique sense of humour made him truly one of a kind! He deeply cared about our industry, its people and always wanted to help companies succeed. When I joined LUCID Vision Labs, he sent me a sweet note saying that "This business always amazes me. It's full of wonderful people who always stick together and invent new technologies that benefit mankind." I was fortunate to work with Andy throughout all these years until very recently and I just wanted to say "Thank you, Andy!" He probably didn't know how much of an impact he has made on the industry and in people's lives. He will be missed dearly, but I am certain that his legacy will live on for generations to come.
---
Andy Long, CEO, Cyth Systems
I first met Andy about 10 years ago at NI Week in Austin, TX. I was walking into a room to give a presentation, I overheard a guy with a British accent and asked him where he was from before starting the presentation. During the presentation there was a guy that seemed to be heckling continuously. You guessed it, it was Andy. At this time I didn't know his name or what he did for a living, so requested "Bedford (the town where he was from), could you stop asking questions until the end", he complied (the only time ever it turns out) and at the end of the talk I went to speak to him. He had that childhood 'smile' and said we could talk as long as I would join him on the balcony so he could have a 'ciggie' There started a tradition of talking with Andy whilst we found a spot where he could smoke. I remember walking between the halls in Stuttgart for the Vision Show, a walk of about 30 seconds, where he could almost finish a cigarette.
I wouldn't see Andy for maybe a year at a time, but when I did it was the same pattern, he would ask me if I'd seen anything interesting, exciting or new, how things were going and then he would without fail, tell me some areas where I should look, that could be of interest to me or my company - he always wanted to help people.
Andy was someone that always wanted to thwart convention - to everyone in the US he was "the Brit", I spoke to him about 3 weeks before he died, and he said he had got so much pleasure from putting up hundreds of USA flags on July 4th last year in the UK just to confuse the natives.
To me I'll never forget the boyhood smile that seemed to be so full of mischief.
---
Donal Waide, Director of Sales, BitFlow:
I am sitting in yet another airport and this one has been on me all the past ten days. I have many fond memories of Andy but I think the best had to be his comment to me that occurred on a regular basis. "There's a ticket to Dublin waiting for you in my office." This was usually the end of some sarcastic emails that we shared in between some editing of a piece or answering some technical inquiries.
I always enjoyed his company and his inquisitive mind when he would visit our booth during a show and throw in a few digs at the same time. But the fondest words he sent me one day were nice and simple, yet highly respectful, "I wish there were more Irish in this industry."
He will be missed dearly by many and I am glad he was part of my life for all that time.
---
Maureen Clancy, Marketing Program Manager, Teledyne DALSA:
A few years ago my co-worker, Fernando Serra and I were traveling to the Automate Show, and we ran into Judy and Andy in baggage claim. We decided to all share a cab, and as we gathered our suitcases, Andy informed us that his suitcase was nowhere to be found. Fernando points out there is one lone bag continually going around the bag carousel, but Andy said it wasn't his bag. Lo and behold, after looking at the name tag, Fernando informs Andy it is indeed his bag. As we all had a good laugh, Judy sighed knowing it was going to be a long week ahead.
---
Laurie Partington Sr. Marketing & Communications Rep., Matrox Imaging:
Luckily I figured out very early in my career in this industry that Andy's features were a "must read" if I ever hopped to learn what was going on. Thankfully besides being intelligent, Andy was also a great writer because I have spent countless hours reading what he has written over the years. I recall being told by a wise colleague that when Andy showed up at our tradeshow booth, I should find him a product manager and then get out of the way and listen, because it would be a long and interesting discussion. Another memory of Andy that makes me smile is actually recalling Judy scrambling from booth to booth at a tradeshow to track Andy down and keep him on his meeting schedule. He was always deep in someone's booth learning about what was new and exciting.
I know he was deeply loved by his colleagues at VSD and respected by everyone in this industry, I hope his family and friends take comfort in that love and respect for him at this difficult time.
---
Katia Ostrowski, Marketing Writer, Matrox Imaging:
A larger-than-life personality with a wicked sense of humour, Andy Wilson knew how to work his audience, especially if it meant being coy about whether it was indeed Andy—or his twin brother Dave—I was speaking with. His editorial flair will live on in his written words, just as his personal legacy will forever be with those who knew him.
---
Luc Nocente, President and Founder, NorPix:
I am saddened by his passing. I loved working with him. He always had the right words to describe these impossible technical concoctions we were coming up with. I'll miss his humour and discussing European politics with him.
---
Euresys team:
The passing of a legend in the machine vision industry! We have collaborated together on many projects over the years. The entire industry will miss Andy! Most of us know Andy at Euresys as we worked together on many articles until very recently.
Euresys would like to send all our sympathy and condolences to his family and friends. Take comfort in that love and respect for him at this difficult time.
---