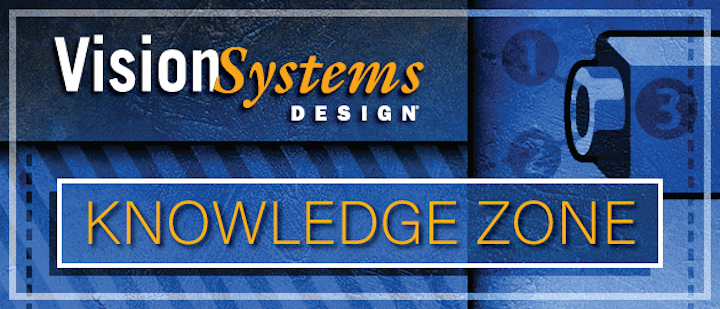 When choosing cameras for machine vision applications, systems integrators are faced with a number of options ranging from the resolution of the image sensor, the data rate required, and the types of lenses needed. These choices are compounded by the number of different and emerging standards that exist for camera-to-computer connections, each of which has its own price/performance tradeoffs.
As digital camera interfaces have replaced their analog counterparts, numerous standards have been proposed and adopted. These include computer-interface peripheral standards such as Firewire (1394), USB, PCIExpress, and Thunderbolt; computer networking standards such as Gigabit Ethernet, 10 Gigabit Ethernet and NBASE-T; and interfaces such as Camera Link, Camera Link HS, and CoaXPress that have been specially developed for the machine vision industry.
While each standard presents its own price/performance tradeoffs, the need to tailor many of these to meet the needs of machine vision systems has led the AIA (Ann Arbor, MI USA; www.visiononline.org) to standardize GigE Vision, Camera Link, Camera Link HS, and USB3 Vision, while the Japan Industrial Imaging Association's Technical Committee (JIIA, Tokyo, Japan; http://jiia.org) is responsible for the maintenance of the CXP standard.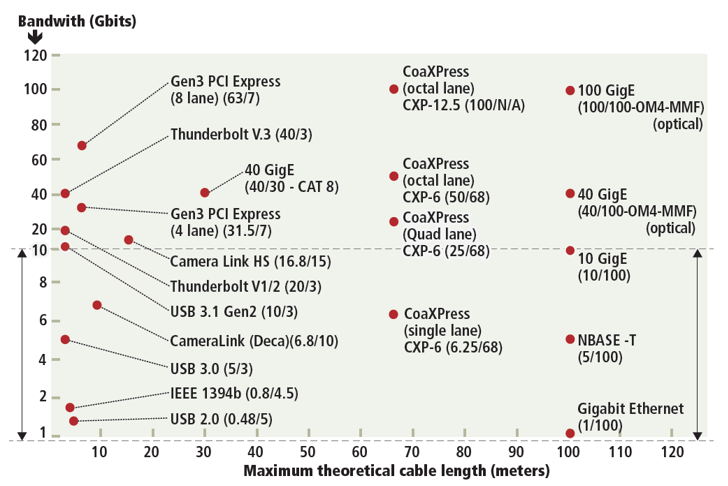 One of the main factors when choosing an interface is the bandwidth and the camera-to-cable distances that can be achieved. However, comparing the different standards available can be confusing. In the chart above, we've amended a graph originally supplied by FLIR Integrated Imaging Solutions Inc. (formerly Point Grey; Richmond, BC, Canada; www.ptgrey.com), to compare many of the most current and future camera interface standards. While the chart plots the bandwidth in Gigabits/s against the maximum cable length available, the maximum cable charted is for copper cable. Thus, for example, while the maximum Camera Link (Deca) standard is shown as 6.8Gbits/s, the 10m (maximum) cable length is shown.