Choosing the correct type of lighting in a machine vision application improves the contrast between features of an object being inspected and its background, while maximizing the signal, exposure, uniformity, and suppression of noisy features. Tasks such as barcode reading, gauging, and product identification are performed more easily—making the system more reliable, accurate, and repeatable—when the correct type of machine vision lighting is implemented.
As the machine vision market grows and expands, so too must the underlying technologies and products in use in today's applications. Realizing this, numerous machine vision lighting companies have—in recent years—developed lighting products specifically aimed at niche imaging applications and technologies.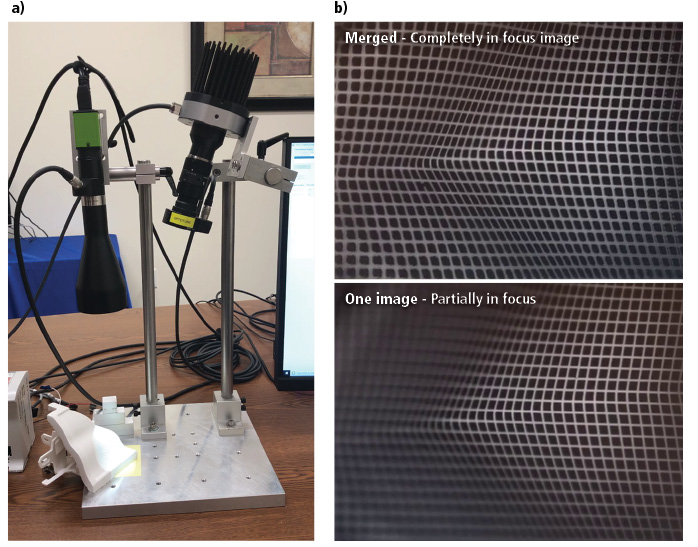 Figure 1: (a) This active extended depth of field demonstration works by simultaneously refocusing the camera and the structured light projector at multiple planes for 3D reconstruction. (b) The image on the top shows a merged image, completely in focus, while the image on the bottom shows one image, partially in focus.
Multispectral and hyperspectral imaging
One such example is in hyperspectral and multispectral imaging systems, which help differentiate materials—including man-made products—from their chemical or elemental makeup. This data is useful for machine vision applications involving hidden or internal defect detection, liquid identification, or food inspection, for example.
While such multispectral and hyperspectral imaging techniques have proved quite useful, illumination can pose a challenge as the narrow spectral bands of traditional LED sources must be overcome.
Because of this, companies such as Metaphase Technologies (Bristol, PA, USA; 
www.metaphase-tech.com) have developed lighting specifically for such applications. In its hyperspectral LED illumination system—a gold-level Vision Systems Design 2018 Innovators Awards honoree—the company offers hyperspectral (400 nm to near-infrared) and broadband SWIR illumination (1000 to 1700 nm) products designed for hyperspectral cameras, as well as custom options where the full spectrum is not required.
For multispectral imaging applications, ProPhotonix (Salem, NH, USA; www.prophotonix.com) offers the COBRA MultiSpec LED line light—a silver-level Vision Systems Design 2018 Innovators Awards honoree—which can be configured with 2 to 12 wavelengths of LEDs, ranging from 365 to 1500 nm. EFFILUX (Part of the CCS Group, Les Ulis, France; www.effilux.fr/en) also offers a multispectral option in its product line of LED lighting for SWIR applications.
"The machine vision lighting industry is still finding ways to advance and make imaging components better and better for machine vision imaging," said David Dechow, Principal Vision Systems Architect, Integro Technologies (Salisbury, NC, USA; www.integro-tech.com). "Companies are now exclusively focused on the types of advanced techniques that can be used in high-quality imaging for machine vision applications, such as flexible lighting systems that provide more wavelengths in monochromatic light sources."
He adds, "Examples include NIR sources that are offered in wavelengths in the 800 to 950 nm range, hyperspectral LED systems with wavelengths in the 400 nm to NIR range, and in the SWIR wavelength range of 900 to 2500 nm, though I have not seen a light source available that delivers above 1650 nm."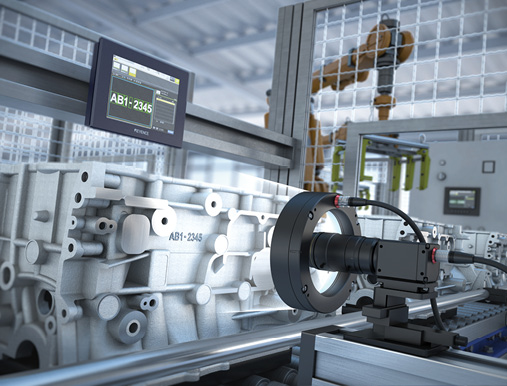 Figure 2: LumiTrax technology is designed to enable stable inspection— rejecting bad parts without sacrificing production output—where changes in the target's surface exist, but with very little visible contrast.
Computational imaging
Within the context of machine vision, computational imaging refers to digital image capture and processing techniques combining computation and optical encoding. The technique involves capturing a series of input images under different lighting conditions or different exposures and blending of the images through software to create one output image that enhances image quality or extracts certain features, such as those needed for a specific machine vision task.
With its LumiTrax technology—a gold-level Vision Systems Design 2015 Innovators Awards honoree—Keyence (Osaka, Japan; www.keyence.com), combines high-speed CMOS-based cameras, partial illumination LED lighting, and advanced inspection algorithms (Figure 2) to create a solution used for detecting features, shapes, and text on part surfaces. LumiTrax uses high-intensity, multidirectional LED lighting to capture up to 16 separate color or monochrome images and analyzes the relative brightness at each pixel to separate irregularities from background surface patterns. The company offers three different LED models in the series designed specifically for this task.
"LumiTrax was developed to allow naturally occurring, acceptable variations in manufacturing processes to be filtered out in order to extract key features which ultimately reduces the number of good parts flagged as rejects," says John Sklarz, National Product Sales Director, Keyence.
Beginning with its LSS-2404 open-architecture, software-programmable lighting controller—a gold-level Vision Systems Design 2018 Innovators Awards honoree—CCS Inc. (Kyoto, Japan; www.ccs-grp.com) launched a series of products designed for computational imaging. The LSS-2404 can be combined with LED lights designed by the company specifically for computational imaging applications, which are available in ring light, bar light, full-color, multispectral, and segmented full color formats.
Additionally, the controller ships with a software development kit, enabling developers to build computational imaging-enabled applications such as photometric stereo, extended depth of field (Figure 1), brightfield/dark field, and high dynamic range (HDR).
"Computational imaging is an expanding technology that permits better or previously impossible images for machine vision systems to be created," says Marc Landman, Senior Technical Advisor, CCS Inc. "Today, there are numerous examples of computational or multi-shot imaging techniques—offering increased contrast, higher-resolution color, multispectral features, extended depth of field, segmented 3D information, and combinational illumination—that can be leveraged to improve industrial vision systems."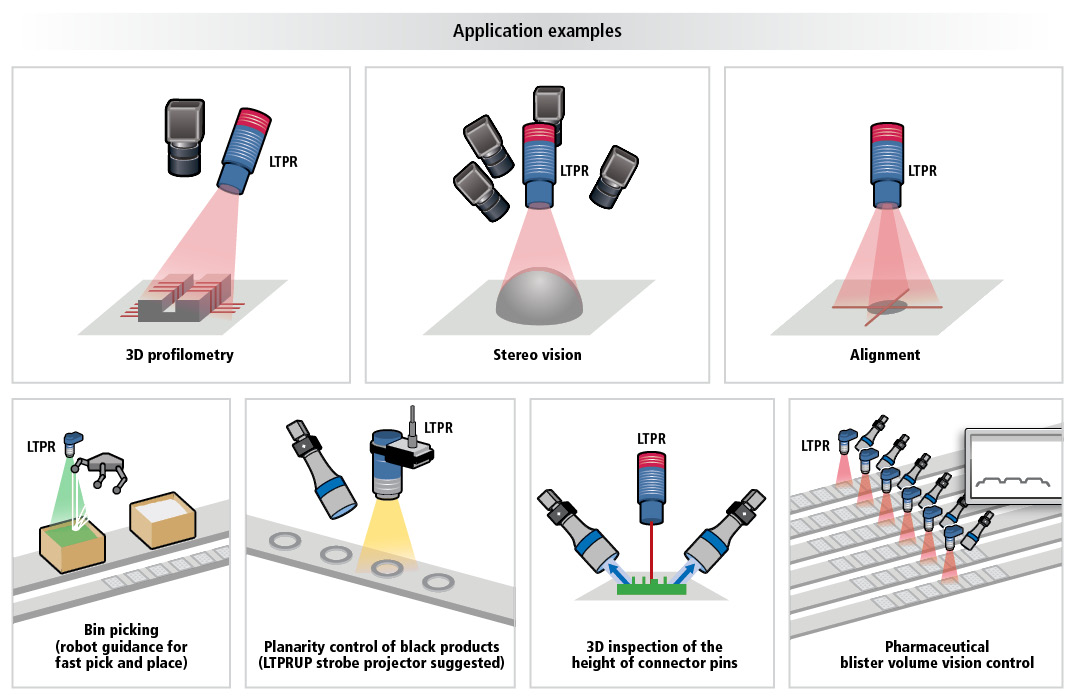 Figure 3: LTPR LED pattern projectors target 3D applications such as robot-based bin picking, connector pin height inspection, and pharmaceutical blister volume vision control.
"With computational imaging," he says, "system designers can start to think in new ways about creating solutions to difficult imaging problems."
Designed for similar applications, including photometric stereo, HDR, multispectral imaging, extended depth of field, and sequential multi-light/axis imaging, is Advanced illumination's (Rochester, VT, USA; www.advancedillumination.com) Quad controller series, the DCS-400E and DCS-800E. These controllers are available in four and eight-channel options, which allows designers to program the sequencing of the lights through a GUI software interface. This system uses multiple lighting products from the company, including segmented/quadrant ring lights, multi-wavelength lights, multi-axis single lights (e.g. dark field and bright field), and multiple individual lights.
"When we began development of our Quad controller series, our focus was to bring an easier to use, more cost-effective solution to the market," says John Thrailkill, President and CEO, Advanced illumination. "Like all our controllers, they utilize SignaTech, a proprietary plug-and-play system that enables the customer to operate our lights at peak output without risk of damage."
Smart Vision Lights (Muskegon, MI, USA; www.smartvisionlights.com) offers its LLM Multiple Quadrant lighting manager—a silver-level Vision Systems Design 2018 Innovators Awards honoree—for photometric stereo applications. By varying the successive illumination of four light sources using the manager, successive images taken by a single camera can be used to determine the surface orientation at each image point across the object's surface.
3D imaging
Any imaging method deploying 3D technology requires lighting of some sort, whether or not it is from a controlled or ambient source. For example, 3D photometric stereo computational imaging involves the use of a technique called "shape from shading" to separate the shape of an object from its 2D texture. An object is illuminated from several different directions, and images are captured by a single camera. Depending on the differences between the shading of these images, an image of the surface showing both the surface orientation and the texture of the illuminated object can be calculated. An example of this technique can be seen in the LumiTrax system.
LED lights designed specifically for this imaging technique exist and include the RM75-4Z and RM140-4Z (Figure 5) series from Smart Vision Lights. Ideally designed for dark field ring applications and radial illumination lighting configurations, these mini ring lights are sold in kits with the 4ZMD four-channel LED driver, which allows control of up to four separate lights or light zones, either independently or simultaneously, in any combination and at any intensity level. The driver strobes the lights independently for photometric and multi-light applications and—when connected to the company's programmable LED Light Manager—each channel of the lights can be set to continuous on, off, or any intensity level in between, as well as OverDrive strobe mode.
"The 4-zone lights and 4ZMD driver were designed to work with Cognex In-Sight cameras, making them an ideal solution for users looking to get the most of out of the Cognex SurfaceFX software," says Dave Spaulding, President, Smart Vision Lights.
In 3D structured light systems, a narrow band of light is projected onto a 3D surface to produce a line of illumination that appears distorted when imaged from an observation perspective other than that of the light or laser being used. Analysis of the shape of these reflected lines can then be used to geometrically reconstruct the object's surface shape.
Designed specifically for this task as an alternative to lasers are the LTPR series from Opto Engineering (Mantova, Italy; www.opto-e.com), which consist of different LED pattern projectors available with three power intensities (3W, 10W, 90W). When used as part of a system such as a 3D profilometry, stereo vision, or alignment system, the C-Mount compatible-projectors enable applications such as robot-based bin picking, connector pin height inspection, and pharmaceutical blister volume vision control (Figure 3).
These projectors were designed to offer advantages, with respect to lasers, when used in 3D imaging applications, says Massimo Castelletti, Product Manager, Lighting Products, Opto Engineering.
"With laser emitters, the illumination decays both across the line cross section and along the line width. Laser emitter lines are also thicker and show blurred edges, and diffraction and speckle effects are also present," he says. "These projectors were designed to offer thinner lines, sharper edges, and more homogenous illumination than lasers while offering better results when working on reflective objects."
Designed for the LTPR projectors series are the PTPR series of patterns, which can be easily interchanged by unscrewing the retaining ring that holds the pattern. With an outer diameter of 21 mm and an active projection area a circle of Ø 11 mm, the patterns are offered in standard and custom designs, including numerous options for 3D profilometry, stereo vision, and alignment.
Washdown environments
In food inspection environments where washdown is important, all components of a machine vision system—including lighting—must be able to withstand these conditions. While deploying lighting in such environments is not a new concept, a number of lighting companies have developed products specifically aimed at food inspection applications requiring washdown.
With its Monster Washdown Dome, for example, Spectrum Illumination (Montague, MI, USA; www.spectrumillumination.com) introduced an IP68-rated washdown dome that is built with Grade 316 stainless steel and FDA-compliant plastic, ensuring it will be acceptable in food grade environments. The light itself is a "cloudy-day illuminator" dome LED with nine colors and infrared light sources. In use, a camera is put above the dome light looking through the hole in the top of the dome, and objects pass below the bottom of the dome and receive indirect lighting, which helps to remove glare from highly-reflective surfaces.
Smart Vision Lights also offers several LED lights for harsh and washdown environments, including the DFLW-200-4Z dark field washdown ring light, which was introduced at Automate 2019 in Chicago. The light is available in stainless steel or anodized black aluminum housings and features a microlens film that directs LED light beams at a 25º angle toward the object under inspection, which gives the light an extended working distance while maintaining light intensity and uniformity. The IP68-rated light is sold in a kit which includes an external Multi-Drive driver, allowing it to operate continuously or in strobe mode.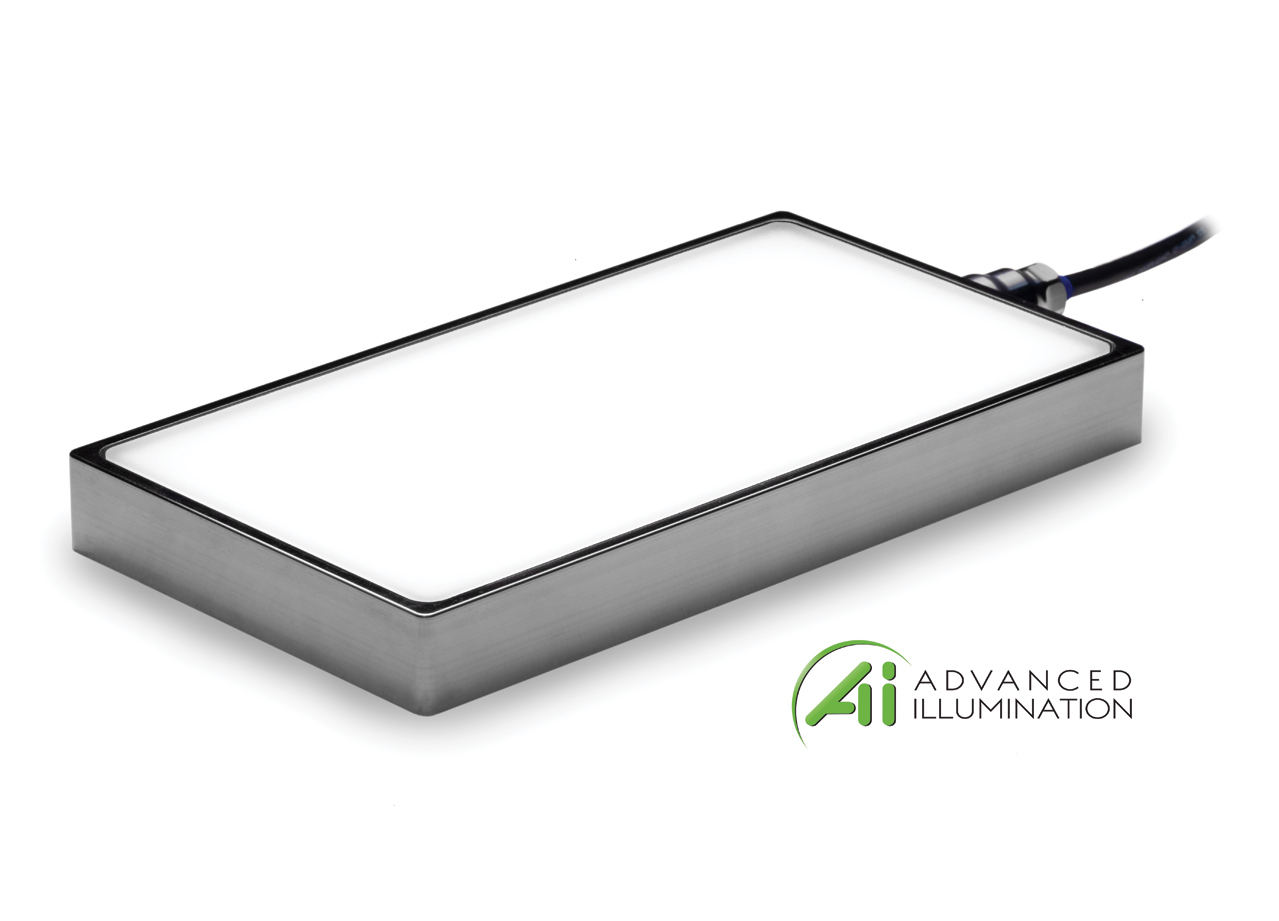 Figure 4: BL245 UltraSeal backlights ensure that corrosive washdown solutions and high-pressure steam cleaning operations have no negative impact on the body of the light.
"Food and beverage applications are one of the fastest growing areas in the machine vision market as customers in these markets are hyper-focused on quality and regulatory concerns," says Spaulding. "The DFLW-200-4Z (4 zone) adds to the company's extensive line of washdown solutions for this important market segment."
Offering IP69K certification are the BL245 backlights (Figure 4) from the forthcoming UltraSeal family of products from Advanced illumination. These lights utilize a proprietary, FDA-compliant nickel finish, ensuring that corrosive washdown solutions and high-pressure steam cleaning operations have no negative impact on the body of the light. With a flush mounted and sealed diffuser providing crevice-free construction, the backlights target food and drug applications, or other harsh environments requiring sealed, cleanable components.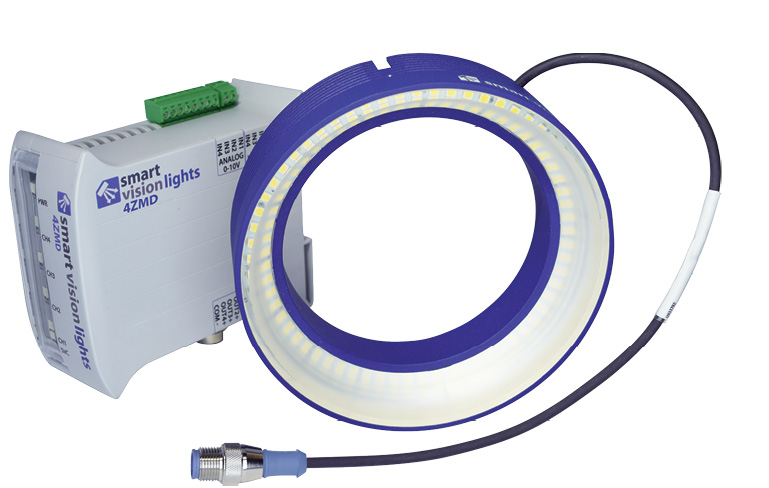 Additional companies offering machine vision lighting products either rated for washdown or otherwise waterproof environments include Banner Engineering (Minneapolis, MN, USA; www.bannerengineering.com), MORITEX Corporation (Saitama, Japan; www.moritex.com), Omron Microscan (Renton, WA, USA; www.microscan.com), OPT Machine Vision (Dongguan, China; www.optmv.net), and TPL Vision (La Chevrolière, France; www.tpl-vision.com).