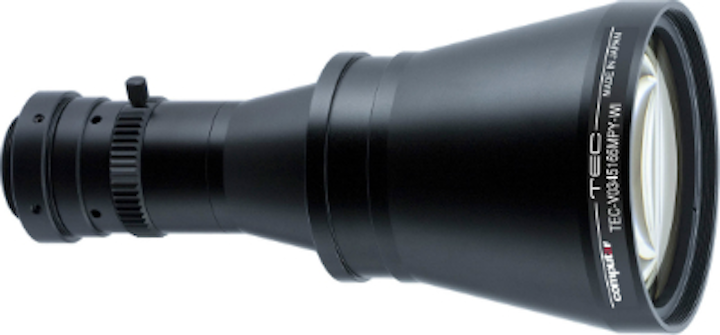 Computar Optics will exhibit its new TEC-V0345165MPY-WI 12 MPixel telecentric C-mount lens at SPIE Photonics West 2019. Specialized for the Sony IMX253 3.45 µm image sensor, the TEC-V0345165MPY-WI is designed for 1.1" sensors and compatible with up to 12 MPixel image sensors. It is also capable of viewing a 10 µm pixel.
The TEC-V0345165MPY-WI can achieve 0.345x magnification and has a working distance of 165.2 mm. It is a maximum potential field of view of 41.1 x 30.1 mm.
Computar Optics will exhibit at Booth 1722.

To Learn More:
Contact: Computar Optics
Headquarters: Cary, NC, USA
Product: TEC-V0345165MPY-WI telecentric lens
Key Features: Designed for 1.1" sensors, 0.345x magnification, C-mount.
What Computar Optics says:
View more information on the TEC-V0345165MPY-WI telecentric lens.
View More Products | Locate a vendor or system integrator | Receive e-mail updates
Share your vision-related news by contacting Dennis Scimeca,Associate Editor, Vision Systems Design

To receive news like this in your inbox, click here.
Join our LinkedIn group | Like us on Facebook | Follow us on Twitter