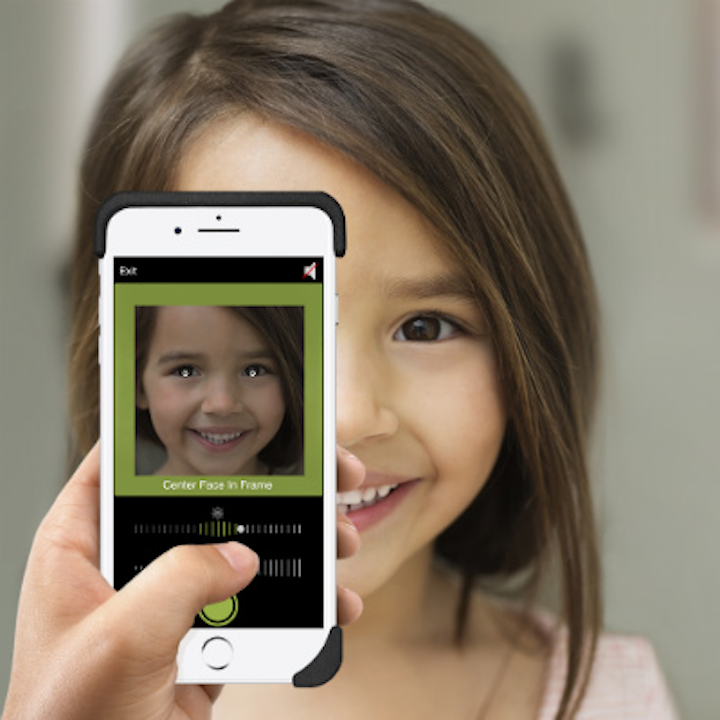 An iPhone app called GoCheckKids eliminates the need for pediatricians to purchase specialized equipment to conduct photoscreening tests, a popular method for preventing the development of serious vision disorders.
Photoscreening is a vision screening technique performed on children that uses a camera and flash to detect risk factors for amblyopia, a visual impairment that causes reduced vision in one eye. The technique works by analyzing the configuration of the crescents of light returning after a camera flash and estimating refractive error, or a problem with light focusing on the back of the eye. The images can be analyzed manually, or by software.
The photoscreening technique has become popular in recent years as an option to replace screening with traditional eye charts, especially for children who refuse to cooperate with an eye chart screening. Most photoscreening is conducted with specialized devices like iScreen, Plusoptix Vision Screener, or Spot.
The GoCheckKids app, which is registered with the FDA, instead uses an iPhone as the delivery method for the photoscreening. When a child goes in to the pediatrician for a checkup, the doctor takes an iPhone picture of the child from a distance of 3.5 feet, and machine learning software in the app reviews the captured image to detect warning signs for amblyopia.
The app was made possible by Core ML software developed by Apple, which enables integration of machine learning models into iPhone apps, and includes software called Vision that can be used to apply computer vision algorithms to image-based iPhone tasks. Vision's framework performs face and face landmark detection, among other routines, and allows the creation of models for classification and object detection.
The efficacy of GoCheckKids was measured in a study titled "Evaluation of a smartphone photoscreening app to detect refractive amblyopia risk factors in children aged 1-6 years." The results analyzed were drawn from data generated by an iPhone 7 in portrait mode. Pictures were taken of 287 children. The images were reviewed by the GoCheckKids image processing algorithm, and manually by ophthalmic image specialists using calipers. The inspection results were graded by the gold standard 2013 American Association for Pediatric Ophthalmology & Strabismus amblyopia risk factor guidelines.
The overall sensitivity and specificity for detecting risk factors by the app was 76% and 85% respectively via manual grading, and 65% and 83% respectively for the app-graded results. The study concluded that GoCheckKids is a viable photoscreening delivery method for detecting amblyopia risk factors. According to the company, more than 4,000 pediatricians have conducted a total of 900,000 screenings with GoCheckKids and identified risk factors in over 50,000 children.
Related stories:
Multispectral imaging system improves image quality for tumor surgeries
Vision system detects pharmaceutical contaminants
Hyperspectral microscopy serves biological pathology
Share your vision-related news by contacting Dennis Scimeca,Associate Editor, Vision Systems Design

To receive news like this in your inbox, click here.