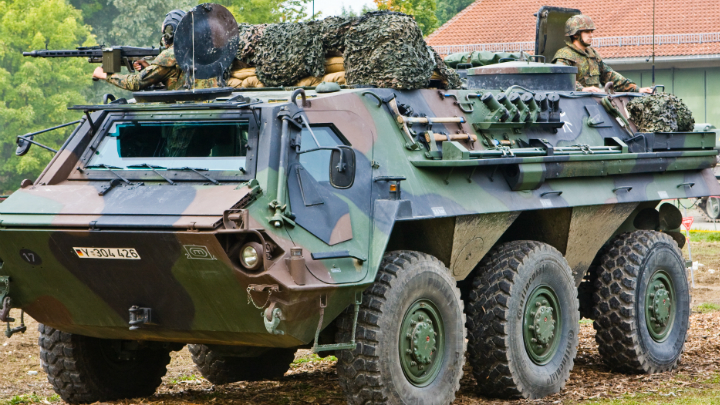 SETAS (See-through Armor System), developed by defense and security electronics company Hensoldt (Taufkirchen, Germany; www.hensoldt.net), allows crews of armored vehicles to see in 360° around their vehicle without exposing themselves to danger.
The crew of an armored vehicle that must operate in tight quarters like an urban theater, or in an environment that gives infantry plentiful cover behind which to advance in secret, needs constant awareness of their surroundings. Cameras and closeable slats can afford a view outside, but in some cases a vehicle crew might need more information about their surroundings than these limited options can provide. If that means someone sticking their head out of a hatch, it also means they temporarily lose the protection of the armored vehicle.
The SETAS system is designed to compensate for this vulnerability. SETAS is composed of camera modules that pair cameras with color CMOS sensors with a 95° horizontal and 78° vertical field of view with LWIR thermal cameras with a 58° horizontal and 45° vertical field of view.
Crew members utilize SETAS via a head-mounted display like those used in virtual- and augmented-reality systems. As the crew member pans their head, they effectively see through the walls of the vehicle and into the surrounding environment.
The high-resolution and thermal cameras can detect people at 900 m and 300 m, recognize people at 300 m and 100 m, and identify people at 150 m and 50 m respectively, according to Hensoldt. With the addition of a second thermal sensor to a module, thermal camera person detection, recognition, and identification range increase to 800 m, 300 m, and 200 m respectively.
SETAS options include a hemispherical camera to see directly above the vehicle, acoustic sniper detectors, and laser-warning systems. Hensoldt also states that SETAS can run software algorithms to detect potentially threatening movement within 360° of the vehicle. The system is designed for integration into any vehicle or for use as a standalone unit controlled via standard or smart display, smart glasses, or tablets.
The system was demonstrated at the Defence and Security Equipment International exhibition (DSEI) held in London, UK, from September 10 to 13, mounted on a General Dynamics (Falls Church, VA, USA; www.gd.com) Eagle 6x6 armored vehicle. Hensoldt will make SETAS available for purchase in 2020.
This story was originally printed in the November/December 2019 issue of Vision Systems Design magazine.