Imaging systen performs surveillance for Canadian Malls
Retail merchants suffer significant losses from theft by employees, shoplifting, and vandalism. Stores in shopping centers are targets, both during business hours and after closing. To combat such problems, one Canadian property developer who operates two shopping centers near Ottawa has sought the help of a local systems integrator to tighten security.
Sep 1st, 1999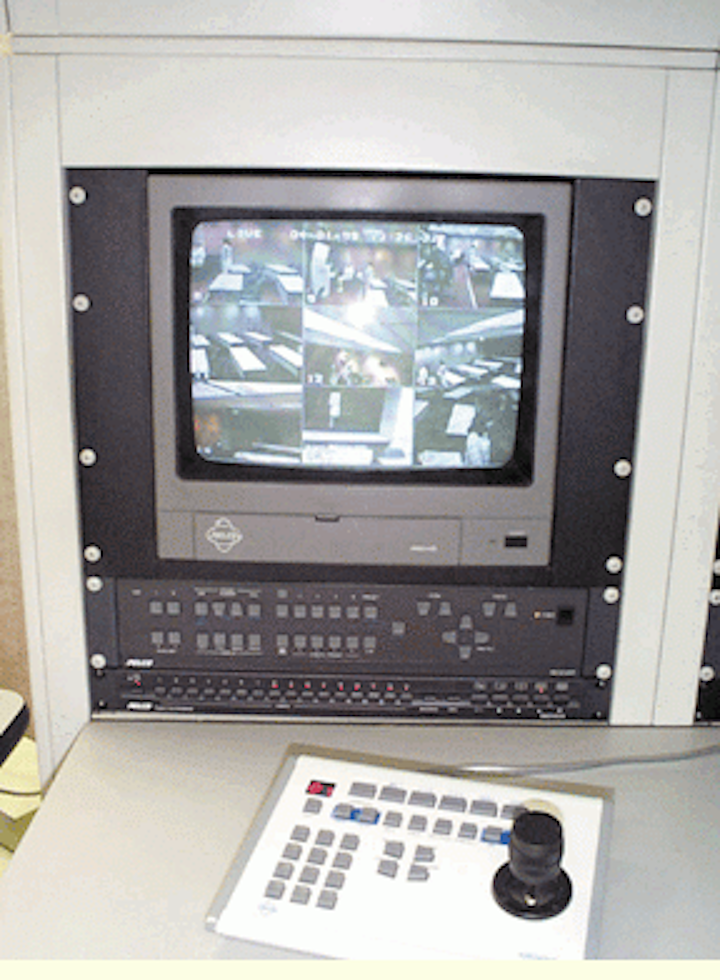 Imaging system performs surveillance for Canadian Malls
Lawrence J. Curran
Contributing Editor
Retail merchants suffer significant losses from theft by employees, shoplifting, and vandalism. Stores in shopping centers are targets, both during business hours and after closing. To combat such problems, one Canadian property developer who operates two shopping centers near Ottawa has sought the help of a local systems integrator to tighten security.
To strengthen the security within the stores, Marcomm Fibre Optics (Nepean, Ont, Canada) has equipped the two locations with a video surveillance system incorporating a PC-based camera/video-recorder/multiplexer combination that operates over telephone lines between the two locations. Besides performing routine surveillance, in response to a suspicious target the remote cameras can be controlled to pan, tilt, and zoom. In addition, the remote video recorder can be manually directed to stop and play back so that an incident can be reviewed at the control center for an appropriate response.
To avoid compromising security, the owner of the shopping centers does not want himself or the system`s locations identified. But he is sufficiently pleased with the results, based on some six months` experience, to have ordered additional cameras from Marcomm to expand the system. An upgraded system that would automate the manual control initiated by security guards is also being considered for the locations.
System elements
Michel Coté, project manager for the shopping-center system at Marcomm, says both sites are equipped with up to 16 Panasonic cameras and video recorders, Pelco (Clovis, CA) Genex multiplexers, and Aspro Technologies (Mississauga, Ontario, Canada) Invader32 video Motion JPEG compression/expansion boards. All the hardware is tied into Marcomm`s Digital Video System (DVS)--a Windows NT-based computer program running on a 150-MHz Pentium PC at the remote site (see Fig. 1).
The remote site in the smaller mall is equipped with cameras that monitor the exterior of the mall and a paging/public address system that can be accessed by telephone from the central control station to alert any intruders that they are under surveillance.
The central station in the larger mall has a Windows 98-based 150-MHz Pentium, which is equipped with a 56 K modem to communicate with the remote center. The PC can command the Genex multiplexer to switch from one camera view to another, view a quad screen (four images), view images from all cameras simultaneously, or take a snapshot. The video recorder is connected to the PC by an RS-232 link and can be commanded to change modes from record to play back a tape, or to record the images from all cameras at once or to constantly record images from all cameras.
Coté explains that Marcomm`s DVS software is written in modules. "The main application software communicates with software-interface modules, which, in turn, drive the hardware elements," such as the Genex multiplexer provided by Pelco, a company that designs and manufactures closed-circuit television systems.
Making new pixels
The Genex video multiplexer uses patented ActiveImage technology to process pixels in a manner that enables better resolution, with less stair stepping or aliasing, than does conventional pixel dropping, according to Dave deLisser, Genex product-line manager. To make a full-screen image from one camera fit into one of four, nine, or 16 images on one screen from multiple cameras, conventional pixel-dropping video multiplexers discard half or more of the pixels in the image, which degrades the resolution, deLisser says. A horizontal line produced by pixel dropping appears as a series of stair steps.
In contrast, the Genex multiplexer uses what Pelco calls multielement horizontal and vertical finite impulse response. The technique creates fewer new pixels in a smaller image for display on a multi-image screen. This process is performed by a resizing engine that consists of an ASIC chipset running a proprietary algorithm. The engine calculates the value of each image pixel-by-pixel, creating fewer pixels in an image that retains far more of the resolution of the original image than does pixel dropping, deLisser contends. "This results in very fast multiscreen images, with crisp digital zoom displays," he adds.
The video multiplexer also features electronics that detect motion and then change the sequence in which a given camera`s view is presented. For example, in a 16-camera installation such as the one in the Ottawa shopping malls, the cameras may be automatically stepping through a camera-1 through camera-16 sequence. If camera-5 detects motion that is suspicious, the view from camera-5 will be every other view presented to the security guards. The sequence would then become camera one, camera five, camera two, camera five, and so on, instead of cameras one through 16 sequentially.
The multiplexer allows live or recorded camera images to be displayed full-screen, or to be combined with others in a picture-in-picture, four-camera "quad" display, nine-camera, or 16-camera display (see Fig. 2). Cameras also can be displayed sequentially in either full-screen or multicamera format. An adjustable zoom mode provides full control of the digital magnification of any camera for detailed examination.
Enter the invader
Marcomm`s Coté points out another important hardware element in the system--the Invader32 video-compression board from Aspro Technologies. This is a motion JPEG recording and play-back PCI board that uses an MJPEG ASIC chipset from Zoran (Santa Clara, CA) to digitize the camera images and perform compression and expansion.
Ken Losell, Aspro`s sales and marketing manager, describes the Invader32 as a real-time, full-motion video display, capture, and play-back board for Pcs that can accommodate as many as six composite video inputs. Inclusion of an Aspro Bee`s Eye switcher board raises the total to 22 possible inputs. Losell says the unit`s ability to accept multiple inputs was an important design feature for the mall operator.
The compression/expansion board "provides a user-selectable compression ratio and delivers high-quality scalable video in a window with graphics overlay support," Losell says. The board also matches the data rate to the PC bus and disk-drive system throughput. The Invader32 provides square-pixel capture and play back at 30 frames/s for the NTSC format or 25 frames/s for PAL .
Coté explains, however, that the system`s modem cannot accommodate 30 frames/s, which is one function the mall operator wants to upgrade. "Even though the Invader32 handles 30 frames/s, the modem supports one frame every four seconds," he says. "The customer likes how the system works, but he wants a faster refresh rate for transmissions." Marcomm is considering using fiberoptic transmission, along with a faster modem. Nor is the system connected to an alarm mechanism, which can also be added in an update.
Automated networks
Coté says that in an upgrade the current shopping-center system could be readily linked to Marcomm`s Dynatrol system, which can integrate an entire site`s security elements into a single system. The network can be monitored or controlled via one or many stations, once the Dynatrol software is installed.
For example, the functions of the individual elements in the current system--cameras, video recorders, and paging subsystem--all could be automated and presented to one security guard monitoring one Dynatrol-based computer, which would show a map of the entire site. Each of the door contacts would be automatically disabled during the day and automatically armed at night. Similarly, the motion detectors would be automatically disabled during the week and automatically armed on weekends.
The current system is not highly automated. If it were linked to Dynatrol, when an alarm from a door or motion detector came in, it would immediately bring up a map of the area in which the event occurred and sound an alarm. At the same time, the system could switch to the closest camera to one monitor, pan/tilt/zoom the camera so that the door was in clear view, switch the video recorder to a two-hour recording mode, and show a flashing icon on the screen, along with a description of the actions the guard should implement.
Coté points out that, beyond the advantage of automation, the next step could link an upgraded mall-security system to a Dynatrol network that ties together as many as 255 stations, which can monitor the same region, a different region, or the entire site. Once networked, any station can monitor and/or control any device on the system.
Shopping mall is monitored with a PC-based imaging system from Marcomm Fibre Optics.
FIGURE 1. Images from as many as 16 video cameras are recorded by a video recorder for playback as needed. The Pelco Genex multiplexer is an important element in the security system to accommodate and help process the multiple-camera input. The overall system relies on Marcomm Fibre Optics` DVS software, which allows remote site installation to be controlled over phone lines by a central control station PC. The central site also has the cameras, video recorders and multiplexers to perform local surveillance.
FIGURE 2. Using a PC-based compression board from ASPRO, video data can be compressed in real time in the Marcomm system. The data can then be transmitted at a slower rate using a 56.6 K modem to a remote site.
Company Information
Aspro Technologies
Mississauga, Ont., Canada L4Z 2J1
(905) 712-2131
Fax: (905) 712-1887
Web: www.aspro.com
Marcomm Fibre Optics
Nepean, Ontario, Canada K2E 7K7
(613) 226-8866
Fax: (613) 226-8171
Web: www.dynatrol.com
Panasonic Video Imaging Systems
Secaucus, NJ 07094
(888) PAN-CCTV
Fax: (201) 348-7372
Web: panasonic.com/indvision
Pelco
Clovis, CA 93612
(800) 289-9100
Fax: (800) 289-9150
Web: www.pelco.com
Zoran Corp.
Santa Clara, CA 95054
(800) 228-1314
Fax: (408) 919-4123
Web: www.zoran.com