The future is wireless cameras
Designers can now build wireless Internet (WI) cameras using standard CMOS imagers coupled with 802.11b-based wireless networking ICs.
Dec 1st, 2002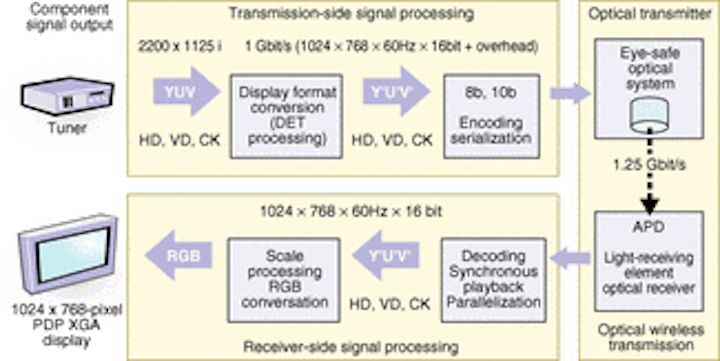 Designers can now build wireless Internet (WI) cameras using standard CMOS imagers coupled with 802.11b-based wireless networking ICs. One such product is the D-Link Air from D-Link Systems (Irvine, CA; www.dlink.com), a WI camera primarily targeted at surveillance applications.
While these cameras do fill a need, their applications are limited since their true frame rate (and resolution) depends on the level of image compression, resolution, and bandwidth performance. A primary limitation on the use of these cameras in machine vision is, compression, where the blocking artifacts of discrete Fourier-transform-based compression cannot be tolerated. The 802.11b standard currently specifies a maximum transfer rate of 11 Mbits/s. However, because the D-Link camera provides VGA (640 × 480-pixel) resolution, transfer rates of 30 frames/s at 8 bits/pixel would require data-transfer rates as high as 73 Mbits/s.
In JVC optical wireless technology, laser light is irradiated onto an optical dispersion surface, which creates a secondary light as a parallel beam. Laser light that does not use an eye-safe system can, in a worst-case scenario, result in heat changes to the eye's retina because of the sharp focus of the light (bottom left). The company's eye-safe system broadens the focus to achieve higher levels of eye safety (bottom right).
To obtain such images at video rates, image bandwidths need to be markedly increased. Rather than developing such fast-operating receivers and transmitters, vendors are more likely to leverage consumer-based technology in building their smart machine-vision cameras of the future.
In Japan, for example, consumers are demanding flat wall-mounted displays. However, the connection to such screens is still accomplished using coaxial cable. To overcome this problem, wireless transmission technology is being used. At this year's CEATEC trade show in Japan, JVC (Yokohama, Japan; www.jvc.co.jp) showed a consumer-based, high-definition video-transmission system. Capable of transmitting uncompressed images with no loss of quality, the system relies on optical wireless technology to achieve a 1.25-Gbit/s wireless transmission speed, making it possible to use wireless technology for the same lossless transmission as for cable.
According to JVC, uncompressed transmission is possible with 1.25-Gbit/s speed transmission using an XGA (1024 × 768 × 60 Hz) format, which is becoming the primary format for plasma display panels and LCDs. To achieve a 1.25-Gbit/s transmission rate, the transmitter and receiver devices use a combination of laser diodes and avalanche photodiodes. To meet eye-safety standards, the system uses an optical system with a transmission distance of just 10 m. In this system, optical axis-alignment functions ensure that directional adjustments are automatically determined.