Security network offers remote image access
Although TCP/IP-based intranet systems and closed-circuit-television (CCTV) systems are used by many companies in surveillance applications, these systems are often incompatible. In operation, packetized digital video is delivered across intranets.
Sep 1st, 2001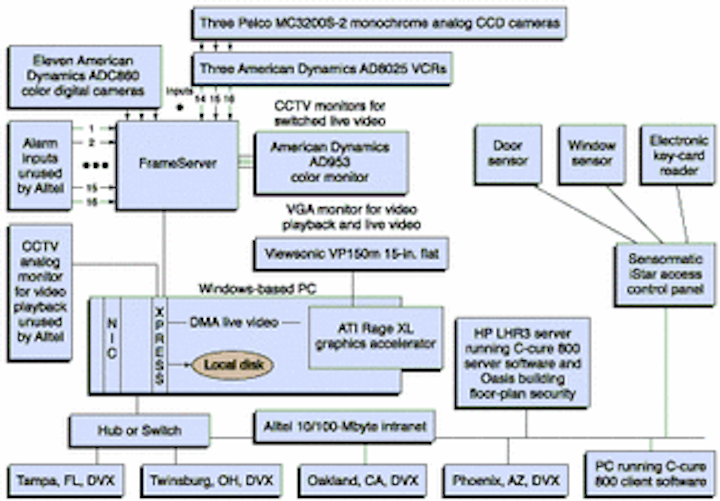 Surveillance
Integrated surveillance imaging system enables numerous scattered security sites to be controlled over nationwide telephone network.
By R. Winn Hardin,Contributing Editor
Although TCP/IP-based intranet systems and closed-circuit-television (CCTV) systems are used by many companies in surveillance applications, these systems are often incompatible. In operation, packetized digital video is delivered across intranets. However, the video must bridge the format gap between digital video security systems and existing analog sensors, such as for door-access control. To bridge this gap, Jerry Parker, director of security for local exchange carrier Alltel (Little Rock, AR), tasked security-system-integrator Advent Security (Oreland, PA) with building a security information network that offers central control and remote viewing without uninstalling existing analog systems.
CENTRAL SECURITY
To centralize the security information network, Alltel purchased the SensorMatic (Boca Raton, FL) C-cure 8000 enterprise system. Using this system as a platform, Advent hard-wired individual door-access controls to several Sensormatic iStar alarm-monitoring panels located throughout Alltel's Little Rock facility. The Ethernet-ready iStar runs under Windows CE using a Motorola PowerPC processor and has its own IP address on Alltel's intranet.
In operation, alarm signals are sent via the intranet back to the C-cure 800 server. Here, the signals are logged by the server's 32-bit open-database-connectivity (ODBC) database engine and displayed on a 17-in. CRT monitor from American Dynamics (Boca Raton, FL). Parker and other security personnel can access the sensor database through any PC connected to the intranet. To import alarm notifications from the ODBC database and display the alarm event on a bit-map representation of the building floor plan, Alltel installed Oasis software from Integral Technologies (Indianapolis, IN) on the security server. This program imports video signals through ActiveX controls.
SENSORS AND CONTROLS
To tie together the C-cure 8000 alarm database, the Oasis graphic layout program, and live or recorded video, Parker purchased the Integral Technologies First Line DVX video security system (see Fig. 1). Each DVX node is programmed with a specific IP address through a user interface and accesses the Alltel intranet through a 10/100-Mbit/s Ethernet card from Realtek Semiconductor (Hsinchu, Taiwan).
From any PC workstation on the Alltel intranet running the DVX remote view software, Parker can access between one and 16 of the 42 ADC860 color digital cameras from American Dynamics. These cameras are connected to the five DVX systems installed in Phoenix, AZ; Twinsburg, OH; Oakland, CA; Tampa, FL; and Little Rock, AR.
Software running on the DVX systems or the DVX remote view program enables the user to select a camera by clicking on the camera's name on the display and dragging it into the main viewing area (see Fig. 2). If the camera is selected from the console of a DVX system, then the camera's view is displayed on a VP150m 15-in. flat-panel LCD monitor from Viewsonic (Walnut, CA). The monitor is driven by a Rage XL graphics accelerator card that is supported by ATI (Thornhill, Ontario, Canada).
In addition to the 42 direct-feed cameras spread across Alltel's five nationwide locations, the Little Rock facility contains an existing analog CCTV video network. Parker uses the Little Rock DVX system to access three analog MC3200S-2 monochrome CCD cameras from Pelco (Clovis, CA) through a separate FrameServer box from Integral Technologies.
The Pelco cameras operate on a separate CCTV video network in Little Rock. There, Alltel has 11 American Dynamics ADC860 cameras connected to the DVX system on the digital video network and 15 Pelco MC3200-S cameras attached to the same number of American Dynamics AD8025 VCRs and AD953 color monitors on a separate analog video network.
BRIDGING NETWORKS
Using the DVX system, Alltel can bridge these two networks because the FrameServer box provides up to 16 analog passthroughs for existing analog monitors. Three of these passthroughs accept analog signals from three Pelco cameras in high-priority locations. The FrameServer box also includes up to 32 standard PAL or NTSC video inputs and up to 16 alarm trigger events. It provides two main functions, tracking which frame comes from which camera and multiplexing video streams from multiple cameras into a single data stream. The box also can act as a matrix switch, allowing the operator to display different cameras on different monitors. The FrameServer tags each incoming frame with time and date stamps and multiplexes the digital-camera inputs into a single video stream that is then digitized by an Integral Technologies Xpress frame grabber located in the DVX enclosure.
The Xpress frame grabber uses a discreet wavelet transform to compress the multiplexed video stream, which is then stored in the DVX 512-Mbyte RAM. Motion analysis is performed by the DVX 566-MHz Intel Celeron microprocessor using a proprietary algorithm. This algorithm compares the wavelet-compressed data from subsequent frames of the same camera. If the correlation falls below a system-defined value, a motion alarm trigger is issued through the Xpress frame grabber to the FrameServer for display and operator action.
Using the DVX system, certain areas of each camera's field of view can be masked from motion analysis. This saves hard-drive space and allows the system to focus on specific security areas. If motion is detected in an area of interest, an alarm is shown on the DVX monitor and the compressed video is saved to the DVX 80-Gbyte drive for later access.
OPTIMIZING THE NETWORK
Currently, the C-cure 8000 database that logs the alarms is not partitioned by building and location. Therefore, operators working at the regional C-cure 8000 servers receive open-door alarms from all of Alltel's locations in that region. Partitioning the database should allow the program to notify specific security personnel close to an alarm trigger without alerting the entire region. Alltel is also working with Advent and Sensormatic to develop a scheduling system that will allow certain doors to open without sounding an alarm during the day when office traffic is expected.
As Alltel works to optimize the C-cure 8000 enterprise security system, Parker expects to continue the move toward all-digital video security by adding DVX's motion detection and remote view access to the inventory of security tools available at other Alltel locations.
COMPANY INFORMATION
Advent Security Corp.
Oreland, PA 19075
Web: www.adventsecurity.com
American Dynamics
Boca Raton, FL 33431
Web: www.sensormatic.com
Altera
San Jose, CA 95134
Web: www.altera.com
ATI Technologies
Thornhill, Ont. L3T 7N6
CanadaWeb: www.ati.com
Hewlett-Packard Co.
Palo Alto, CA 94304
Web: www.hewlettpackard.com
Integral Technologies
Indianapolis, IN 46256
Web: www.integraltech.com
Intel Corp.
Santa Clara, CA 95052
Web: www.intel.com
Pelco
Clovis, CA 93612
Web: www.pelco.com
Realtek Semiconductor
Hsinchu 300, Taiwan
Phone: +886-3-578-0211

Sensormatic/American Dynamic
Boca Raton, FL 33431
Web: www.sensormatic.com
Viewsonic
Walnut, CA 91789
Web: www.viewsonic.com